Photo Flash: An International Evening of Music and Remembrance Celebrating the Voices of Holocaust Survivors Through Performance
Nearly eleven hundred people filled Beverly Hills Temple of the Arts at the Saban Theatre on Friday evening, June 13, 2014 for an International Evening of Music and Remembrance honoring Holocaust survivor and member of the Dutch Resistance, Curt Lowens, who saved 125 Jewish children and two downed American pilots during the Holocaust. Composer Sharon Farber's Bestemming: Concerto for Cello, Orchestra and Narration, which Curt Lowens served as the inspiration for, was performed with Lowens appearing as the Narrator, along with Ruslan Biryukov who appeared as the Cello Soloist, supported by the Glendale Philharmonic Orchestra led by Conductor Frank Fetta.
Check below for photos from the event!
The
Consul General of
Germany and the Honorary Consul of The Netherlands united with the Israeli Consulate of Los Angeles, along with
Ken Howard
, president of SAG-AFTRA to recognize
Curt Lowens
' sacrifices for humanity.
89-year-old actor and Holocaust survivor Curt Lowens sat center stage amidst a 32-piece orchestra and delivered a narration that ended in a standing ovation for Farber's Concerto.
Following the Concerto, an Oneg Shabbat feast as well as a private reception held by The Netherlands Consulate saw entertainment industry professionals, celebrities and other guests queuing up to be photographed with composer Sharon Farber and
Curt Lowens
, who received two proclamations - one from SAG-AFTRA and the other from Los Angeles Councilman Paul Koretz, who proclaimed June 13, 2014 as
Curt Lowens
Day in Los Angeles.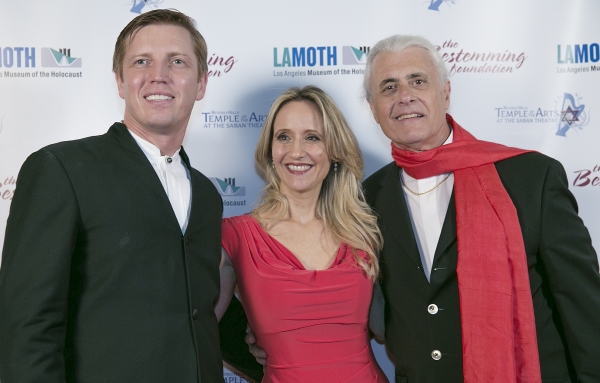 Ruslan Biryukov, Sharon Farber and Frank Fetta at An International Evening of Music and Remembrance celebrating the Voices of Holocaust Survivors through a performance of Sharon Farber's Bestemming: Concerto for Cello, Orchestra and Narration inspired by Holocaust survivor and hero of the Dutch Resistance, Curt Lowens held on Friday, June 13, 2014 at Beverly Hills Temple of the Arts at the Saban Theatre â€" Photo by Anjani Lynn White

Frank Fetta conducting the Glendale Philharmonic Orchestra at An International Evening of Music and Remembrance celebrating the Voices of Holocaust Survivors through a performance of Sharon Farber's Bestemming: Concerto for Cello, Orchestra and Narration inspired by Holocaust survivor and hero of the Dutch Resistance, Curt Lowens held on Friday, June 13, 2014 at Beverly Hills Temple of the Arts at the Saban Theatre â€" Photo by Anjani Lynn White

Samara Hutman, Executive Director of the Los Angeles Museum of the Holocaust and Richard Stellar, Event Co-Producer at An International Evening of Music and Remembrance celebrating the Voices of Holocaust Survivors through a performance of Sharon Farber's Bestemming: Concerto for Cello, Orchestra and Narration inspired by Holocaust survivor and hero of the Dutch Resistance, Curt Lowens held on Friday, June 13, 2014 at Beverly Hills Temple of the Arts at the Saban Theatre â€" Photo by Anjani Lynn White

Kennedy Rogers and Mother Love at An International Evening of Music and Remembrance celebrating the Voices of Holocaust Survivors through a performance of Sharon Farber's Bestemming: Concerto for Cello, Orchestra and Narration inspired by Holocaust survivor and hero of the Dutch Resistance, Curt Lowens held on Friday, June 13, 2014 at Beverly Hills Temple of the Arts at the Saban Theatre â€" Photo by Anjani Lynn White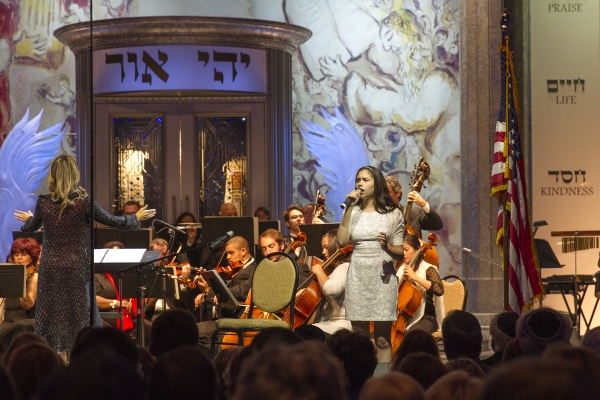 Israeli singer Shir Ordo makes her United States performing debut with the Glendale Philharmonic Orchestra conducted by Sharon Farber at An International Evening of Music and Remembrance celebrating the Voices of Holocaust Survivors through a performance of Sharon Farber's Bestemming: Concerto for Cello, Orchestra and Narration inspired by Holocaust survivor and hero of the Dutch Resistance, Curt Lowens held on Friday, June 13, 2014 at Beverly Hills Temple of the Arts at the Saban Theatre â€" Photo by Anjani Lynn White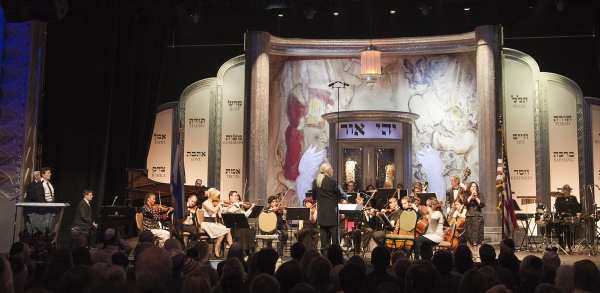 Cantor Ilysia J. Pierce singing with Glendale Philharmonic Orchestra conducted by Frank Fetta at An International Evening of Music and Remembrance celebrating the Voices of Holocaust Survivors through a performance of Sharon Farber's Bestemming: Concerto for Cello, Orchestra and Narration inspired by Holocaust survivor and hero of the Dutch Resistance, Curt Lowens held on Friday, June 13, 2014 at Beverly Hills Temple of the Arts at the Saban Theatre â€" Photo by Anjani Lynn White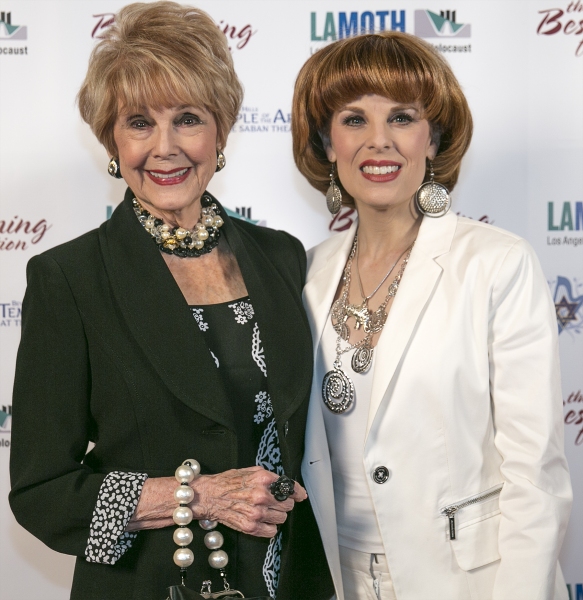 KAREN SHARPE KRAMER and Kat Kramer at An International Evening of Music and Remembrance celebrating the Voices of Holocaust Survivors through a performance of Sharon Farber's Bestemming: Concerto for Cello, Orchestra and Narration inspired by Holocaust survivor and hero of the Dutch Resistance, Curt Lowens held on Friday, June 13, 2014 at Beverly Hills Temple of the Arts at the Saban Theatre â€" Photo by Anjani Lynn White

Event Emcee Bill Smitrovich at podium at An International Evening of Music and Remembrance celebrating the Voices of Holocaust Survivors through a performance of Sharon Farber's Bestemming: Concerto for Cello, Orchestra and Narration inspired by Holocaust survivor and hero of the Dutch Resistance, Curt Lowens held on Friday, June 13, 2014 at Beverly Hills Temple of the Arts at the Saban Theatre â€" Photo by Anjani Lynn White

Cyona Burstyn, Mike Burstyn and Sharon Farber Blatt at An International Evening of Music and Remembrance celebrating the Voices of Holocaust Survivors through a performance of Sharon Farber's Bestemming: Concerto for Cello, Orchestra and Narration inspired by Holocaust survivor and hero of the Dutch Resistance, Curt Lowens held on Friday, June 13, 2014 at Beverly Hills Temple of the Arts at the Saban Theatre â€" Photo by Anjani Lynn White

Rabbi David Baron, Adrienne Baron, Curt Lowens and James Blatt at An International Evening of Music and Remembrance celebrating the Voices of Holocaust Survivors through a performance of Sharon Farber's Bestemming: Concerto for Cello, Orchestra and Narration inspired by Holocaust survivor and hero of the Dutch Resistance, Curt Lowens held on Friday, June 13, 2014 at Beverly Hills Steve Moyer

Corky Hale Stoller and Mike Stoller attending An International Evening of Music and Remembrance celebrating the Voices of Holocaust Survivors through a performance of Sharon Farber's Bestemming: Concerto for Cello, Orchestra and Narration inspired by Holocaust survivor and hero of the Dutch Resistance, Curt Lowens held on Friday, June 13, 2014 at Beverly Hills Temple of the Arts at the Saban Theatre â€" Photo by Anjani Lynn White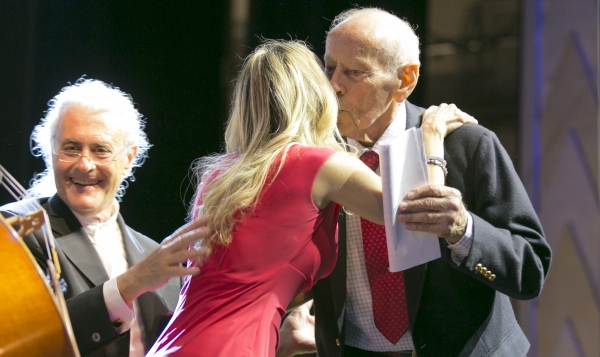 Frank Fetta, Sharon Farber and Curt Lowens at An International Evening of Music and Remembrance celebrating the Voices of Holocaust Survivors through a performance of Sharon Farber's Bestemming: Concerto for Cello, Orchestra and Narration inspired by Holocaust survivor and hero of the Dutch Resistance, Curt Lowens held on Friday, June 13, 2014 at Beverly Hills Temple of the Arts at the Saban Theatre â€" Photo by Anjani Lynn White

Carolyn Ben Natan, Director of Public Affairs for the office of the Consulate General of Israel Los Angeles, appeared as a Keynote Speaker at An International Evening of Music and Remembrance celebrating the Voices of Holocaust Survivors through a performance of Sharon Farber's Bestemming: Concerto for Cello, Orchestra and Narration inspired by Holocaust survivor and hero of the Dutch Resistance, Curt Lowens held on Friday, June 13, 2014 at Beverly Hills Temple of the Arts at the Saban Theatre â€" Photo by Anjani Lynn White

SAG-AFTRA Officials with Event Co-Producer (l to r) Abby Dylan, Jenny O'Hara, Richard Stellar (Event Co-Producer), Ilyanne Morden Kichaven, Rosalyn Jarrett Sepulveda and Pamela Greenblatt at An International Evening of Music and Remembrance celebrating the Voices of Holocaust Survivors through a performance of Sharon Farber's Bestemming: Concerto for Cello, Orchestra and Narration inspired by Holocaust survivor and hero of the Dutch Resistance, Curt Lowens held on Friday, June 13, 2014 at Beverly Hills Temple of the Arts at the Saban Theatre â€" Photo by Anjani Lynn White

Ruslan Biryukov, Frank Fetta, Sharon Farber and Curt Lowens at An International Evening of Music and Remembrance celebrating the Voices of Holocaust Survivors through a performance of Sharon Farber's Bestemming: Concerto for Cello, Orchestra and Narration inspired by Holocaust survivor and hero of the Dutch Resistance, Curt Lowens held on Friday, June 13, 2014 at Beverly Hills Temple of the Arts at the Saban Theatre â€" Photo by Anjani Lynn White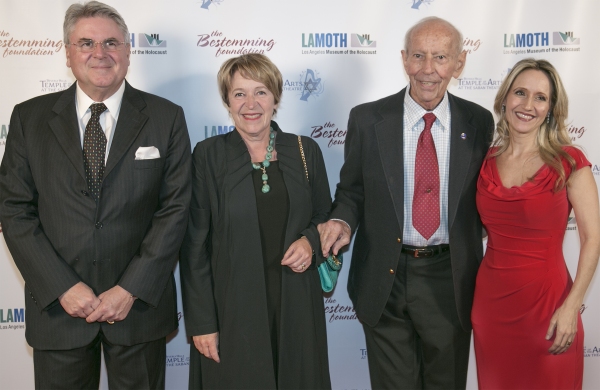 Dr. Bernd Fischer, Consul General of the Federal Republic of Germany and in Los Angeles, Jutta Fischer, the Consul General's wife, Curt Lowens and Sharon Farber at An International Evening of Music and Remembrance celebrating the Voices of Holocaust Survivors through a performance of Sharon Farber's Bestemming: Concerto for Cello, Orchestra and Narration inspired by Holocaust survivor and hero of the Dutch Resistance, Curt Lowens on Friday, June 13, 2014 held at Beverly Hills Temple of the Arts at the Saban Theatre â€" Photo by Anjani Lynn White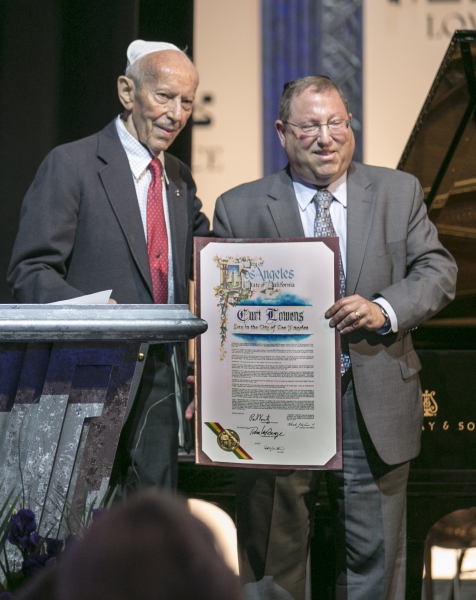 Curt Lowens, Holocaust survivor and hero of the Dutch Resistance is presented a certificate of recognition from Councilman Paul Koretz declaring June 13, 2014 Curt Lowens Day in Los Angeles at An International Evening of Music and Remembrance celebrating the Voices of Holocaust Survivors through a performance of Sharon Farber's Bestemming: Concerto for Cello, Orchestra and Narration inspired by Holocaust survivor and hero of the Dutch Resistance, Curt Lowens held on Friday, June 13, 2014 at Beverly Hills Temple of the Arts at the Saban Theatre â€" Photo by Anjani Lynn White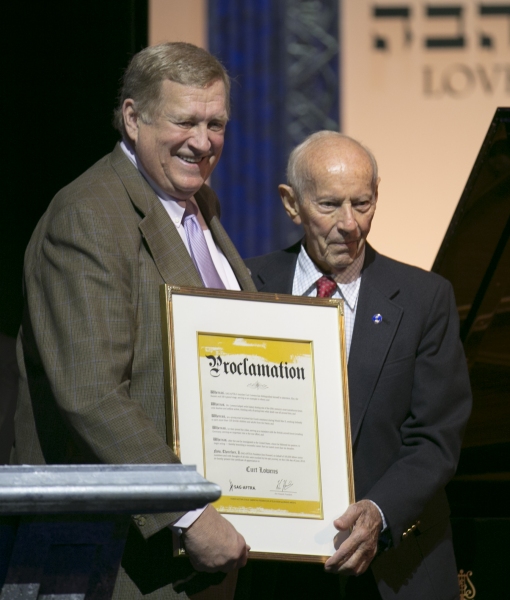 Ken Howard, President of SAG-AFTRA presents a proclamation on behalf of SAG-AFTRA to Holocaust survivor and hero of the Dutch Resistance Curt Lowens at An International Evening of Music and Remembrance celebrating the Voices of Holocaust Survivors through a performance of Sharon Farber's Bestemming: Concerto for Cello, Orchestra and Narration inspired by Holocaust survivor and hero of the Dutch Resistance, Curt Lowens held on Friday, June 13, 2014 at Beverly Hills Temple of the Arts at the Saban Theatre â€" Photo by Anjani Lynn White

Richard Stellar, Event Co-Producer, Sharon Farber, Event Co- Producer and Ken Howard, President of SAG-AFTRA at An International Evening of Music and Remembrance celebrating the Voices of Holocaust Survivors through a performance of Sharon Farber's Bestemming: Concerto for Cello, Orchestra and Narration inspired by Holocaust survivor and hero of the Dutch Resistance, Curt Lowens held on Friday, June 13, 2014 at Beverly Hills Temple of the Arts at the Saban Theatre â€" Photo by Steve Moyer
Dr. Bernd Fischer, Consul General of the Federal Republic of Germany in Los Angeles; Curt Lowens, Holocaust survivor and hero of the Dutch Resistance; Johannes Van Tilburg, Honorary Consul General of The Netherlands in Los Angeles and Sharon Farber, composer and event co-producer - Photo an Anjani Lynn White

Richard Stellar, Sharon Farber and Curt Lowens at An International Evening of Music and Remembrance celebrating the Voices of Holocaust Survivors through a performance of Sharon Farber's Bestemming: Concerto for Cello, Orchestra and Narration inspired by Holocaust survivor and hero of the Dutch Resistance, Curt Lowens held on Friday, June 13, 2014 at Beverly Hills Temple of the Arts at the Saban Theatre â€" Photo by Anjani Lynn White

More Hot Stories For You