Photo Flash: 'A Very Brady Musical' Hollywood Premiere
The classic television sitcom "The Brady Bunch" will get a musical treatment with the world premiere of A Very Brady Musical in Hollywood beginning in June at Theatre West. With the TV show's creator Sherwood Schwartz onboard as executive proudcer, son Lloyd J. Schwartz has written the new musical and is also set to direct, while sister Hope Juber has co-written the book and penned the lyrics and music with her husband Laurence Juber.
"Here's the story… through a misunderstanding, the Brady kids overhear a loud argument between their usually perfectly-in-love parents," according to press notes. "The kids think their parents might be heading for a divorce and dig in to raise money to obtain marriage counseling for their woe stricken parents. Greg operates a car service; Marcia dates for money; Peter and Jan put on magic shows; and Bobby and Cindy look for money in couches. Did you ever imagine what the Brady's might look like in a holding cell at the local police station? Somehow even Alice gets in some legal trouble for fraud." The cast includes John Cygan and Barbara Mallory as Mike and Carol; Paul Denniston and Erin Holt as Greg and Marcia; Elliot Kevin Schwartz and Laura Marion as Peter and Jan; Adam Conger and Kelly Stables as Bobby and Cindy;
Kathy Garrick
as Alice plus Matthew Hoffman, Selah Victor, Lou Briggs and
Mary Garripoli
.
A Very Brady Musical
is set to begin performances June 6, 2008 and will run through July 20th. Tickets can be purchased by calling 323-851-7977, online at
www.theatrewest.org
. For more information, also visit
www.averybradymusical.com
. Theatre West is located at 333 Cahuenga Blvd. West in Los Angeles. And for more from
James Sims visit www.simsscoop.com
.

Photos by Matthew Hoffman.

Kelly Stables, Adam Conger, Laura Marion, Justin Meloni, Erin Holt, Elliot Kevin Schwartz, Kathy Garrick, Barbara Mallory and John Cygan

clockwise from top: Barbara Mallory, Erin Holt, Laura Marion and Kelly Stables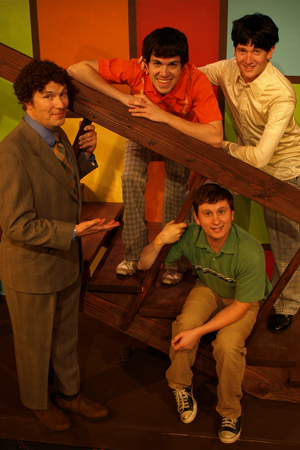 clockwise from left: John Cygan, Justin Meloni, Elliot Kevin Schwartz and Adam Conger

Barbara Mallory and John Cygan
Related Articles View More Los Angeles

Stories

Shows
James Sims is the Senior Editor at BroadwayWorld.com. Beyond his duties on this website, James also contributes as a featured blogger for the Huffington Post. (read more...)