PARADISE Makes West Coast Premiere at the Odyssey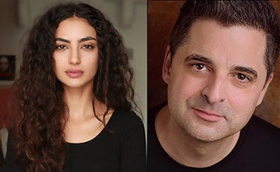 What does science have to tell us about love? Viola Davis and Julius Tennon's JuVee Productions and American Oasis present a moving, funny and thought-provoking drama about science, culture, religion and more. Vicangelo Bulluck directs the West Coast premiere of Paradise by Laura Maria Censabella, running Jan. 26 through Feb. 17 in a visiting production at the Odyssey Theatre.

Medalion Rahimi (ABC's Still Star-Crossed, feature films Before I Fall and upcoming She's in Portland) and Jeff Marlow (Henry IV with Tom Hanks, Reduced Shakespeare Company, numerous productions at South Coast Rep, La Jolla Playhouse, the Geffen, etc.) star. Ms. Rahimi plays a gifted Yemeni-American high school senior at a poorly rated school in the South Bronx, and Mr. Marlow plays her disillusioned biology teacher.

The two form an unlikely scientific partnership in the hope of securing her a scholarship - but when conflicts arise over differences in culture, religion and the boundaries of mentorship, their capacity to alter the course of each other's lives becomes greater than either had imagined.

"We signed on to this compelling, complex play because it speaks to the mission of JuVee Productions to highlight women of color and issues that speak to the humanity in all of us," explain Davis and Tennon.

JuVee Productions is an artist-driven entertainment company that develops and produces independent film, television, theater, and VR and digital content across all narrative platforms. JuVee Productions seeks to produce sophisticated and character-driven stories with an emphasis on narratives from a diverse range of emerging and established voices alike.

"This is an important piece of theater that explores many current cultural issues," says Bulluck. "I wanted to direct this play because it deals with women in STEAM and men mentoring women. It is also a fully realized portrait of a young Muslim woman. But what I really want people to know is that this is a beautifully written play and a great night of theater."

STEAM is an educational approach that incorporates the arts into the more-familiar STEM model, which includes science, technology, engineering and mathematics.

Vicangelo Bulluck is a respected entertainment industry thought leader with over 20 years experience creating content and initiatives focused on the ever-emerging multicultural audience. He was an executive producer of the 2016 Democratic National Convention. He executive produced the NAACP Image Awards for ten years, and he is an executive producer on the long-running hit series The Judge Mathis Show, now in its twentieth season. He recently produced the indie feature film Windows on the World starring Edward James Olmos and Ryan Guzman. Now, directing Paradise, he is returning to his first love - the theater.

Paradise was commissioned by Ensemble Studio Theatre and the Alfred P. Sloan Foundation, dedicated to developing new works about science and technology, and was a runner-up for the 2016 Saroyan/Paul Playwriting Prize for Human Rights.

Censabella was an artist-in-residence in the New York City schools for nine years, including in poverty-stricken Hunts Point where the play is set. During the writing process, she conducted numerous interviews with young women from diverse cultures and spent two years researching the play's science, then had the play vetted by scientists at Columbia, MIT and the Alfred P. Sloan Foundation for accuracy.

"I'm fascinated that there's real science behind romantic love," she says. "Who doesn't want to try to find the biological reason behind who we love and why we fall for them?"

Laura Maria Censabella has been a three-time participant in the O'Neill Theater's National Playwrights Conference.  Her play Carla Cooks The War won the $10,000 ADAA William Saroyan Human Rights/Social Justice Award; and Paradise received an IRNE Award for Best New Play, was nominated for an Elliott Norton Award (Outstanding New Script), and was a runner-up for the Saroyan/Paul Award. She has won two grants for playwriting from the New York Foundation for the Arts, the Geri Ashur Prize in Screenwriting and two daytime Emmys. She teaches playwriting and new play development at the New School for Drama, where she has been honored with the Distinguished University-Wide Teaching Award. Most recently, she received a joint new play commission from Ensemble Studio Theatre NYC (where she directs the Playwrights Unit) and the Alfred P. Sloan Foundation on the work of pioneering scientist Irene Pepperberg of Alex & Me fame. She graduated from Yale University and is currently writing the screenplay for Paradise.

The award-winning creative team for Paradise includes scenic and lighting designer Jeff Rowlings, sound designer Jon Gottlieb, costume designer Mylette Nora and casting director Michael Donovan, CSA. Also on board are scientific advisor Colin Cox, cultural advisor Roxi-Rabab Muthana and associate producer Nawal Bengholam. The production stage manager is Jenine MacDonald and Racquel Lehrman, Theatre Planners is general manager. Paradise is executive produced by Viola Davis, Julius Tennon and John Cappetta; and presented by JuVee Productions and American Oasis.

Performances of Paradise take place Fridays and Saturdays at 8 p.m. and Sundays at 2 p.m.,Jan. 26 through Feb. 17. There will be two preview performances on Thursday, Jan. 24 and Friday, Jan. 25, both at 8 p.m. All tickets are $35 (reserved seating) except previews, which are $25. The Odyssey Theatre is located at 2055 S. Sepulveda Blvd., West Los Angeles, 90025. For reservations and information, call (323) 960-7724 or go to www.Plays411.com/Paradise. Visit us on facebook: facebook.com/Paradise-the-Play, or follow us on twitter: @paradisetheplay and instagram: @paradisetheplay.