Greenway Court Theatre Celebrates 20th Anniversary With IF I SHOULD WAKE
IF I SHOULD WAKE will stream live on Twitch.tv on Friday, November 20, 2020 at 7:00 pm.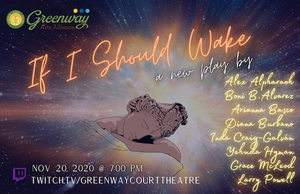 Greenway Arts Alliance (Co-Founders and Co-Artistic Directors Whitney Weston and Pierson Blaetz), the nonprofit organization that has united communities through art, education and enterprise for nearly 25 years, announced today that Greenway Court Theatre is celebrating its 20th Anniversary Season. The award-winning and critically-acclaimed theatre will present the World Premiere of IF I SHOULD WAKE, a collection of eight monologues by an intrepid ensemble of contemporary playwrights representing the wide diversity of Greenway Court Theatre's many communities. The play features monologues by Alex Alpharaoh, Boni B. Alvarez, Arianna Basco, Diana Burbano, Inda Craig-Galván, Yehuda Hyman, Grace McLeod and Larry Powell. Directed by Reena Dutt, with dramaturgy by Scott Horstein, IF I SHOULD WAKE will stream live on Twitch.tv on Friday, November 20, 2020 at 7:00 pm and will be available to view on demand through December 3, 2020. The Greenway Court Theatre channel can be found at Twitch.tv/GreenwayCourtTheatre. Streaming on Twitch.tv is FREE.
"We are extremely grateful to be celebrating our theatre's 20th Anniversary this season and to be a part of the Los Angeles arts community. While this is a financially challenging time for many arts organizations amidst the pandemic, we feel incredibly fortunate that we are able to sustain our work and to continue to develop new voices that reflect our diverse communities," said Whitney Weston, Co-Founder and Co-Artistic Director of Greenway Arts Alliance.
"For two decades, Greenway Court Theatre has been a platform for inclusiveness and for presentations of stories that reflect today's cultural landscape of America and it is our ongoing mission to cultivate emerging artists," said Pierson Blaetz, Co-Founder and Co-Artistic Director of Greenway Arts Alliance. He added, "When Whitney (Weston) and I founded Greenway Arts Alliance, we created a business model that was centered around community-based partnerships. We are fortunate that in this economically stressful and difficult time, our organization remains financially strong through our Melrose Trading Post, which is able to support both our theatre and Greenway Institute for the Arts programs."
In 2000, Greenway Court Theatre opened its doors with the world premiere of Sonnets for an Old Century by Obie Award-winning playwright and Academy Award-nominated screenwriter José Rivera, a series of monologues set in the afterlife which, on the verge of the new millennium, stimulated reflective thought of how one lives their life. "As part of our 20th anniversary, we commissioned eight incredible playwrights to each write a monologue for our world premiere of If I Should Wake, and to continue this exploration and reframe it for the tectonic shifts of today," said Tiffany Moon, Producing Director of Greenway Court Theatre.
IF I SHOULD WAKE will feature the following monologues (in the order of the play):
They Say My Name by Inda Craig-Galván
Featuring Carla Valentine as Jackie
A woman clings desperately to a pole over an abyss - or should she let go?
Francis by Boni B. Alvarez
Featuring Jon Viktor Corpus as Francis
An 18-year-old surfs the electronic sea only to find that it's alive.
Cassandra by Alex Alpharaoh
Featuring Shanelle Darlene as Cassandra
What sacrifice does it take for a daughter to love her father, and for her father to let her go?
The Waiting Room by Grace McLeod
Featuring Sammy June as Billie
Stuck for months in her childhood bedroom, an Instagram celebrity braves her teenage diary.
Body Quakes by Arianna Basco
Featuring Madeleine Humphries as SJ
Can a woman reclaim her body when her former lover returns?
The Reclamation of my Black Ass Imagination: An Awakening by Larry Powell
Featuring Larry Powell as Somebody, with movement by Jamal Wade
Can someone actually steal your imagination? Can you imagine it back?
Quicksand: A Bardo Monologue by Diana Burbano
Featuring Diana Burbano
An aging punk chases salvation on the haunted streets of downtown LA.
The Let Go by Yehuda Hyman
Featuring Trieu Tran as He
As their bodies turn to vapor, two strangers attempt a new kind of dance.
IF I SHOULD WAKE production design is by Corwin Evans; and the stage managers are Jasmine Kalra and Aaron Saldaña.
Running time is 75 minutes.
2020-2021 Season Celebrates 20 Years of Presenting Diverse Voices to Our Communities
Like most arts organizations navigating through the uncertainties of the COVID-19 pandemic, Greenway Court Theatre will remain flexible with its 2020-2021 Season programming.
"Greenway Court Theatre will continue to explore new forms of theatre-making, digital formats and flexible ticketing models for the safety of our artists and audiences during this unprecedented time while continuing to present diverse works that engage our community and represent and reflect the unheard voices," said Whitney Weston.
In addition to IF I SHOULD WAKE, Greenway Court Theatre plans to present the 5th Annual L.A. GET DOWN FESTIVAL in April 2021 in celebration of National Poetry Month. A third production for the 2020-2021 Season is still being determined and will be announced at a later date.
20th Anniversary Giving Campaign to Support BIPOC Led and Focused Organizations
Greenway Court Theatre has long provided a home to nomadic theatre companies through partnerships and co-productions. In 2017, Greenway launched a pilot test of the Greenway Residency Program with Urban Movement Theatre and their presentation of Yerma in the Desert by Oliver Mayer. In celebration of the theatre's 20th Anniversary, Greenway will re-launch the program beginning in 2021 to support BIPOC led and focused organizations. Each year, one theatre company will be selected by invitation only to participate in the program.
"As we look to the next 20 years, Greenway will continue its commitment to opening our home to Los Angeles theatre organizations seeking residency, and that share our philosophy and commitment to an anti-racist American theatre," said Pierson Blaetz, Co-Founder and Co-Artistic Director of Greenway Arts Alliance.
"However, now more than ever, it is important for local communities, corporations and foundations to help support diverse storytellers whose crucial voices play a key role in our society's transformation of equality and justice," said Whitney Weston, Co-Founder and Co-Artistic Director of Greenway Arts Alliance. "While Greenway has a strong infrastructure to support our theatrical platform, we still need additional funding to help amplify the voices of our future playwrights and theatre leaders."
Greenway Court Theatre has begun the 20th Anniversary Giving Campaign to help support the Greenway Residency Program. The contributions will help BIPOC led organizations with funding for a co-production of mutually agreed upon play to be presented at Greenway, additional resources, and professional development opportunities.
Contributions for the 20th Anniversary Giving Campaign may be made at GreenwayCourtTheatre.org or please contact Producing Director Tiffany Moon at tmoon@greenwayartsalliance.org.
Greenway Court Theatre Collaborating with Greenway Institute for the Arts
Greenway Arts Alliance is a community-based nonprofit organization whose mission is to unite communities through art (Greenway Court Theatre), education (Greenway Institute for the Arts) and enterprise (Melrose Trading Post). The organization is based on the campus of Fairfax High School. Greenway Institute for the Arts (GIA) fosters education through creativity by offering both in-school and after-school multidisciplinary arts programs. Classes and workshops are offered at no cost to Fairfax High School students. Presented with opportunities to engage with professional artists, young people are able to discover their individual voices and passions. Through Greenway's unique partnership with Fairfax High, students are exposed to a myriad of opportunities for creative collaboration through Greenway Court Theatre and at the Melrose Trading Post.
On November 19, 2020 at 9:30 am, 300 students from Fairfax High School (Title I) participating in Greenway Institute for the Arts programs, will have the opportunity to virtually screen IF I SHOULD WAKE, followed by a post-screening discussion with select playwrights and actors from the play. The Q&A will be co-moderated by Miguel Lopez, Director of Student Programming of GIA and Tiffany Moon.