Click Here for More Articles on STUDENT CENTER - CAMP GUIDE
Camp C.R.E.A.T.E. Returns To The Colony Theatre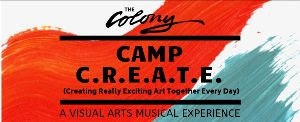 The Colony Theatre in Burbank has announced the return of Camp C.R.E.A.T.E. (Create Really Exciting Art Together Every Day) this coming summer. Camp will be in session from June 24 through July 18, Monday through Thursday from 9am-12:30pm.

Kids will unleash their creativity as they go on an educational journey through visual arts infused with the magic of music. Guided by certified instructors, campers will begin each day with a positive meditation, warm-up, and journaling period to help enter into a creative state of mind, thus setting themselves up for success and self-care. The art instruction will guide campers through the creation of portfolio pieces and the four-week program will culminate in an open-to-the-public gallery art show event on Saturday, July 20.

Colony Theatre Producing Artistic Director Heather Provost said, "We are thrilled to be able to offer another year of Camp C.R.E.A.T.E. at The Colony. Our first installment was a film and stage experience in which campers learned how to create their own short plays and films. We love being able to expose our campers to all mediums. This year will be a very exciting musical visual arts experience with music being the muse for the art instruction along with a focus on positive thinking, self-care, and being good to fellow human beings."

Camp C.R.E.A.T.E. is open to all skill levels (ages 11-14) and no previous experience is required. A $25 fee for materials will be due on the first day of camp. For more information and enrollment ($250), go to www.colonytheatre.org. The Colony Theatre is located at 555 N. Third Street in Burbank, 91502.
Related Articles
More Hot Stories For You