Between Riverside and Crazy Makes LA Premiere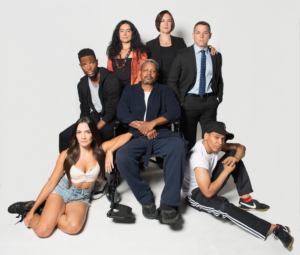 You can't beat City Hall... but you can try. The Fountain Theatre presents the Los Angeles premiere of the fearless, hilarious Pulitzer Prize, New York Drama Critics Circle and Lucille Lortel award-winning comedy-drama, Between Riverside and Crazy byStephen Adly Guirgis.Guillermo Cienfuegos directs for an Oct. 19 opening, with performances continuing through Dec. 15. Pay-what-you-want previews begin Oct. 16.
Former beat cop and recent widower Walter "Pops" Washington has made a home for his newly paroled son, Junior, in his sprawling, rent-controlled New York City apartment on Riverside Drive. But now the NYPD is demanding his signature to close an outstanding lawsuit, the landlord wants him out, the liquor store is closed, and the church is on his back - leaving Pops somewhere between Riverside... and crazy.According to an interview with Guirgis in New York's Newsday, the play was partly inspired by his own childhood. "My father had a very working class existence," he said. "He worked on his feet, there was no pension. He didn't really have anything when he died, no money, no nothing. He didn't have anything to give his children other than his rent-controlled apartment. Me and my sister grew up with all these different people that we never knew who were staying over. A lot of them were family, sometimes they weren't." Indeed, Pops, played in this production by
Montae Russell
(King Hedley II, A Few Good Men, Prelude to a Kiss on Broadway; King Hedley II and Two Trains Running at the Matrix) and Junior, realized by Fountain favorite
Matthew Hancock
(Brothers Size, I and You, Hype Man), are joined in their huge flat - prime Manhattan real estate - by a makeshift family of sorts. Junior's Nuyorican girlfriend, Lulu (
Marisol Miranda
, seen in
John Patrick Shanley
'sThe Portuguese Kid at NYC's Manhattan Theatre Club and José Rivera's Another Word for Beauty at Chicago's
Goodman Theatre
and New York Stage & Film) and recovering addict Oswaldo (
Victor Anthony
- Clean at the
Atlantic Theater Company
, Jesus Hopped the A Train with LA Theater Collective; Picnic at Actors Theatre of Louisville) seem to have settled in permanently. Visits from Pops' former protégée on the beat, now detective, Audrey O'Connor (played by Lesley Fera — The Homecoming at Pacific Resident Theatre; feature film The Lovers with Tracy Letts; recurring roles on Southland and Pretty Little Liars) and her fiancé, Lieutenant Caro (Joshua Bitton, seen in numerous productions at Rogue Machine, Pacific Resident Theatre and L.A. Theatre Works), and from a beautiful, Santeria-practicing "Church Lady" (
Liza Fernandez
, seen in NYC world premieres La Paloma Prisoner at
Signature Theatre
and Rattlestick's A Fable, and, in L.A., The Giant Void in My Soul and Apple Season) introduce us to the rest of Pops' personal circle. "The play explores important issues of race, policing and gentrification - but in the end, it's all about family, forgiveness and redemption," says Cienfuegos.The Pulitzer Prize committee called Between Riverside and Crazy "a nuanced, beautifully written play about a retired police officer faced with eviction that uses dark comedy to confront questions of life and death."The Fountain's creative team includes scenic designer David Maurer, lighting designer Matt Richter, sound designer
Christopher Moscatiello
, costume designer Christine Cover Ferro and prop master Shen Heckel. The production stage manager is Alexis Hettick.James Bennett, Deborah Culver,
Simon Levy
and
Stephen Sachs
produce for
The Fountain Theatre
, and the executive producer is Barbara Herman."This marks the second consecutive year that the Fountain is producing the L.A. premiere of a recent Pulitzer Prize-winning play," says Fountain co-artistic director
Stephen Sachs
. "I couldn't be happier or more proud."Guirgis is a member and former co-artistic director of
LAByrinth Theater Company
in New York City. His plays, which have been produced on five continents and throughout the United States, include Our Lady of 121st Street (Drama Desk,
Lucille Lortel
, Outer Critics Circle Best Play nominations); Jesus Hopped the 'A' Train (Edinburgh Festival Fringe First Award, Barrymore Award, Olivier Nomination for London's Best New Play); In Arabia We'd All Be Kings (2007 LA Drama Critics Best Play, Best Writing Award); The Last Days of Judas Iscariot (10 Best - Time Magazine & Entertainment Weekly); and The Little Flower of East Orange. His Broadway debut, The Motherfucker with the Hat (dir:
Anna D Shapiro
), received six Tony Award nominations including Best Play. Cienfuegos was recently featured in the "Role Call: People to Watch" issue of American Theatre magazine. He won both the Ovation and Los Angeles Drama Critics Circle Awards for Best Director for his production of Shakespeare's Henry V at Pacific Resident Theatre. Other credits at PRT include Ionesco's Rhinoceros (nine Stage Raw Award nominations, two LADCC Award nominations), the world premiere of Safe at Home: An Evening with
Orson Bean
(LADCC Award for Best Solo Show, LA Times Best of 2016 list), Pinter's The Homecoming (three Stage Raw Award nominations, LA Weekly and KCRW Best of 2015 lists) and Vince Melocchi's Julia (three LA Weekly Award nominations, transferred to off-Broadway's 59E59 Theatres). Cienfuegos currently serves as co-artistic director of Rogue Machine Theatre, where he directed
Greg Keller
's Dutch Masters (Stage Raw Award for Best Two Person Performance, two Ovation Award nominations) and David Jacobi's Ready Steady Yeti Go. Cienfuegos is a graduate of
The American Conservatory Theatre
and is a faculty member at the USC School of Dramatic Arts.
The Fountain Theatre
is one of the most successful intimate theaters in Los Angeles, providing a creative home for multi-ethnic theater and dance artists. The Fountain has won hundreds of awards, and Fountain projects have been seen across the U.S. and internationally. Recent highlights include all-star readings of Ms. Smith Goes to Washingtonand All the President's Men at Los Angeles City Hall. The Fountain's 2018 productions ofThe Chosen and Arrival & Departure each enjoyed months-long sold out runs and was named a Los Angeles Times "Critic's Choice." The company's recent West Coast premiere of
Martyna Majok
's Pulitzer Prize-winning play Cost of Living, was named to the Los Angeles Times' "Best of 2018" list. This season's Southern California premiere of Daniel'sHusband was a Los Angeles Times "Critic's Choice" and has already been nominated for numerous awards. The Los Angeles premiere of
Jiehae Park
's magical Hannah and the Dread Gazebo is currently running through Sept. 29. Between Riverside and Crazy runs Oct. 19 through Dec. 15, with performances onFridays at 8 p.m.; Saturdays at 2 p.m. and 8 p.m.; Sundays at 2 p.m.; and Mondays at 8 p.m. (no Saturday matinee on Oct. 19; dark Monday Oct. 21 and Monday Dec. 9).
Three preview performances will take place on Wednesday, Oct. 16 Thursday, Oct. 17; and Friday, Oct. 18, all at 8 p.m. Tickets range from $25-$45; Pay-What-You-Want seating is available every Monday night in addition to regular seating (subject to availability).
The Fountain Theatre
is located at 5060 Fountain Avenue (at Normandie) in Los Angeles.Secure, on-site parking is available for $5.
The Fountain Theatre
is air-conditioned and wheelchair accessible. Patrons are invited to relax before and after the show at the Fountain's indoor/outdoor café. For reservations and information, call (323) 663-1525 or go to
www.FountainTheatre.com
.
Photo by Jenny Graham