BWW Review: Willimon's FARRAGUT NORTH Contains Flashes of Confrontational Brilliance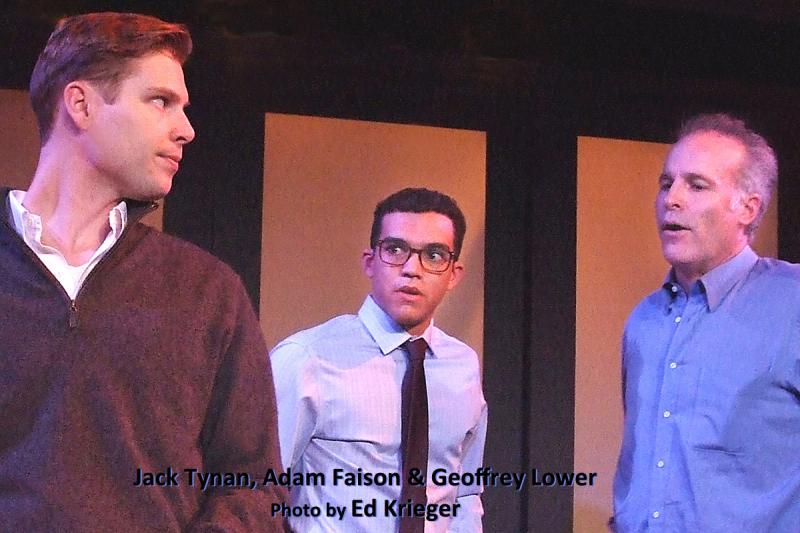 FARRAGUT NORTH/by Beau Willimon/directed by Cathy Fitzpatrick Linder/Odyssey Theatre/thru May 21, 2017
With House of Cards and Ides of March (based on this play) on playwright Beau Willimon's resumé, you might come to see his FARRAGUT NORTH with rather high expectations. If any playwright would know his way around the political arena, Willimon's the guy!
Jack Tynan totally nails the asshole aspect of his lead character Stephen. Never once in these entire chain of events do you feel any empathy for the way consequences
turn out for this supposedly charismatic and brilliant assistant campaign manager. Tynan's confession and termination scenes (with the wonderful Geoffrey Lower as Paul, Stephen's boss) really pop and sizzle, with their tension and their clashing confrontation rating as the drama's highlights. Matching those two scenes with the same intensity, but with much more subtle underplaying by the powerful Andy Umberger as the competing campaign manager Tom; Tynan and Umberger match wits and reasoning as the reversal of who's on top vigorously and intriguingly play out in their first and third very satisfying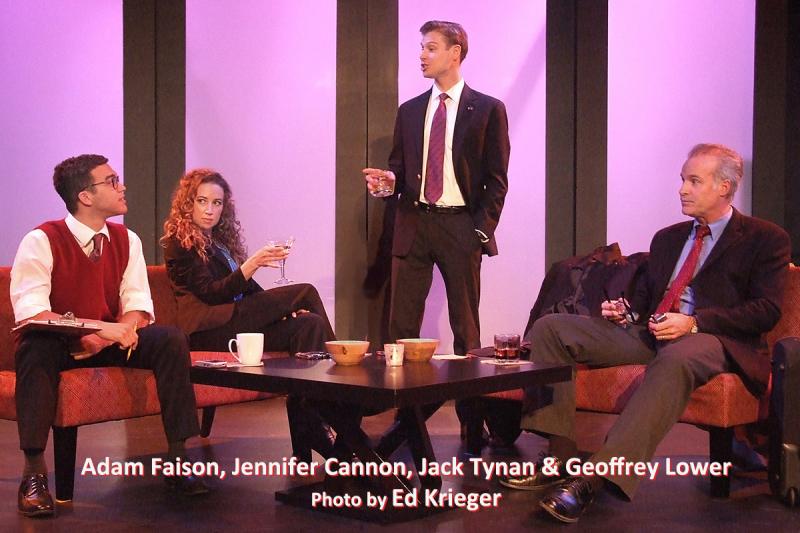 pivotal scenes together. Those into political jargon will find much to spark their interest in the behind-the-scenes goings-on of a political campaign, especially in the opening scene. The ensemble of actors assuredly handle their very lengthy explanations and expositions. Cathy Fitzpatrick Linder directs her actors to deliver their sometimes political buzzword-laden speeches in a welcomed fast pace.
Others in FARRAGUT NORTH making an impression include: Jennifer Cannon as the
no-nonsense, take-no-prisoners journalist Ida who frequently one-ups Stephen; Margaret Fegan as the 19-year-old intern Molly hot for Stephen and unknowingly holding the key for Stephen's revenge; Adam Faison as Ben, the budding assistant campaign manager-wannabe who puppy dogs Stephen, sycophantingly following Stephen's every move; and Francisco J. Rodriguez in the dual roles of a bothersome waiter and Frank the reporter.
Kudos to scenic designer Pete Hickok for his stripped-down, simple set allowing for the smoothest of set changes.
www.plays411.com/newsite/show/play_info.asp?show_id=4614
Related Articles View More Los Angeles

Stories

Shows
From This Author Gil Kaan