BWW Review: WHEN JAZZ HAD THE BLUES - This Must-See Gots Lotza Swing!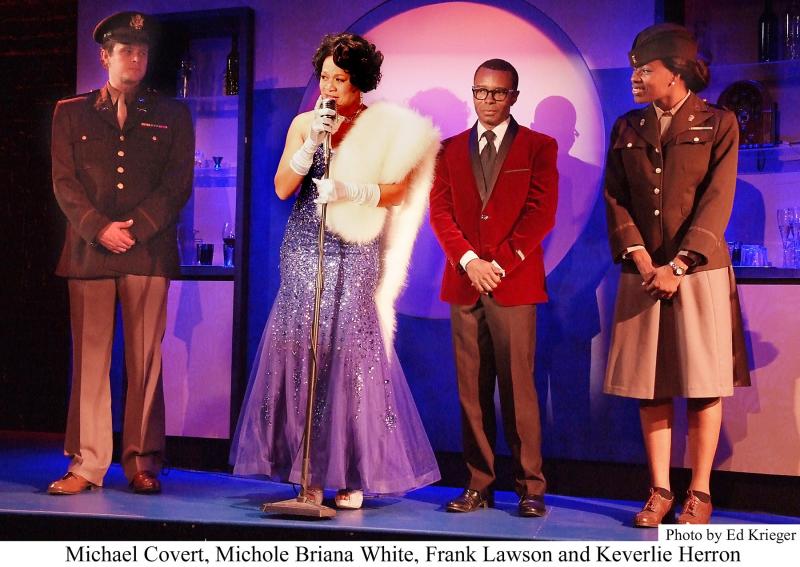 WHEN JAZZ HAD THE BLUES/written by Carol Eglash-Kosoff/directed by John Henry Davis/Matrix Theatre/thru December 18, 2016
Aficionados of jazz, blues, or just good music; RUN, don't walk, to experience the world premiere of playwright Carol Eglash-Kosoff's WHEN JAZZ HAD THE BLUES. A stunning combination of musical talents converge to sing, dance and emote the hell out of Eglash-Kosoff's story of jazz pianist/lyricist/arranger/composer Billy Strayhorn. Frank Lawson inhabits his role of the musical genius Billy - diminutive in stature, but large in his musicality. Lawson makes all Billy's feelings of self-doubt, of loneliness, of joy, of ecstasy so transparent for all to see. Plus this man can SING!
When Billy first meets the already famous Duke Ellington, his awe and respect for the Duke's quite evident in his demeanor. Billy overcomes his initial shyness to nimbly tickle the ivories for his idol. Boise Holmes commands as the awe-deserving Duke Ellington. Kudos to hair/make-up designer Byron J. Batista for making Holmes sooo resemble the charismatic band leader. Duke Ellington takes Billy under his wing grabbing all the writing credit for their first hit together "Take the A-Train." Not receiving creative credit seems to be a small price to pay for Billy as Duke Ellington provides Billy with a nice place to live and lots of spending money - at least, at first.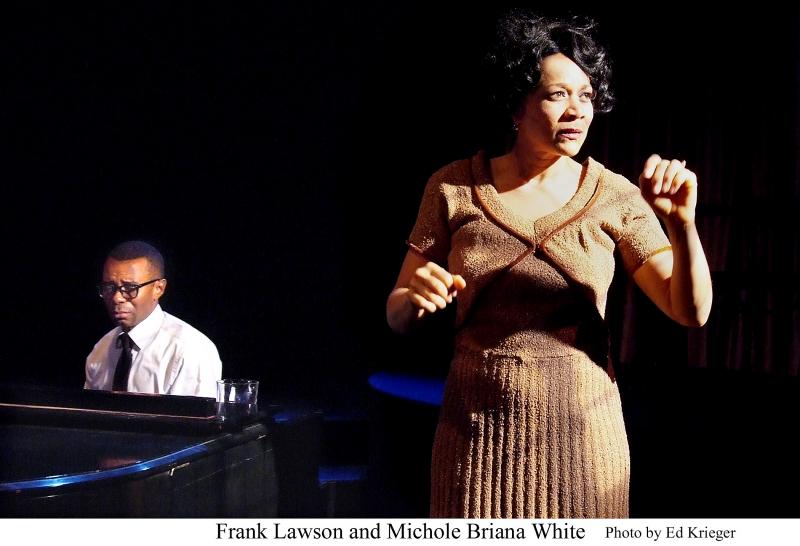 Billy meets one of Duke Ellington's back-up girl singers, Lena Horne. Yes, that Lena Horne! Scene-stealer Michole Briana White IS Lena Horne! White has Mz. Horne's vocals, her speaking inflections, her fierceness DOWN pat!!! I dare you to close your eyes the first time White sings "Stormy Weather" and not imagine Lena Horne singing live in front of you. White nails "When the Sun Comes Out" as her Lena tries cheering Billy up. The meek chorus singer matures into a strong, take-no-prisoners civil activist, with sass and class. Brava, Mz. White!!!
Gilbert Glenn Brown brings strength and passion to his role of Billy's lover Aaron Bridgers. Aaron's more realistic than Billy in regards to letting his gayness known. An accomplished pianist in his own right, Aaron knows how to work his clientele of flirty ladies.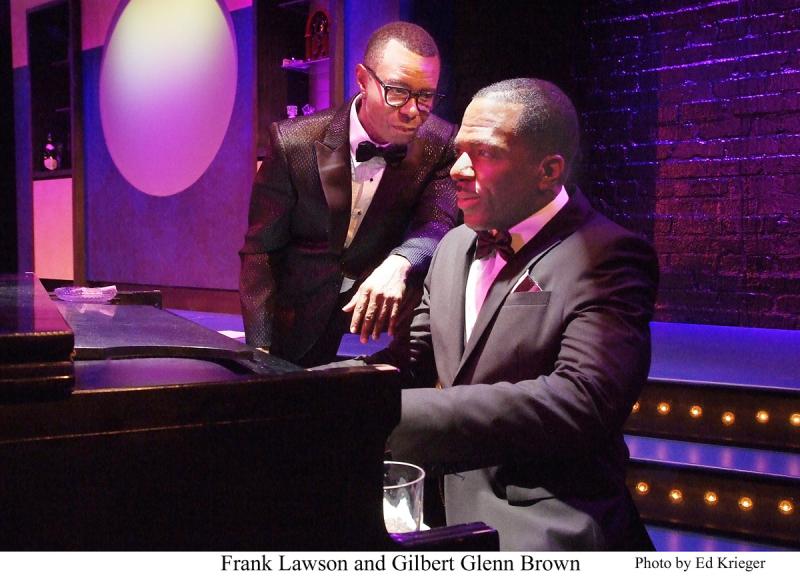 A play about known musical legends would be remiss if their associated popular songs were not performed well. This WHEN JAZZ HAD THE BLUES cast, with the quite able assist from the smoking six-piece band, do the utmost justice to these classics. Lawson's soulful wail in "In a Sentimental Mood" totally seduces Aaron as it's intended. Brown's strong pipes (and Rickey Woodard's saxophone) in "Do Nothing Till You Hear From Me" will definitely bring your eyes to tearing up. Billy and Lena gorgeously duet in a very clever gay/straight version of "The Man I Love."
Katherine Washington receives her moment to shine soloing "Drop Me Off in Harlem," while accompanied by her agile back-up dancers Chris Smith and Darian Archie. Very fun choreography by Cassie Crump, especially in the "American Bandstand"-esque, energy-packed partnering of Smith and Keverlie Herron.
John Henry Davis most deftly directs his wonderful cast at a smooth and steady pace through the emotional highs and lows of a racially charged era (that unfortunately, doesn't seem so long ago). Michael Mullen vividly costumes his cast in the appropriate 1930s, '40s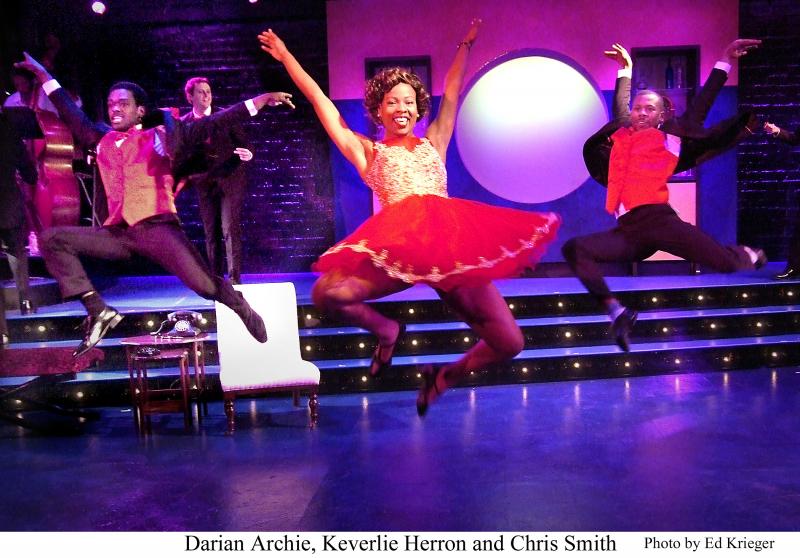 and '50s flashy garb. Se Hyun Oh has designed a multi-functional set with a bandstand on stage right and a smaller raised platform stage left for dual-ended phone conversations with characters center stage. The center wall piece serves as shelving for liquor bottles and such, while bookending a round frosted glass. This full moon-shaped glass backlit artfully adds another location for communicating between two locations. One such most effective use has multi-roled Michael Covert beautifully crooning "My Romance" as Lenny Hayton, Lena's soon-to-be husband.
In essaying his multiple supporting roles, Brad Light also makes his mark.
The remarkable musicians (led by musical director Rahn Coleman on keyboard) all get their opportunities to shine in the beginning overture - Quentin Dennard on drums, Michael Saucier on bass, Woodard on saxophone, Eric Butler on trumpet, and Stephan Terry, also on keyboard. Compliments to Sound Designer Christopher Moscatiello for allowing the exquisitely sung lyrics to always be heard over the tuneful instruments. Very clever to have the piano that Lawson and Brown don't actually play, wired for sound.
Did I say RUN to see WHEN JAZZ HAD THE BLUES? Well, let me say it again!