BWW Review: OUTLAW George Christie Offers Audiences an Insider's Look at Hells Angels
In the minds of many people, the name Hells Angels brings up images of outlaws in black leather, riding on loud motorcycles and always being up to no good just like Marlon Brando in "The Wild One." With a reputation firmly established in popular culture, the Hells Angels have developed a modern mythology around themselves that presents as many questions about the group as answers. Are the Hells Angels organized criminals or compassionate givers to charity and the community? What really goes on behind closed club meeting doors? Are they really just a bunch of drug dealers and petty criminals?
Never having met any members of that "social club" before, when I heard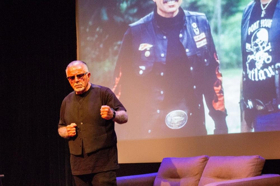 former Hells Angels leader George Christie was bringing his new one-man, autobiographical show OUTLAW, written and directed by Richard La Plante, to the Whitefire Theatre (after enjoying packed performances in Ventura, Santa Barbara, Palm Desert, Las Vegas and St. Louis), I figured it was about time to find out more about the much-feared riding enthusiasts from someone on the inside.
From the reactions of many in the audience, it became apparent that Christie was a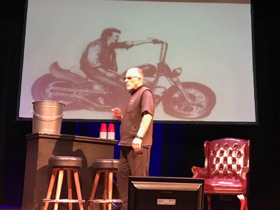 force to be reckoned with during his involvement with the motorcycle culture beginning in 1966. For 40 years he rode with the Hells Angels spending 35 years as a leader, first as president of the Los Angeles chapter, then establishing the Ventura Hells Angels and eventually, the entire West Coast. In fact, his Hells Angels leadership evolved into Christie becoming an international spokesman for the organization, becoming the official voice of the Hells Angels until his departure in 2011.
Through words, images and music, the solo show is often riveting as Christie explores how the son of poor Greek immigrants in Southern California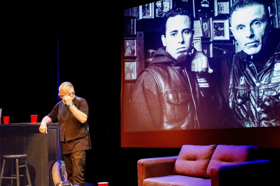 founded the Ventura chapter of the Hells Angels and rose to become one of the most controversial leaders of the world's most notorious biker organizations. For more than three decades, Christie was hunted and hated; prosecuted and persecuted, until finally walking away from the Hells Angels in 2011 and starting a new life as a writer, consultant and family man. OUTLAW reveals the personal side of a man most people have long considered a criminal, but whose life is so much more complex, surprising and personally redemptive. Now retired, Christie is a media consultant as an expert on the outlaw lifestyle and the author of three books, with his History Channel six-part series, Outlaw Chronicles, now leading him to his live stage show.
Told with as much honesty as he seemed willing to share, I soon learned that during his years with the Hells Angels,
George Christie survived time in prison, endured multiple investigations, prosecutions and assassination attempts in the ongoing power and dominance struggle among the various riding groups. Through it all, he considered himself to be a peacemaker in the outlaw biker community, a position he does his best to prove via stories and photos. While I am not sure whether he had a hidden agenda or had people carrying out his real goals behind the scenes, every story he shared opened up his life both in and outside of his hard-drinking days riding with "the boys,"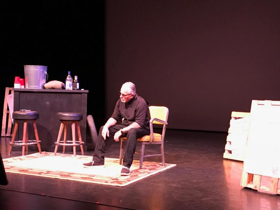 drinking the group's trade name punch: a combination of vodka, scotch, and a lot of LSD. No wonder they got so wild!

Writer/director La Plante shares, "I think most people who had a problem with George in the past, realize that it was a long time ago. George has put the controversies behind him. That's what the show is about." My only advice would be to compress all the information so that the run time sticks to the advertised 90 minutes, and not run over 2 hours with an intermission.
OUTLAW is produced by Charles Lago in association with Clago Productions, and runs through August 24 with performances on Thursdays and Sundays, and later in the run on Fridays at 8 p.m. Tickets are $25 for all performances. Whitefire Theatre is located at 13500 Ventura Blvd. in Sherman Oaks, CA 91423. For reservations, call (213) 713-9149 or go to www.Clagoproductions.com and for more information please visit www.GeorgeChristieOutlaw.com.
Photos courtesy of Clago Production and Nick Bzovy
Promo video: https://youtu.be/C-0gJGevP_8
Related Articles View More Los Angeles

Stories

Shows