BWW Review: OMG!!! UMPO CLUELESS Is Da Bomb, Y'All!!!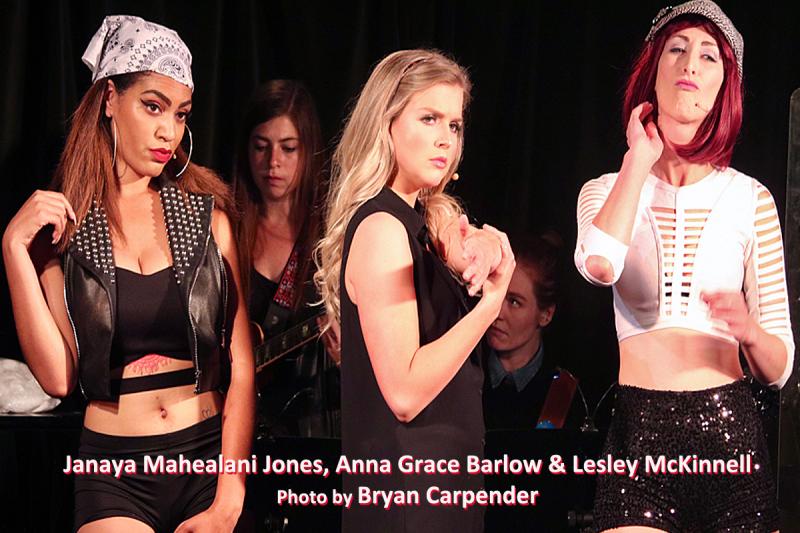 UMPO CLUELESS/written by Kate Pazakis/directed by Jimmy Smagula/musical direction by Gregory Nabours/Rockwell Table & Stage/thru September 1, 2018
Kate Pazakis, executive producer of the UNAUTHORIZED MUSICAL PARODY OF series, continues to top herself and her uber-talented team of artists in their latest creation THE UNAUTHORIZED MUSICAL PARODY OF CLUELESS.
Director Jimmy Smagula ever-so-smartly runs his triple-threat cast of eight through a rapid succession of recognizable pop songs tautly strung together with Pazakis' very clever spoofs of the film's taglines. Pazakis ingeniously updates the 1995 film Clueless to present time with various political references and a funny shout-out (or diss) by the compelling Janaya Mahealani Jones playing Dionne in UMPO CLUELESS to the
actress who played Dionne in the film.
A quick outline of UMPO CLUELESS for those who aren't familiar (and you don't have to be familiar to, like, toooo-tal-ly enjoy this) - popular Beverly Hills High School girls Cher, Dionne and Amber plot to convince their teachers Miss Geist and Mr. Hall to raise their failing grades, while also inviting Tai (the new girl) to join their privileged clique. Oh, and there's the not-so-sub-subplot of Cher losing her V-card.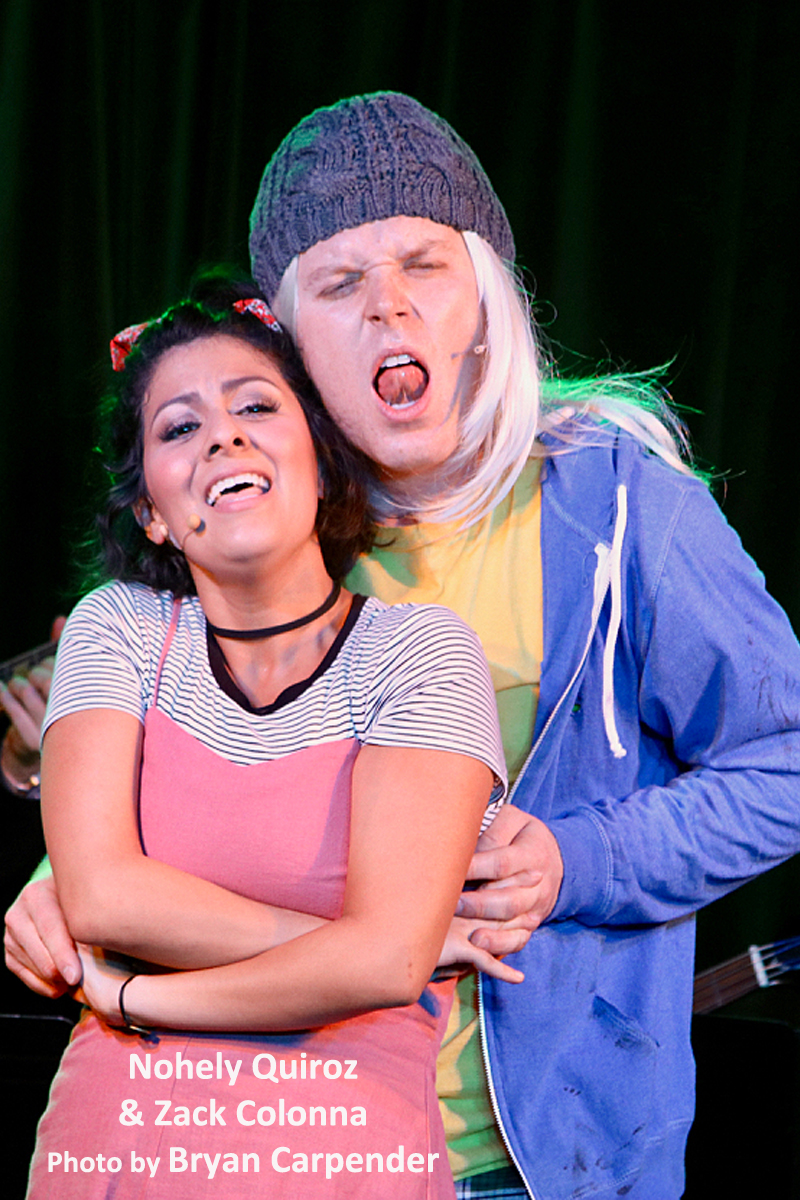 Opening night cast (each role's double cast) uniformly sing, dance, and dish out sharp unsolicited critiques in a continuous, laugh-out-loud sequence utilizing every available inch of the Rockwell Table & Stage's main room.
UMPO CLUELESS starts with the entire ensemble singing "Kids in America" while all nailing Mallory Butcher's clever choreography (which they surely do with their nimble feets in the ACT TWO opener "Bye Bye Bye," and throughout).
Each performer gets his or her individual turn in the spotlight, in between giving full back-up support for other's turns.
Anna Grace Barlow embodies Cher, the most popular girl at BH High. Her strong vocals take their centerstage in the ACT ONE finale "Torn," and her solo "Stay."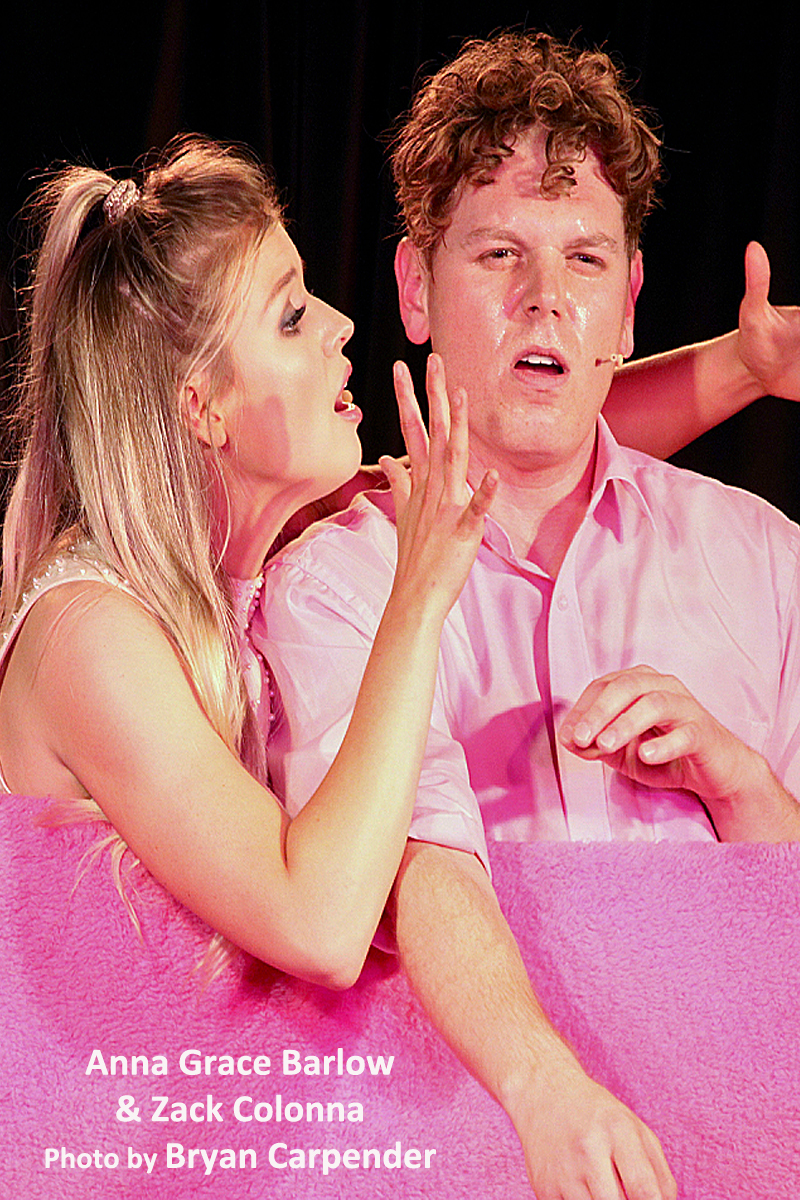 Nohely Quiroz endows new girl Tai with her sturdy vocals and sexy hip swivels in "MMMBop," "I Wanna Dance With Somebody," and especially in her beautifully harmonic duet with Zack Colonna as Travis in "I'll Make Love to You."
Colonna not only hiiigh-lariously plays the stoner Travis, but the Xanadu-loving Christian - two distinctly different characters. Colonna's solid vocals exhibit themselves in Travis' solo "We Are The Champions," and in his other hysterical duets as Christian with Barlow in "Barbie Girl" and "Xanadu."
Also artfully playing multiple roles (also distinctively differentiated), Lesley McKinnell and Marqell Clayton. McKinnell's soaring vocals match up with Clayton's solid pipes as their two middle-aged, out-of-touch, un-hip teachers' comedic seduction turns red-hot, in their show-stopping duet "Friends and Lovers." McKinnell, as sexy teenager Amber, sharply interjects her CLUELESS non sequitors in the most purposely inopportune (but uproarious) moments. Clayton's smooth top man on the high school campus Elton sizzles with Quiroz in "Rollin' With the Homies," then soloing in "I Touch Myself."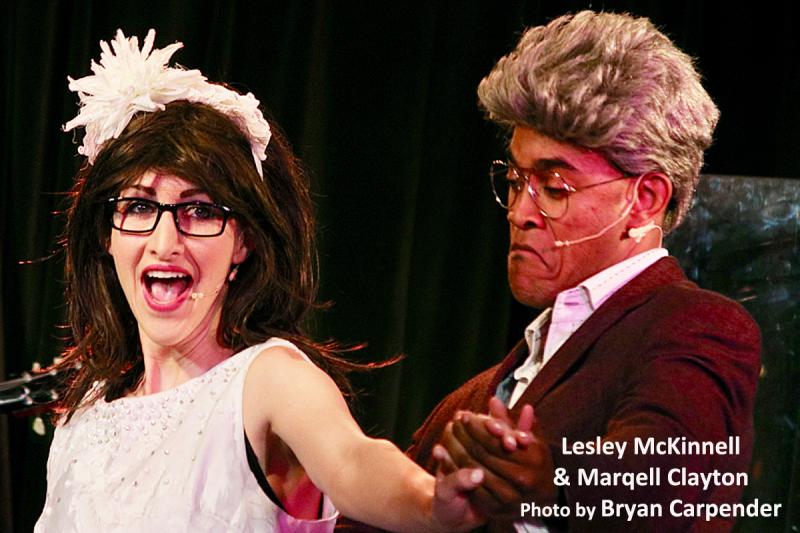 Courtney Bruce sings the hell out of her role of no-nonsense gym teacher Murray in "Legs," adding lots of effective bumps and grinds to "Let's Talk About Sex." With McKinnell, Bruce wows in "Good Vibrations." With Barlow and McKinnell, three women sing an infectiously fun "Friday."
Matthew Bohrer readily inhabits Josh, Cher's often overlooked step-brother displaying his vocal chops in "Boulevard of Broken Dreams" and "Losing My Religion." Bohrer and Barlow start off the most fitting finale "Time of My Life," with all joining in as happy couples, and featuring a signature Dirty Dancing lift well executed by Clayton and McKinnell.
As always, the UMPO band supply rock-solid musical support, with Emily Rosenfield on guitar (assuming the opening night duties of musical director), Nick Healy on piano, Blake Estrada on bass and Greg Sadler on drums.
Costumer designer Chadd McMillan must have had a simply FAB-ulous time outfitting - on point - these clique-y gals' disco gear, the wedding party ensembles and various character wigs immensely complementing the characters' wearing them. Special shout-out to the easy on-and-off "headlights" Jones and a couple other performers get to don to maximum comedic effect.
Did I say that UMPO CLUELESS is DA BOMB??? What-evv-errrrr! It's worth repeating!
Related Articles View More Los Angeles

Stories

Shows
From This Author Gil Kaan
Gil Kaan, a former Managing Editor of the now-defunct Genre magazine, has had the privilege of photographing and interviewing some major divas of film, television, (read more...)