BWW Review: Levi Kreis Brings BROADWAY AT THE KEYS to LA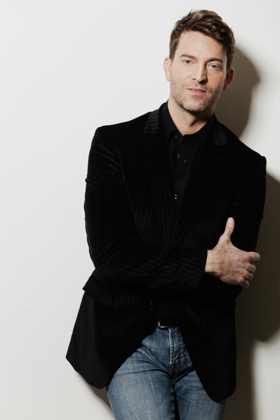 A small town Tennessee Southern Baptist sissy Levi Kreis has taken LA, New York and the world by storm within this millenium. When he performs not only gays flock to see him. He has many, many straight fans as well. Why? Because this phenomenon is one enormous talent who, as my mom used to say, can make a piano TALK. He won a Tony for playing Jerry Lee Lewis in Million Dollar Quartet and has developed a fast-paced, heart-pounding style like no other singer of this generation. He is mesmerizing to watch and a dynamite pleasure to listen to.
On Saturday August 19 Kreis (pronounced like Christ without the t by his own admission) performed his solo show at LGBT in Hollywood . He is on tour to promote his latest CD Broadway at the Keys. To say the show was a hit with the audience is an understatement, as most lined up in the lobby following the 80-minute set to purchase the CD and to meet the charismatic singing/songwriting star for a selfie and a signature.
Kreis took centerstage, introduced by kind and caring artistic director of LGBT Jon Imparato, with "Corner of the Sky" from Pippin, one of the many Broadway selections on the new album. While many pianists focus completely on their playing, looking at the keyboard only, Kreis alternates between his playing and ... the audience. He flashes them that winning smile, for he is eager to please. Intermingled with the songs, there was patter, anecdotes about his life, growing up in Tennessee with a military, Baptist father and a mother, who collected Brenda Lee memorabilia and introduced country and pop music to her little boy ("Crazy", "Walkin' After Midnight"). He played sports, but early on, after seeing Sweeney Todd ("Not While I'm Around") in New York, knew that he wanted to sing/act for a living. Surprisingly, when he left his home town for LA, his parents, although displeased, lent him as much support that they could muster, encouraging him to be a songwriter.
Unprepared for the cattle calls in LA - he thought his cattle farmer background might help him understand a cattle call - he auditioned with a song by Bonnie Raitt "I Can't Make You Love Me" and began to get work. But playing in the studios and shifting recording labels he encountered as much homophobia as he had in the Baptist Church, finding terrible rejection. It wasn't until he saw playwright Del Shores' Southern Baptist Sissies, that he realized that he was not the only gay man to face prejudice. Broadway beckoned with a tour of Rent, and after doing Jerry Lee in ...Quartet and earning a Tony, more steady work came his way.
Other highlights of this incredibly delightful evening included: a salute to Ray Charles with "Hallelujah, I Just Love Her So"; of course, a tribute to Jerry Lee Lewis with "Great Balls of Fire", and more Broadway tunes from the album, a totally rollicking "Kansas City" from Smokey Joe's Cafe and Carol King's "Will You Still Love Me Tomorrow" from Beautiful. Also on tap were a couple of his own compositions including "It's Just This Good", a song he wrote to celebrate the harmony of a gay couple's anniversary. He concluded with "Wind Beneath My Wings" from the movie Beaches, about to become a Broadway musical, in loving dedication to his gay life partner.
Kreis has a delicious sense of humor. One story I must mention shows the down.home quality of his personality. During the month that led up to the Tonys, he kept seeing a man at performers' events whose face he recognized, but...he didn't know his name. He charged in, like a good 'ole southern boy should, and greeted him with congratulations. He kept bumping into him and talking at various affairs and it got to the hugging stage whenever they would meet. On the eve of the Tonys, Kreis pointed the man out to his partner, who quickly told him, "That's Kelsey Grammar". He had recognized him from Taxi and Frasier, but it didn't connect until that moment. In his own geniunely warm, charming way, he made a new friend, who, like all of us, would never forget him.
Levi Kreis exudes tremendous energy, focus and devotion to his music onstage and getting to know you, off. His vocal instrument has quite the range and is uniquely magical. He is one renaissance talent that you do not want to miss. What a spectacular and truly original performer and human being!
Related Articles View More Los Angeles

Stories

Shows