BWW Review: LA Mirada Welcomes Agatha Christie's MURDER ON THE ORIENT EXPRESS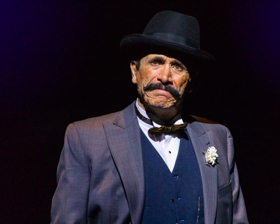 Agatha Christie's Murder on the Orient Express/adapted for the stage by Ken Ludwig/directed by Sheldon Epps/La Mirada Theatre for the Performing Arts/through November 11
Agatha Christie's classic Murder on the Orient Express was a hit movie in 1974 with an all star cast headed by Albert Finney as detective Hercule Poirot. Now adapted for the stage by Ken Ludwig, in its West Coast premiere, Murder... bows at La Mirada Theatre for the Performing Arts directed with taut precision by Sheldon Epps and featuring a stellar ensemble. It plays through November 11 only.
Poirot (Tony Amendola, pictured above) is traveling from Istanbul to Europe in 1935 and tries to book passage on the Orient Express. To his dismay, it is totally booked. When he finally does get a room, a huge snow storm is forecast and of course, vacation or not - he's always primed for action - a brutal murder occurs onboard on the first night. Based on the Lindberg kidnapping and murder of Charles Lindberg's little son in 1932, the plot here involves a little girl Daisy Armstrong (Hope Noel Bradley) kidnapped and murdered by Bruno Casseti who was freed, leaving the family distraught. The injustice caused other family deaths/suicides to soon follow. Everyone connected to the family has booked passage on this train with the intent of disrupting the life of industrialist Samuel Ratchett, who is in fact Casseti. Manager of the train Monsieur Bouc (Time Winters) assists Poirot in investigating the murder of Ratchett, who was stabbed eight times - and, there are eight suspects! Was it a conductor who boarded the train and then fled or was it one of the eight onboard who all mourned the murder of the little girl and decried the release of her assailant?
It doesn't really matter. In an Agatha Christie mystery, what counts is that you are having fun watching all of the eccentric characters as they lie their way through Poirot's meticulous and brilliant investigation. Poirot himself is a character one is not likely to forget because of his larger than life persona, mysterious air and abundant charm. Enter Greta Ohlsson (Julia Aks), Princess Dragomiroff (Anne Gee Byrd), Helen Hubbard (Christine Dunford), Countess Andrenyi (Zarah Mahler), Colonel Arbuthnot (Matthew Floyd Miller, also playing Ratchett) and Mary Debenham (Rachel Seiferth) ...and you are in for a treat. Adaptor Ken Ludwig has depicted all of them colorfully with enough gargantuan flaws and pesky traits to keep one entertained until the curtain falls.
Every cast member turns in an outstanding performance with no one better than anyone else. Of course, we must praise Amendola for his unrelenting tenacity as Poirot and Winters for his sheer passion as he assists, like a Dr. Watson to Sherlock Holmes. Sheldon Epps has directed the whole piece with brisque timing and allowing his actors to flesh out their characters with over.the.top panache.
Stephen Gifford's set design of the train is awe inspiring. It is one thing to show it from the outside and within, but to execute its movement with snow falling around it, is quite another. It takes much effort for stagehands to pull the cars left or right. The interior design is luxurious in gold displaying both the dining car and three of the berths. Jared A. Sayeg's great lighting showing day and night, Josh Bessom's crisp sound and Shon LeBlanc's period perfect costuming are all incredible, adding to the thrill of this edge of your seat thriller. Don't miss Agatha Christie's Murder on the Orient Express through November 11 only at La Mirada Theatre for the Performing Arts! It's another feather in Tom McCoy and Cathy Rigby's hat.
(photo credit: Jason Niedle)