BWW Review: Kiki Ebsen Presents a Rich Tribute to Her Dad Buddy Ebsen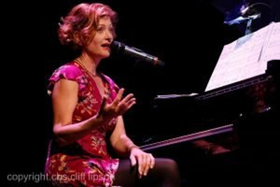 To Dad With Love: A Tribute to Buddy Ebsen/written & performed by Kiki Ebsen/Theatre West/October 12, 13, 14 ONLY/CLOSED
A one person show in honor of a parent is from experience full of vengeful loathing or in reverse complete adulation. My father raped and abused me as a girl; I cannot bare the torment any longer...or My father led an exemplary life; it is not easy to live up to his high standards. Many fall in the middle...my dad did have his flaws but persevered with stamina and an unforgettably joyous spirit. The latter is the case with Buddy Ebsen. His daughter Kiki Ebsen looks back fondly and peppers her fascinating anecdotes with the music of her father's era, as well as a myriad of photos and film clips from his checkered film career and more successful TV shows. To Dad with Love, A Tribute to Buddy Ebsen played Theatre West this past weekend to packed enthusiastic houses.
Kiki Ebsen has a uniquely lovely singing voice and concentrated on the American Songbook. She joked up top that when she would mention Alice Cooper, Buddy said "Who's she?" When he offered that Jo Stafford coach her, she responded "Who's he?" They were miles apart in musical exposure and tastes. But her father taught her appreciation of music and also how to put together a spontaneous musical performance. From experience on Broadway and in vaudeville road shows, Buddy could wing it, but Kiki was used to methodical classical piano lessons. She had much to learn. Musically the audience was treated to such classics as "Easy to Love", "Moon River", "St. Louis Blues", "Over the Rainbow" and from The Wizard of Oz "If I Only Had a Brain".
The Oz story is of course that Buddy Ebsen was cast as the Tin Man in The Wizard of Oz, but due to severe allergic reactions to the aluminum powder in his makeup, he was hospitalized after 10 days of rehearsals and unable to continue. Jack Haley replaced him in the film, and the rest is history. This had to be a huge disappointment in Ebsen's career, but he moved on. One of my favorite stories concerns the movie Captain January with Shirley Temple. On screen we were treated to the extraordinarily choreographed dance number "The Codfish Ball". Amazing! Another moment like this came with "Breakfast at Tiffany's" in which Ebsen played Holly's older husband, who visits and tries to get her to come back home with him. We watched and were captivated by Audrey Hepburn's luminous work... and...realizing just how wonderful Buddy Ebsen is in those scenes opposite her. His work was very underrated, to be sure! Kiki beautifully performs "Moon River" during this segment, that concludes the first act.
The entire show is 90 minutes, divided into two acts The musical combo is behind Kiki throughout, so she tells a story, which segues into a song. It is important to say that her motivation comes from an enormous trunk filled with costume pieces, props and photos from Buddy's career on both the big and small screens. This is how Kiki connected to him. She had found the trunk years after his death, started to go through it, and it wasn't until then that her father's life made sense to her.
There's one fabulous moment in the second part, where a dancer plays Buddy and tap dances with Kiki. He comes in from behind a screen, where we saw him in shadow and performs with her, Before he exits, he hands Kiki his hat, which she puts on. He goes back behind the screen, evaporates and she sits, dazed and dazzled at this unbelievably emotional connection to her father and his love of dancing, being onstage and performing for an audience. Thanks to Gregory Gast for the splendid choreography, to the director of the entire evening S.E. Feinberg for creating a nicely paced and evenly staged performance. Bravo to the four musicians and especially to Kim Richmond for his sensational solos on the sax and piccolo. And, to those at Theatre West who mounted the projections and film clips, much kudos! They added so much flavor, bringing back Buddy, who may have been too tall for the chorus, but who managed to turn in many, many delightful performances and stagger us with his enormously serene talent.
I enjoyed the evening immensely. I have only one constructive comment to make. Kiki makes this whole evening an intimate experience. She is engaged fully and riveting to watch, but...she needs to raise her projection up a notch or two. This happens to great performers in small spaces. Without a mic, some of the patter becomes difficult to hear. I'm sure this will iron out, as the show moves along. Don't miss it when it returns to Theatre West or wherever. If you loved Buddy Ebsen, you will love him more, because of Kiki Ebsen's unrelenting drive and dedication to keeping his memory alive.
Related Articles View More Los Angeles

Stories

Shows