BWW Interview: UMPO's Kate Pazakis Laboriously Producing Live Productions - The Latest Ones Simultaneously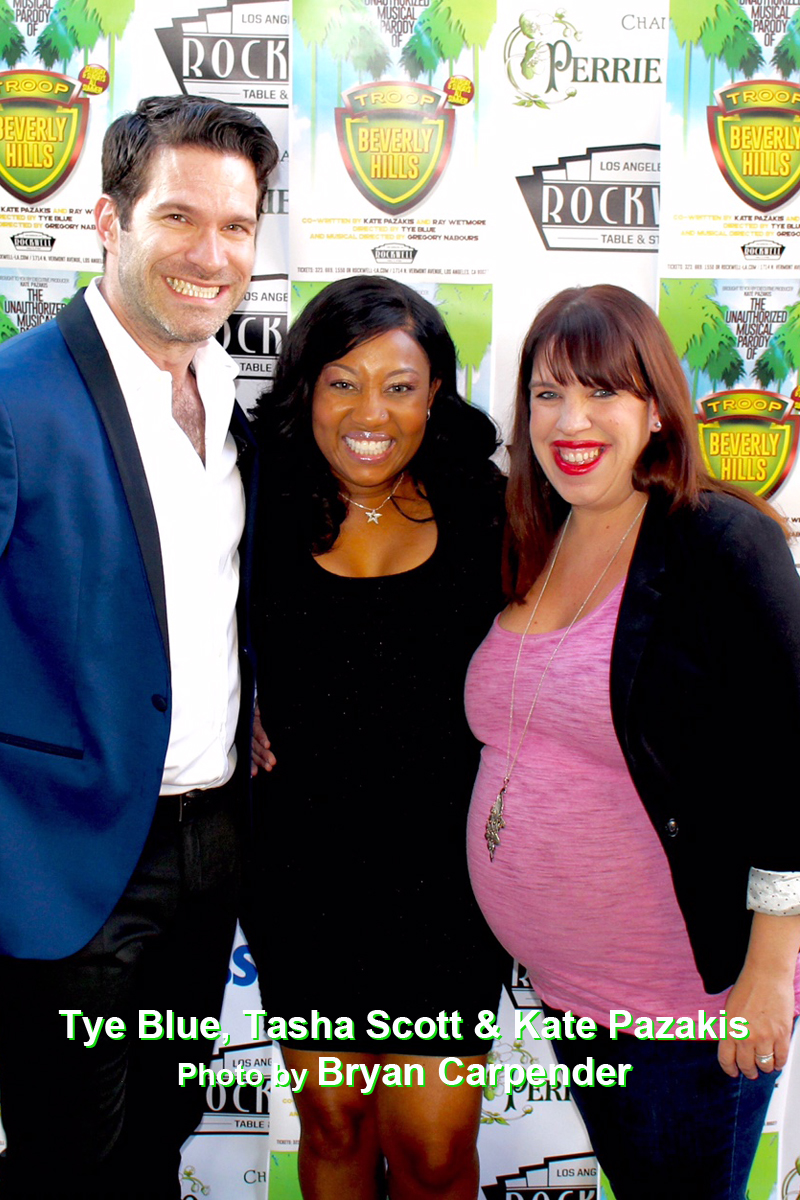 For years now, Kate Pazakis' UMPO has been steadily optimizing her passion of film, turning them into loving spoofs that even those unfamiliar with the movie sent-up can still enjoy. With her talented partners, they take cult film favorites and match them up with pop tune soundtracks for mash-ups of wit, fun, incredible singing and much laughter. UMPO's latest creation THE UNAUTHORIZED MUSICAL PARODY OF HOCUS POCUS opened September 29, 2016 at the Rockwell Table & Stage.
Kate, thank you for taking the time to chat with BroadwayWorld and myself.
THE UNAUTHORIZED MUSICAL PARODY OF HOCUS POCUS is your eighth UMPO production. What can we expect from this particular production?
We have definitely raised the bar in this production. The cast is stellar. I am so honored to have one of my favorite performers in this cast playing Winifred Sanderson - Tony Award winner, Marissa Jaret Winokur. When she won the Tony 13 years ago, I cried. I even cut out her picture and put it on my vision board that year. We are one week into rehearsal and I have to say, this just might be the best UMPO yet!
What exactly is the name of your production company?
UMPO: aka "The Unauthorized Musical Parody Of..."
You and who else make up the core group of UMPO?
My core group is Tye Blue as director and Gregory Nabours as musical director. I have written three parodies with the amazing Ray Wetmore, one with John Flynn, and one with Daniel Segura. I did not write UMPO SCREAM or UMPO CRUEL INTENTIONS.
What key aspects do all of you look for in choosing a film to parody?
I look for something that has a die-hard cult following. It has to be something that you can quote and watch a million times. My list of upcoming parodies is long and delicious.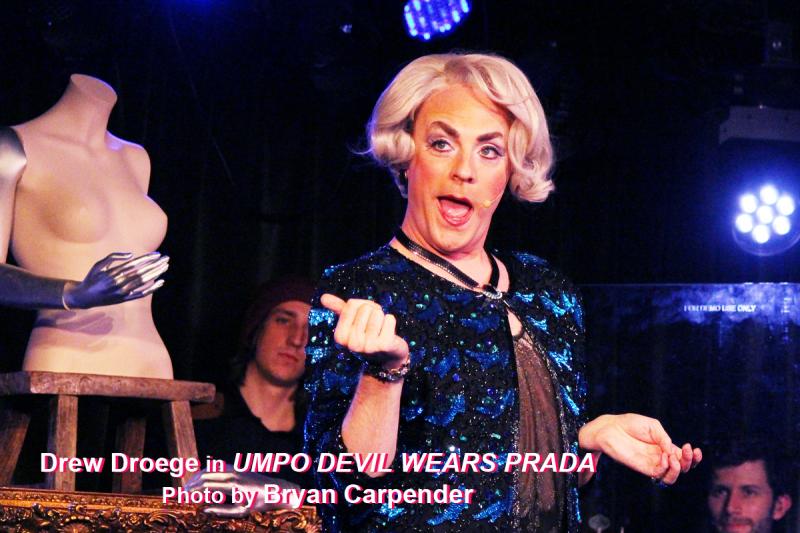 I see a couple of re-occurring names in your cast lists: Drew Droege (Miranda Priestley in UMPO THE DEVIL WEARS PRADA & Velda Plendor in UMPO TROOP BEVERLY HILLS), Lana McKissack (Assistant Andy in UMPO THE DEVIL WEARS PRADA & Rosa/Lily in UMPO TROOP BEVERLY HILLS), Gwen Hollander (Kevin in UMPO HOME ALONE & Hannah Nefler in UMPO TROOP BEVERLY HILLS). Do you have a repertory group of talent to cast your shows with?
I wouldn't say that I have a repertory group, per se. However, when I find someone who is talented and a dream to work with, I use him or her over and over. It makes the process so much more enjoyable. Doing a show in a small space on a small budget can be challenging. The people who I use over and over are some of the most talented people that I have encountered in my career. It would be doing a disservice to my series to not use the best of the best. Along the same lines, I will not bring someone back who makes the experience difficult, no matter how talented they are. Yes, this is my career-but it is also my passion. I want to enjoy the whole experience.
How does one audition for a spot in your show?
People can send me a headshot/resume along with a video of them singing a pop/rock song. From there, I will call people in that are right for what I am casting. I tend to cast people with strong improvisational skills who can SING.
At the performance of UMPO TROOP BEVERLY HILLS I attended, alumni of the film (director Jeff Kanew, and actresses Mary Gross (Annie Herman) and Tasha Scott (Jasmine Shakar) were laughing and applauding along.
Opening night was a joy, watching Mary Gross laugh and clap. She was so gracious and lovely before, during, and after the show. She spoke to our cast and crew and was so moved that we honored what she had done all those years ago. Tears were shed all around! We were doing red carpet arrival photos with the cast and Tasha Scott started singing "Cookie Time" á capella, and the cast lost it. They were just singing and jumping up and down. It was surreal and truly special.
Who others from your other parodied films have shown up at Rockwell? And what were some of their reactions?
UMPO SCREAM - Writer Kevin Williamson came to the show and loved it. He took pictures with the cast and came back to the see the show twice. David Arquette missed UMPO SCREAM, but has attended our other shows.
UMPO CRUEL INTENTIONS - Writer Roger Kumble came to the show 5 times. Original movie cast members: Reese Witherspoon, Sarah Michelle Gellar (2 times), Ryan Phillippe (2 times), Selma Blair and Sean Patrick Thomas. They came to the show and partied with cast afterwards until late.
UMPO CLUELESS - It was so much fun seeing people come back to the show multiple times, dressed in costume as their favorite characters from the film. We even took the cast to the actual fountain and courtyard used in the movie for a promo shoot, so it was like being on sacred ground.
UMPO THE DEVIL WEARS PRADA - Writer Aline Brosch McKenna loved the show and even got on stage with the cast and danced during the closing number. Tracie Thoms also attended and was a great sport about us making all inside-of-inside jokes about her, including a recurring RENT joke. During the six-month run of PRADA, I loved watching the crowd go wild when Miranda makes her big entrance. Every show, they went nuts and the actors sharing the role had to pause and let the applause die down before they could speak their first word of dialogue. One moment that stands out was during tech rehearsal for PRADA. It was two days before our first performance and the custom Miranda Priestley wig had not yet arrived. Late in the afternoon, it arrived as Drew Droege was rehearsing a scene onstage. Our director, Tye Blue, unboxed it and Drew literally grabbed it out of his hand and went to put it on. A few minutes later, he came back wearing the wig and the energy in the room changed. Miranda had arrived. That wig was incredible and helped bring Miranda to life.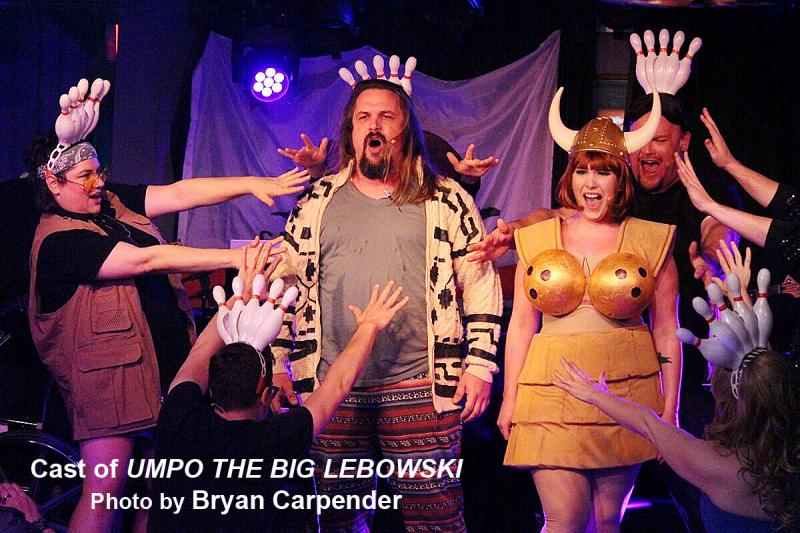 UMPO THE BIG LEBOWSKI - The real DUDE that the film is based on came to the show. Cast member James Hoosier attended our opening night celebration. But I think the most special moments were seeing fans of the film come in full costume, drinking White Russians, and howling with laughter at our show. Married couples dressed as The Dude and Maude, having dinner, drinks, and the time of their lives. Musically, LEBOWSKI was an evolutionary leap for us. It was our first straight up rock n' roll show, so our amazing band and cast really got people rocking out.
Live, immersive theatre can be totally unpredictable. What was the funniest or craziest incident that sticks in your mind that occurred during each of your past seven shows:
UMPO SCREAM - Sarah Hyland (Modern Family) played Sidney. One night she had some super fans in the audience that were very loud and obnoxious. Instead of being annoyed, she asked their names and made a bit out of it.
UMPO CRUEL INTENTIONS - Watching Sarah Michelle Gellar and Reese Witherspoon take selfies through the show was hilarious.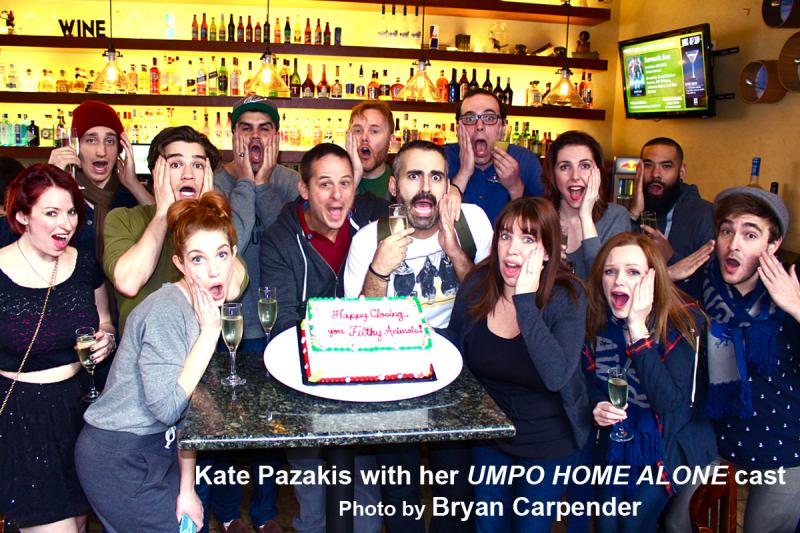 UMPO CLUELESS - One of the parody twists was having Amber (Cher's nemesis) played by a man in drag-with a full beard. Tom DeTrinis got some of the biggest laughs we've ever heard just riffing off the audience. It was so much fun because the audience had so much love for the source material, so we really got to give them nostalgia-gasms.
UMPO HOME ALONE - There was so many props, it was laughable. But the best audience reactions came from the unexpected musical choices. Late in the rehearsal process, we added in a bit with Kate McAllister calling everyone trying to get in touch with Kevin. Adele's song "Hello" had just come out, so we thought we'd try it, even though it was so current. People went nuts for it and our cast sold that bit every night to thunderous applause.
UMPO THE DEVIL WEARS PRADA - One night, Marla Mindelle was on as Emily. She was supposed to enter a scene with her cellphone, but she couldn't find it, so she grabbed a giant soup ladle and used it as a phone. It got a laugh and became a running bit. People know every word of Miranda Priestley's monologues and they tended to speak them aloud-often a few beats too early. This led to Drew Droege and John Flynn often having to chastise over-eager audience members in character as Miranda, which made the crowd go wild.
UMPO THE BIG LEBOWSKI - The costume worn by Emma Hunton/Keri Safran who played Maude got a variety of reactions. When she entered the room (in the nude body suit with fake body hair attached), some people applauded and others covered their eyes.
UMPO TROOP BEVERLY HILLS - This past weekend Drew Droege, Kat Tokarz and Marla Mindelle were in rare form. There was a moment where the cast completely broke character and could not stop laughing. Finally, Marla said, "Okay. Enough. Can we please continue the show now..." Those moments in live theatre are always so fun.
Let's get Sophie's Choice on you, Kate. Pick your favorite parody so far.
It's a tie between UMPO THE BIG LEBOWSKI and UMPO TROOP BEVERLY HILLS.
You have a list of show credits in New York. Are you a New Yorker or an Angeleno now? Or do you consider yourself bi...coastal?
Bi...coastal. I love living in Los Angeles. This is a special time in this city with the rebirth of/reinvention of cabaret and theater. There is no place that I would rather be living right now. However, I lived in NYC for 17 years of my life. I will always be a New Yorker in my heart.
I don't get to ask this question too often, but how was it to produce a show in your advance months of pregnancy?
Not. Easy. I was exhausted and uncomfortable. It definitely took me a lot longer to get everything done. Luckily, my team is so supportive and understanding. We went from late night brainstorming sessions with wine to early morning coffee meetings.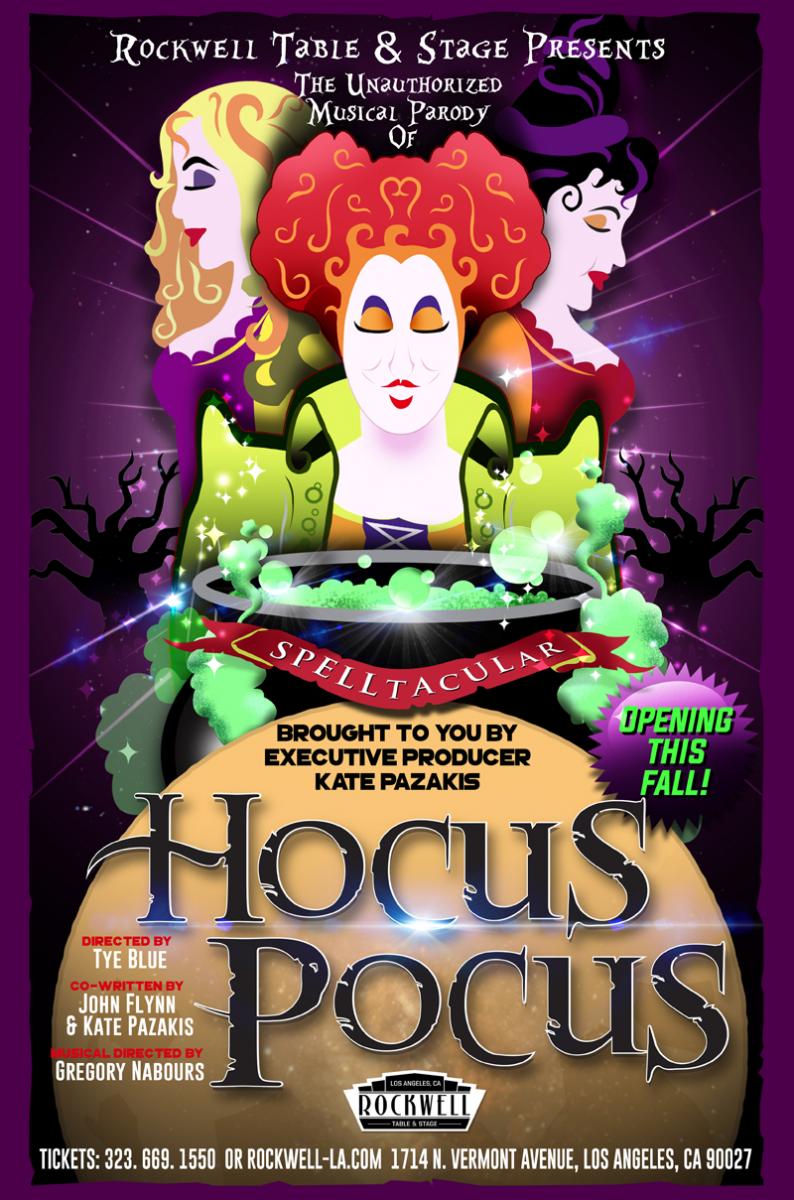 And I can't ask this next question of just anybody. Which is more challenging for you - having a baby or birthing a parody?
Ha! Well, writing the parodies is definitely my passion...but I have always wanted to be a mother. Now, having my first child at 40 years old is definitely harder. But my son is my heart. He is proof that dreams can become a reality.
Thank you, Kate! Congrats on your latest real-life production and break a leg on UMPO HOCUS POCUS!!!
A perfect show to get you in the mood for Halloween. Be ready for whatever's thrown at you (literally) or in your direction - possible flying liquids, a discarded prop, a tossed piece of wardrobe.
UMPO HOCUS POCUS plays through November 12, 2016. Log onto www.rockwell-la.com for schedule and tickets.