BWW Interview: Michael Childers Brings A Star-Studded Tribute To Andrew Lloyd Webber To Palm Springs in April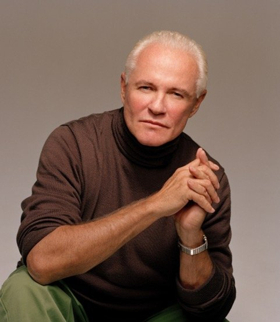 Celebrated Producer Michael Childers will bring his latest edition of One Night Only to The McCallum Theatre on April 24, 2019 with a star-studded cast including Christine Andreas, John Barrowman, Liz Calloway and more. This season's ONO is a tribute to Andrew Lloyd Webber and proceeds will benefit The Barbara Sinatra Children's Center. I had the chance to catch up with Michael as he was crafting this season's sell-out event. Here are a few excerpts from that conversation:
DG: How many years have you been producing One Night Only?
MC: Fourteen years.
DG: This season you are working with a new charitable organization. Tell me about that.
MC: I'm so proud that this year One Night Only had begun a new relationship with the wonderful Barbara Sinatra Children's Foundation. The co-chairs and I are very excited about this.
DG: How did you select the theme for this years production?
MC: We wanted a very popular and recognizable composer of Broadway musicals, and now that John Barrowman lives in Palm Springs, he's starred in many of the great Andrew Lloyd Weber musicals, it just felt like the right time to do this. I also have a past history of working on some of the original Andrew Lloyd Webber productions in London, Los Angeles, and New York. I was lucky enough to photograph the original Joseph and the Amazing Technicolor Dreamcoat for Plays and Players Magazine. In Los Angeles, when Evita was trying out, I photographed Patti LuPone as Evita for After Dark Magazine. I also photographed Teddy Neely in the original Jesus Christ Superstar, so there is a connection there. I also love the selections we've chosen from Evita, Phantom of the Opera, Cats, Sunset Blvd, and a couple from Joseph and the Technicolor Dreamcoat. It's a very exciting melange of very different songs.
DG: Who are a few of the incredible performers you have this season?
MC: The cast is through the roof wonderful this year. Some recognizable singers performing are Liz Callaway, Lisa Vroman, Ann Hampton Calloway, Loni Ackerman, John Barrowman, Christine Andreas, Jim Brochu, Brent Barrett, Davis Gaines and Jason Graae. One of my most exciting casts ever. This will be a ninety-minute show with no intermission and will move like a race car.
DG: Who will be directing this years production?
MC: We are so blessed to have this year, Larry Fuller, a Tony nominated director for his work on Evita and many other great classic Broadway musicals. His experience is invaluable, and he recently moved to Palm Springs. We are very lucky to have him.
DG: How do you select the performers and how do you determine what they will sing?
MC: It's all about balance in the show, about tempo, about speed, what will be fast, what will be sweet ballads and how we will we distribute the energy. It's all about balance in these songs, with a great build to the last four numbers in the show.
DG: Without giving away too much... what do you anticipate being highlights of this seasons concert?
MC: A wonderful opening of Mistoffelees with 12 dancers from David Green's Musical Theatre University dressed up in Cats outfits, a lovely beginning to the show. Also, Christine Andreas doing With One Look and the great John Barrowman closing with two numbers which will be thrilling.
DG: Do you have a favorite moment from a past production?
MC: I don't have one favorite, I have several from past productions which stick in my mind. The Porgy & Bess number from the Gershwin show, the finale to the Sondheim show was just marvelous, The Night of One Hundred Dollies from the Jerry Herman show all come to mind. I also just loved the build of the last three songs from the Rodgers & Hammerstein show last year, with Nita Whitaker, Ron Raines, and the sensational mezzo soprano opera star Susan Graham. That blew my mind and the audience as well. What a great finale to the show.
DG: How many days of rehearsal are necessary to bring such an amazing concert to the stage?
MC: There are piano rehearsals for two days in New York and two days in Los Angeles in March where we go through the charts and the arrangements with each of the artists and discuss their needs with the musical director, Christopher Marlowe. For the big production and dance numbers we bring them in on Monday, the week of the show for a rehearsal at the Rancho Mirage High School, and the rest of the cast comes in Monday night and rehearses all day Tuesday. A full-dress rehearsal is held Wednesday before the show Wednesday night. As far as dancers, they rehearse separately in Los Angeles and Rancho Mirage two weeks before the show.
DG: What do you hope desert audiences get from experiencing one of your ONO productions??
MC: I hope they get a love of musical comedy which has been a passion of mine my whole life. And to carry away some musical memories which they will always treasure.
Michael Childers' One Night Only, A Tribute To Andrew Lloyd Webber, will be presented at The McCallum Theatre on April 24 at 6:30 pm. General admission tickets are $175, $95 and $75 and are available through the McCallum Theatre Box Office at 760-340-ARTS or online at www.mccallumtheatre.com.
Related Articles View More Los Angeles

Stories

Shows