12 ANGRY MEN By 12 Impassioned Women Officially Opens May 10 At Promenade Playhouse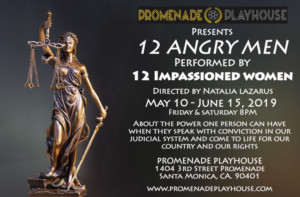 After their hugely successful participation in the National Staged Reading for 12000 Voices with an all-female cast, Tom Waters and The Promenade Playhouse announce they will bring the production back for a 6-week run. 12 Angry Men - 12 Impassioned Women, will return May 10, running through June 15, 2019. Natalia Lazarus will continue as director at the Promenade Playhouse. Tickets available at: www.promenadeplayhouse.com
The talented and diverse cast of women will also be returning in May to lend their impassioned voices to a vibrant and classic play, Twelve Angry Men, Adapted by Sherman L. Sergel, based on the Emmy-Award Winning Television Movie by Reginald Rose. About the power one person can have when they speak with conviction in our judicial system.
In the story, a19-year-old man has just stood trial for the fatal stabbing of his father. It looks like an open- and-shutcase-until one of the jurors begins opening the others' eyes to the facts. Sequestered in a small room, each juror reveals their own character as the various testimonies are re-examined, the murder is re-enacted and a new murder threat is born before their eyes. Tempers get short, arguments grow heated, and the jurors become Twelve Angry Men. In this case, 12 impassioned women.
THE CAST INCLUDES
Carol Cantu, Nancy Cronig, Diana Cabuto, Jewelle Colwell, Jean Carol, Bianca Flores, Nicolette Vonchelle, Madison Fairfield, Vallan Vaughn, Bella Loughborough, Catherine Lydon, Mayu Cho, and Valentina Latyna
The play was adapted from Reginald Rose's 1954 teleplay of the same name for the CBS Studio One television series. The success of the made for television courtroom drama resulted in a film adaptation directed by Sidney Lumet. Twelve Angry Men was Lumet's first feature film, and the only producing credit for Henry Fonda (who also starred in the film). Viewed as a classic, the film was nominated for three Academy Awards, including "Best Director," "Best Picture," and "Best Screenplay." The Broadway debut of Twelve Angry Men came 50 years after CBS aired the play, opening on October 28, 2004 at the Roundabout Theater Company's American Airlines Theatre where it ran for 328 performances and was nominated for three Tony Awards, including "Best Revival of a Play" "Best Actor in a Play", and "Best Direction of a Play".
*Los Angeles Performing Arts Productions (LAPAP) is a non-profit theatre and arts production company formed to bring meaningful and responsible projects to the community.
PERFORMANCES AND THEATRE LOCATION
Running May 10th through June 15, 2019
Performances will be Friday and Saturday at 8:00PM
Friday and Saturday, May 10 & 11, May 17 & 18, May 24 & 25, June 7 and 8 and June 14 & 15
(Note: Dark on Memorial Weekend May 31 - June 1)
Promenade Playhouseis located at 1404 3rdStreet Promenade, Santa Monica, CA. 90401
General admission $28.00. Senior and students $20.00.
To reserve your tickets call (310) 656-8070 or reserve online at: www.promenadeplayhouse.com