Photo Flash: A CHORUS LINE Dances Into The Gateway
The "Singular Sensation" will be kicking off the 2018 season at The Gateway - A Chorus Line, on stage opening May 11th through May 26th, Previews begin May 9th.
A Chorus Line held the record as the longest running show on Broadway for 15 years and heralds nine Tony Awards including Best Musical, Best Director and Best Choreographer, as well as the Pulitzer Prize for Drama.
An audition of a lifetime - A Chorus Line celebrates both the glamour and grind of 17 talented dancers, and is the musical for everyone who's ever had a dream of making it in showbiz. The unforgettable score features such classics as "What I Did for Love," "One," "I Hope I Get It" and more! With its celebration and true-to-life depiction of performers and their struggle to achieve greatness on the Broadway stage, A Chorus Line has earned unanimous praise as one of the true masterpieces of live theater and is one of the biggest smash hit musicals to ever play on the Great White Way.
The cast will be led by Victor Wisehart as Zach and Sabrina Harper as Cassie. Mr. Wisehart's Broadway credits include Holiday Inn and An American in Paris. Ms. Harper appeared in the Broadway revival of Pippin as well as numerous international productions including A Chorus Line as Cassie. This is The Gateway debut for both.
The remaining members of the line include Matthew J. Kilgore as Larry; Kate Loprest as Sheila; Eddie Gutierrez as Paul; Nick Varricchio as Paul; Michael Canada as Richie; Robb Gibbs as Greg, Alexandra Fassler as Diana; Tiffany Chalothorn as Connie; Amanda Milleras Val; Mike D'Amico as Mike; David Grindrod as Mark; Kyle White as Bobby; Jackie Raye as Maggie; Danielle Burdick as Judy; Julia Sammon as Kristine; Erika Conaway as Bebe; Lance E. Hayes as Don with Nick Raynor as Roy; Nicholas Steven King as Frank; Craig First as Tom; Monica Cioffi as Tricia; Cait Crowley as Victoria and Diana Princi as Lois.
A Chorus Line will be directed by the stage veteran of the show, Mitzi Hamilton. Ms. Hamilton first worked with Michael Bennett as a dancer in his production of Seesaw. She then took part in taped sessions with Bennett that were an innovative process to create a musical based on the actual lives of working dancers, a new idea that was eventually the basis for A Chorus Line. Part of her story inspired the character of Val and she eventually went on to originate the role in London's West End and then took over the role on Broadway where she spent 10 years. In all, Ms. Hamilton appeared in eight Broadway shows, including Bob Fosse's Pippin, Cabaret, Applause and Jerome Robbins' On the Town. She has since staged numerous productions across the country of A Chorus Line with the original direction and choreography created by her mentor Michael Bennett.
Ticket prices range from $59-$89 per show. Student Rush seats and Group Rates are available. For a complete list of show times, pricing and more information about the season, visit our website TheGateway.org, tickets on-line or through the box office at 631-286-1133.
Photos: Jeff Bellante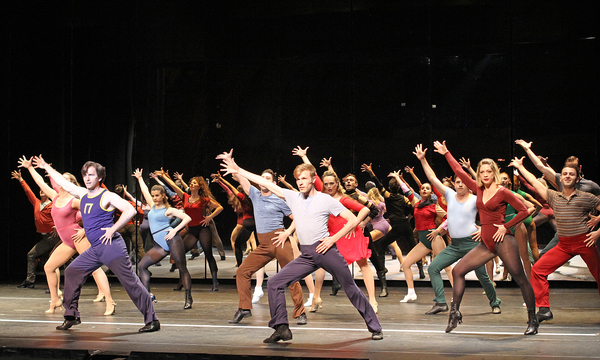 The Company of A Chorus Line. Opening Number.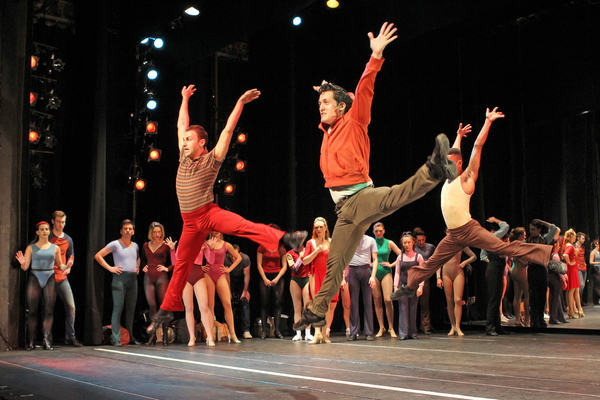 Craig First, Eddie Gutierrez, Michael Canada and Company. Opening Number.

Jackie Raye, Kate Loprest and Erika Conaway . At The Ballet (left to right)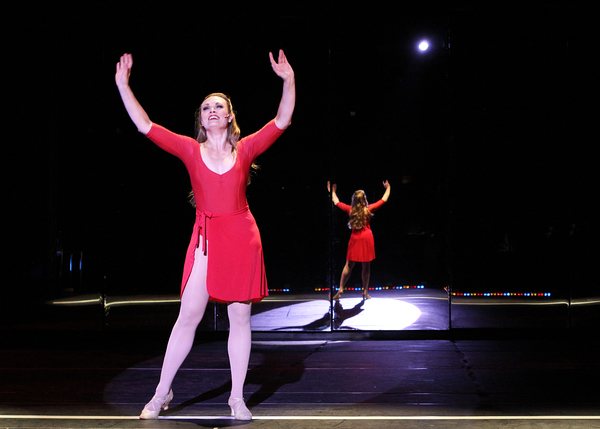 Sabrina Harper (Cassie). Music In The Mirror.

The Finale. Company of A Chorus Line.