LI Rep Presents BAD SEED Murder Mystery Ahead Of Halloween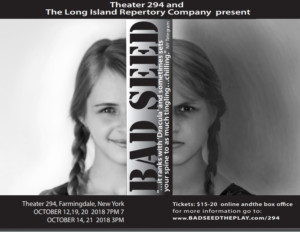 The Long Island Repertory Co. is presenting Bad Seed, a horror story opening a few weeks before Halloween, at Theater 294, 294 Farmingdale Rd (Route 109) that has been compared to Dracula.
Co-directors Charles Calabrese and Adrienne Pellegrino are directing this production of Maxwell Anderson's adaptation of the novel by William March that debuted on Broadway in 1954 and as a film in 1956.
Performances are Oct. 12, 19, and 20 at 7 p.m. and Oct. 14 and 21 at 3 p.m. Tickets are $20 and $15 for seniors. Tickets are available by clicking Tix.
Chloe Keil plays Rhoda Penmark, Alicia James plays Christine Penmark Robert Oliver plays Kenneth Penmark, Lynda Gaug plays Monica Breedlovel, Ronald Sabo plays Emery Wags, Van Whitaker plays Reginald Tasker, Charles Calabrese plays Leroy, Adrienne Pellegrino plays Hortense Daigle , Dee Fabian plays Ms. Fern, Norman Greene plays Mr. Daigle and Michael Sherwood plays Richard Bravo.
"What horrifies is that something terrible might be within the realm of possibility," Calabrese says. "Not that something did happen - or will happen - but rather that it could happen. We spend our lives in quiet dread of what might occur."
Co-director Adrienne Pellegrino sees it as a show that mixes science and sheer fear, creating a drama that has a touch of Dracula.
"Bad Seed presents the very reasonable possibility that criminal insanity could be inherited," she says. "That may not be true - but it just might be. Therein lies the horror."
In Bad Seed, we meet Colonel and Christine Penmark who live in a small Southern town with their daughter, Rhoda. On the surface she is sweet, charming, full of old-fashioned graces, loved by her parents, admired by all her elders.
But Rhoda's mother has an uneasy feeling about her. When one of Rhoda's schoolmates is mysteriously drowned at a picnic, Mrs. Penmark is alarmed for the boy who was drowned had won the penmanship medal that Rhoda felt she deserved.
As the story unfolds, Mrs. Penmark becomes convinced that her own daughter is behind the boy's death and more.
BAD SEED - The LI Rep presents Maxwell Anderson's adaptation of William March's novel, a murder mystery and horror story that will send shivers down your spine before Halloween. Performances Oct. 12, 19, and 20 at 7 p.m. and Oct. 14 and 12 at 3 p.m. Tickets are $20 and $15 for seniors. Info./ Res.: (631) 727-5782 / https://www.brownpapertickets.com/event/3555150
ABOUT THE LONG ISLAND REPERTORY COMPANY
LIRC is a community-based theater company in Suffolk County, NY. It's mission is to produce classic plays and high quality original works for Long Island audiences. Recent productions include Lemon Tree, To Kill A Mockingbird, Doubt, The Kiss, and The Miracle Worker. www.lirc.org