BWW Review: Bay Street Theatre's AS YOU LIKE IT with Ellen Burstyn, Andre De Shields, et. al.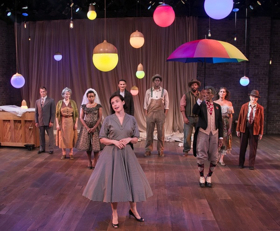 Sag Harbor's Bay Street Theatre closes out their spectacular 26th season with a fun production of Shakespeare's As You Like It. This incarnation, running through September 3rd, features a stellar cast of favorites including Tony, Oscar, and Emmy winner Ellen Burstyn, André De Shields, Kyle Scatliffe, and more. Bay Street's boffo showing is in conjunction with New York City's Classic Stage Company (CSC) and is excellently directed by CSCs Artistic Director John Doyle. In fact, once the run at Bay Street ends, this production will be opening at CSC on September 13th.
The tale follows Rosalind, strongly portrayed by Hannah Cabell, fleeing persecution from her uncle's court. Ms. Cabell is wonderful and engaging in the role. A few times throughout the show she acknowledges the audience and powerfully recites a soliloquy to end the show. Rosalind takes her cousin, Celia, hilariously portrayed by Quincy Tyler Bernstine, on the adventure to find safety in the Forest Of Arden. It is there that they encounter some very memorable (to say the least) characters including the melancholy Jaques and jester Touchstone portrayed stupendously by Ms. Burstyn and Mr. De Shields, respectively.
The entire cast is truly top notch as is the clever creative team.
Mr. Doyle's set is ideally minimal for the Long Island venue's intimate stage; a great imagination and an open mind are needed from the audience. A piano stands in back with a curtain hung on the wall. Oscar winner Stephen Schwartz also created some original music, with music supervision by Mary-Mitchell Campbell, which requires the piano, so that is moved periodically. The focus are the light fixtures hanging all around the ceiling representing the forest. Although this is a smart and beautiful idea visually, one minor quibble you'll notice is the fixtures might slightly get in the way of your site line of the show if you're sitting in one of the upper rows. In addition, the costumes are a highlight and everything is stunningly enhanced by Mike Baldassari's top notch lighting design.
And so, Bay Street's presentation of Shakespeare's As You Like It is certainly another hit. Ending another dazzling season on this high note makes me excited to see what Bay Street has in store for next season. A hilarious story and phenomenal cast make for an entertaining night of theatre.
---
As You Like It is presented at the Bay Street Theatre and the Classic Stage Company through September 3rd then opening at the Classic Stage Company on September 13th. For more information and to purchase tickets, please call 631-725-9500 or visit www.baystreet.org
By William Shakespeare, Direction & Scenic Design by John Doyle, Music Supervision by Mary-Mitchell Campbell, Original Music by Stephen Schwartz, Associate Scenic Designer is David Arsenault, Costume Design by Ann Hould-Ward, Associate Set Designer is Amy Sutton, Lighting Design by Mike Baldassari, Prop Design by Andrew Diaz, Hair & Wig Design by J. Jared Janas, Stage Management by Kat West, Casting by Stewart/Whitley
Starring Quincy Tyler Bernstine, Noah Brody, Ellen Burstyn, Hannah Cabell, André De Shields, Cass Morgan, Leenya Rideout, David Samuel, Kyle Scatliffe, and Bob Stillman
Photo by Lenny Stucker. Pictured: As You Like It Cast - Hannah Cabell, David Samuel, Leenya Rideout, Kyle Scatliffe and Ellen Burstyn.