Click Here for More Articles on STUDENT CENTER - HIGH SCHOOL EDITION

BWW Review: LES MISERABLES SCHOOL EDITION at RED CURTAIN THEATRE

Cosette (Madeline Alfano) and Marius (Jackson Karl) visit Jean ValJean (Evan Moore) during his final hours.
Do you hear the people sing? Well if you didn't hear these performers sing, you missed out. The Red Curtain Theatre presented Les Miserables: School Edition, December 7-16, 2018, at the Staples Auditorium located on the Hendrix College campus, and let me tell you, I found it hard to believe these kids weren't even out of high school yet.
The school edition is an edited version of Les Mis, and the actors (who must be 18 years old or younger) sing through the whole show. Now, don't throw stones at me, but I have never seen Les Miserables-not the movie, not the musical, haven't even read the book-none of it. I did sing song excerpts in choir in college, and I am familiar of the subject content, but I have never actually seen it-until now. When I hear "school edition," professional singing and deep emotional connections do not automatically pop into my head. You know what I'm talking about-cheesy music with cheesy plot lines and children who were basically forced to be there by their elementary school teachers (not that there is anything wrong with that!) Well, Red Curtain definitely proves my immediate assumptions wrong. It was nothing short of WOW...no seriously...WOW! These kids could rival any group of adults. Like I said, I have not seen the original version of Les Mis, but I cannot imagine it being any better than what was presented the night I went.
So, where do I start? For the uneducated (like me), I will start with a brief synopsis. Les Miserables is set during the beginning of the French Revolution and covers approximately 20 years. In the beginning, Jean Valjean (Evan Moore) is seen finishing up his time in prison for stealing a loaf of bread for his sister's child. He is given parole papers and set free with stipulations, is monitored and eventually hunted by Javert (Bryton Butler). After breaking parole, ValJean changes his identity and raises his station in life. He vows to take care of Fantine's (Rylee Wills) child, Cosette (Mia Webb/Madeline Alfano), who was lodging with the Thenardiers (Zane Brewer and Emla Holsted) along with their daughter Eponine (Belle Overstreet). Cosette grows, falls in love with Marius (Jackson Karl). Valjean saves Marius' life and spares Javert; Javert has a hard time believing Valjean didn't want to kill him and commits suicide, and Valjean lives to be an old man.

The Thenardiers (Zane Brewer and Emla Holsted) bring the comic relief.
Modest Director Jeff Ward did an amazing job with these performers. Though Ward claims it was the kids that made his job easy, with a sing-through show, that took a lot of control and talent on all ends. With Ward's guidance, the show was moving and entertaining and, except for a few microphone glitches, perfect. Music Director Kent Britton, as always, did a wonderful job, and Choreographer Olivia Stephens made the show look fun.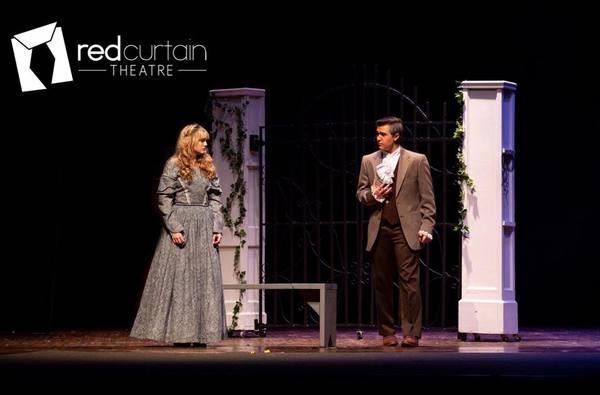 Cosette (Madeline Alfano) and Jean ValJean (Evan Moore)
As for the actors, I could have sworn that Evan Moore, who played ValJean, was an 18-year old theatre major from the University of Central Arkansas. When they told me he was junior in high school, I was in disbelief-HE WAS THAT GOOD! I can't wait to see what else this guy tackles. Other memorable performers were Zane Brewer and Emla Holsted who played the Thenardiers. They were so funny and their chemistry was very connected. They really played well together. Also, Belle Overstreet's Eponine really made me feel for her. When she died, I really felt like clapping because of how good it was. Instead, I sat there in an awkward silence with everyone else. When a musical is so depressing, I never know when to applaud.

Factory worker (Emmarie Wilson) causes trouble for Fantine (Rylee Wills)
Coming up for the Red Curtain in February is Frog and Toad Kids; April brings Matilda The Musical, which is the first time it will be performed in Arkansas; in May they will perform Ring of Fire: Small Cast Edition; and in June is Once On This Island The Music. Check out their website at redcurtaintheatre.com, for more information on upcoming shows. As for Les Mis, if you missed it, you really missed something great.