Grand Hotel's Original Doorman Charles Mandracchia selected for AOF Film Festival, Wins Telly, SIFF & Rome Independent Film Award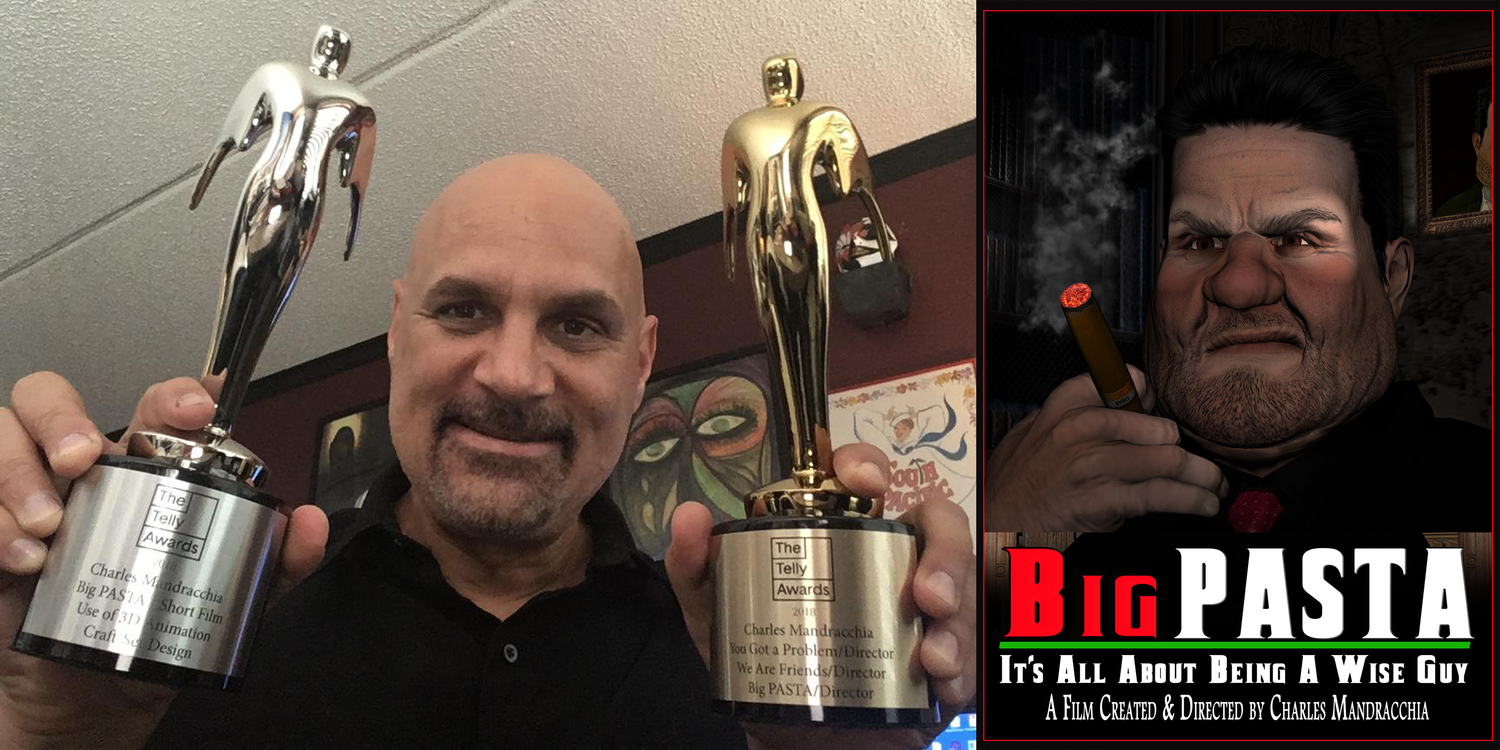 Big wins for Grand Hotel the Musical's original cast Doorman turned film Director Charles Mandracchia. On the heels of recently winning for Best Animated Film, BIG PASTA - It's All About Being A Wise Guy in the Sicily International Film Festival & Official Selections in the Kids First Film Festival and Del Weston's first class Action on Film (AOF) & Hollywood Dreamz Film Festival in Las Vegas August 16th-26th, 2018, Mandracchia adds 6 Big TELLY AWARD wins to the list.
Action on Film is an organization dedicated to helping independent filmmakers and writers receive the exposure and credit their hard work and talent deserves. AOF organizes an annual film festival and has also premiered its own television show on NBC late night. Annually growing in size, the film festival is estimated to screen more than 600 films. Now in our 14th Season, Action On Film (The AOF) is the go to festival for filmmakers, writers, producers, actors, DPs, composers and post production professionals to have their work recognized and honored. The AOF has launched a number of careers and continues to use aggressive marketing to bring even more attention and success to filmmakers and writers from around the globe.
The Rome Independent Prisma Awards really takes its time and expertly analyzes each film. They really understand what film-making is all about. The Prisma Awards is an IMDB official qualifying festival.
The Sicily International Film Festival SIFF was born from the union of five artists who for years worked in cinema, masters in the art of acting, directing and set design. Everyone in love with Sicily decided to create an experience that could enhance the cinematographic works of the citizens of the world. For this reason they have joined forces to carefully select the best films from different parts of the world. Today the SIFF is one of the most established festivals that overlook the Mediterranean and that inebriate the winds coming from the mystical seas of the South. Jennifer De Carolis - Co-founder studied theater and acting and began his acting career with the promotional trailer for the film about the Mafia "Archimede's Land." In 2016 she became director of the Red Corner Film Festival and works to produce a short film on violence against women, entitled "UnLoved."
MEDFF led by Domenico Cutrona, the Mediterranean Film Festival is a festival that rewards the best for each category. Its objective is to promote independent films and emerging artists by making them competing with more established ones. The MedFF born to George Beach (Fontane Bianche) in the beautiful and charming town of Syracuse (Italy). MedFF means freedom, typical of maritime cities, every participant can submit his work whatever it is.
The Telly Awards annually showcases the best work created within television and across video, for all screens. Receiving over 12,000 entries from all 50 states and 5 continents, Telly Award winners represent work from some of the most respected advertising agencies, television stations, production companies and publishers from around the world.
MANDRACCHIA'S TELLY AWARD WINS:
2018 TELLY AWARDS GOLD
General-Children's Audience for Non-Broadcast
The Dooples in "We Are Friends"
2018 TELLY AWARDS SILVER-Top Award
Craft-Use of 3D Animation for Online
Big PASTA
2018 TELLY AWARDS SILVER
General-Education for Online
Big PASTA
2018 TELLY AWARDS BRONZE
General-Social Issues for Non-Broadcast
Big PASTA
2018 TELLY AWARDS SILVER
Craft-Set Design for Online
The Dooples in "We Are Friends"
2018 TELLY AWARDS BRONZE
General-Social Issues for Non-Broadcast
You Got a Problem
Mandracchia is a 53x IMDB Award Winning Director-Producer/Modeler/3D Animator/Actor/Composer/writer/Artist. He has appeared in numerous Broadway and Off Broadway productions (Original Broadway cast of GRAND HOTEL, SOUTH PACIFIC and PORGY AND BESS, at the New York City Opera and Equity Library Theater).
AOF WEBSITE: https://www.actiononfilmfest.com/product-page/big-pasta-8-21-18-4pm-block
Sicily International Film Festival: https://sicilyinternationa.wixsite.com/siff
Mandracchia's Website: https://www.charlesmandracchia.com/
Related Articles View More Las Vegas

Stories

Shows