FREESTYLE LOVE SUPREME is Now Playing at The Venetian Las Vegas
Performances run through January 29 at The Summit Showroom inside The Venetian Resort Las Vegas.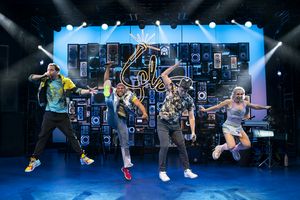 Improvisational phenomenon and hip-hop sensation FREESTYLE LOVE SUPREME will continue to delight audiences through January 29 at The Summit Showroom inside The Venetian Resort Las Vegas. The 90-minute show amazes audiences nightly with its seamless blend of hip-hop, improvisational comedy, singing, beatboxing and more. Freestyle Love Supreme was conceived by Anthony Veneziale, and created by Thomas Kail, Lin-Manuel Miranda and Anthony Veneziale.
Recording artist, actor and writer Benjamin Earl Turner will hit the stage as a special guest on Thursday, January 26 at 8:00 p.m. Las Vegas philanthropist and legendary host, Mark Shunock will serve as a special guest on Friday, January 27 at 8:00 p.m. Recent special guests have included Aneesa Folds, Wayne Brady and Lin-Manuel Miranda.
The Las Vegas Review-Journal said of Freestyle Love Supreme, "succinctly no two 'FLS' shows are alike but all shows are wildly entertaining."
Fresh from Broadway and the recipient of a 2020 Special Tony Award, each show is built on audience suggestions and participation, resulting in no two shows ever being the same. The array of talented cast members take stories and anecdotes from the audience and quickly spins suggestions into instantaneous riffs and full-length musical numbers. The talented cast includes Simone Acosta AKA "Sims;" Andrew Bancroft AKA "Jelly Donut;" Richard Baskin, Jr. AKA "Rich Midway;" Manny Houston AKA "Manny PacksAwow;" Gable Johnson III AKA "Honeycomb;" Kaila Mullady AKA "Kaiser Rözé;" Morgan Reilly AKA "Hummingbird;" and Dizzy Senze AKA "Dizzy."
Tickets start at $57.45 and can be purchased at venetianlasvegas.com, any box office at The Venetian Resort, or by calling 702.414.9000 or 866.641.7469.