BWW Feature: TAPE FACE at House Of Tape At Harrah's Las Vegas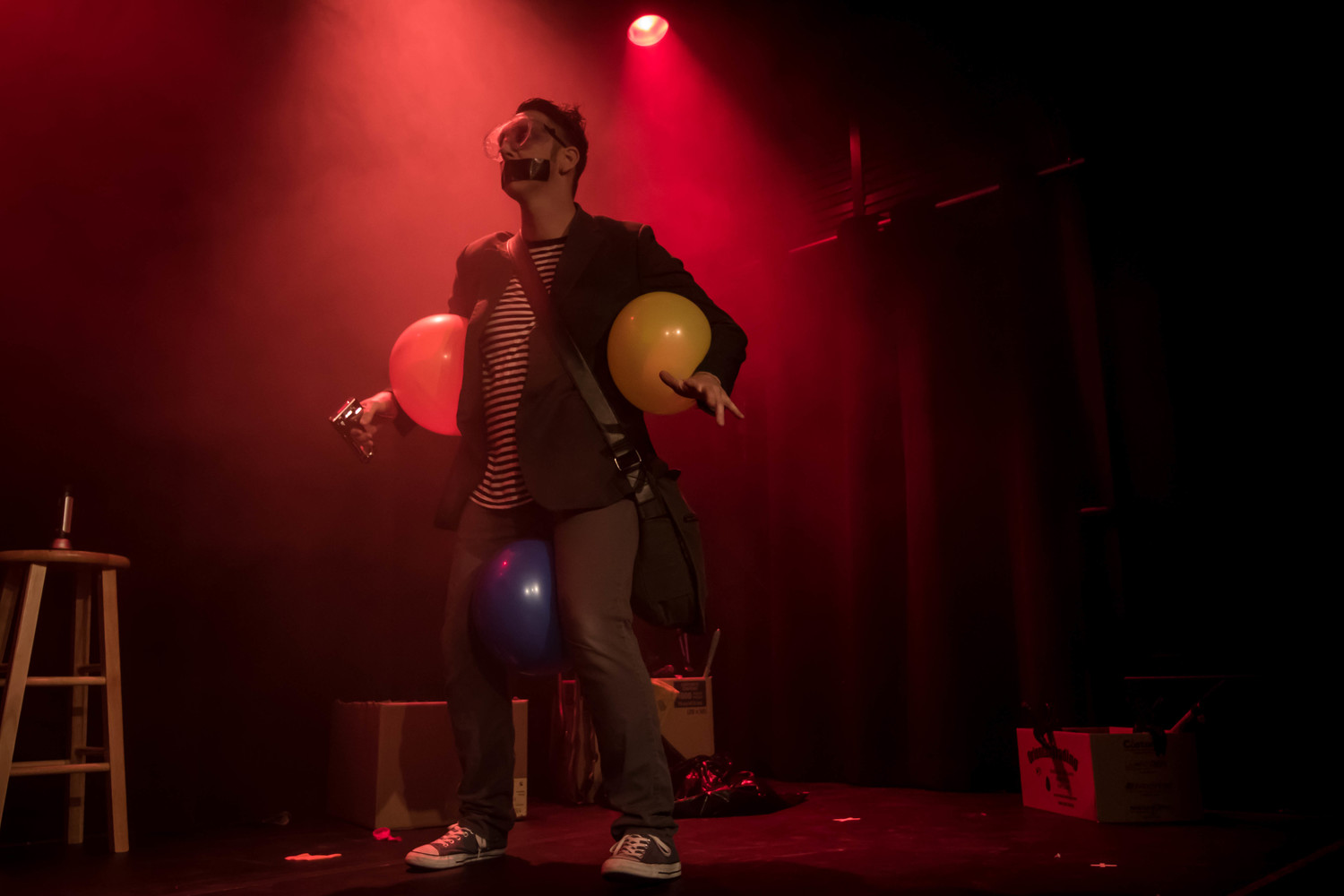 A former circus and street performer, this young man stared at the judges of NBC's "America's Got Talent" during Season 11. Gothic makeup emphasized his wide eyes and black duct tape covered his mouth. Tape Face introduced himself to the audiences of the United States. Today, he now headlines in his custom-built showroom, House of Tape, at Harrah's Las Vegas.
Sam Wills is the creator and performer of Tape Face, embracing his character's personality. He expresses him with mime, illusion, magic, puppetry, silent films, and the music of Motown.
In his new theater, gaffer tape adorns the walls and fixtures. He has dedicated the Social Room to the silent ones, lining the walls and ceiling with framed fan art of Tape Face. Artists and fans can #DrawTapeFace on whiteboards. Empty frames are available for those who want to tag @tapefaceboy with their artistic creation and maybe have their artwork displayed.
Originally from New Zealand, Willis trained as a clown in circus school and can juggle. After working as a street performer, he entertained in Australia, Europe, and South Korea. Willis moved to the United Kingdom and played in comedy clubs to hone his act and auditioned for AGT as a way to reach the United States. Performing as Tape Face since 2008, and as one of the finalists in Season 11 of AGT, he toured the world in 2016 and 2016 as Tape Face.
Tape Face appreciates the diverse audiences in Las Vegas since "expressions are universal and people understand the humor." He has lived in Las Vegas before (with a previous residency show before his world tour), Tape Face admits to having done, "a lot of the tourist activities. Now I am more interested in discovering some more of the hidden communities that lurk out in the suburbs."
Since he interacts with the audience, there are many funny stories he can share. "I have a routine where I dress a man up as a construction worker, and then he strips to 'You can leave your hat on." One time, the person on stage took off the costume to a huge round of applause, and he then proceeded to take off his clothing! The audience loved it." Whether it is battling Darth Vadar or dancing to disco music, Tape Face makes the audience laugh with the absurdity of life and leave with a smile.
Tape Face performs in House of Tape at Harrah's Las Vegas at 7 p.m. Tuesday to Sunday (dark Mondays). For tickets, visit any Caesars Entertainment Box Office, call (702) 777-2782 or online at Ticketmaster.com.
Related Articles View More Las Vegas

Stories

Shows