Amber Sauer To Headline At The Smith Center Thanksgiving Weekend In 3 DIVAAS, 16 GRAMMYS, 1 VOICE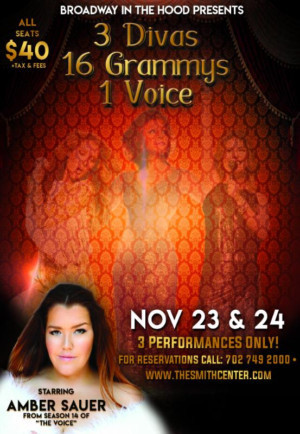 With A Star-Studded Tribute to Celine Dion, Whitney Houston & Shania Twain, Celine Dion, Whitney Houston, and Shania Twain's voices shattered barriers, shaped our lives and made us all believed in LOVE. Now, is your opportunity to experience it LIVE with your loved one as Broadway in the H.O.O.D brings "3 Divas, 16 Grammy's, 1 Voice;" staring Amber Sauer, contestant on Season 14 of The Voice as a part of Kelly Clarkson's, November 23 - 24, 2018, in Myron's Cabaret Jazz Theatre at The Smith Center for The Performing Arts!
3 Divas, 16 Grammys, 1 Voice; starring Amber Sauer is an exhilarating, high-paced and flash-forward tribute of the songs that made these 3 Divas a household name and a permanent fixture in the American Songbook. With their, soulful voice, beautiful ballets, and toe taping on chart-topping hits like "I Feel Like A Woman", "My Heart Will Go On," and "I Wanna Dance With Somebody" classic covers like "Because You Loved Me" and "I'm Every Woman," there is no denying the magnetic impact these 3 Divas had whenever either opened her mouth.
Join Broadway in the H.O.O.D as we take a glimpse into how some of the world's favorite love songs came to be while flawlessly taking the viewing audience back to the night they fell in love with the queens of the Country, Pop, and R&B charts. The songs, the sound and the heart of the incomparable LIVE on stage, this will be a night you will never forget!
Tickets for 3 Divas, 16 Grammys, 1 Voice are on sale now at $35 plus tax & service fees. Tickets can be purchased online at http://www.broadwayinthehood.org, by phone at 702-749-2000 or 808-326-6868 (TTY) or at the box office located at 361 Symphony Park Ave. For preferred seating and special rates for groups of 10 or more, contact 702-749-2348. This tribute show is not endorsed or sponsored by or in anyway connected with the estate of Whitney Houston, Celine Dion, nor Shania Twain.
Amber Sauer is a native of Paradise, Ca. Seeking to follow her dreams, she moved to Los Angeles and has been working in the entertainment industry professionally for 9 years. She has worked as a background vocalist, and has been hired for the likes of Natalie Cole, Angie Stone, Nik West, Faith Evans and Kelly Price! She has also worked consistently with major television networks such as BET and NBC. Amber has worked on national commercial campaigns with Sensa as well as Ford. Currently she is airing on NBC as a contestant of Season 14s' The Voice. Amber also has had the opportunity to work with different plus size clothing brands as a Curve Model and Brand Ambassador! In 2014, she began to work with Bslade (Producer/ Singer/ Songwriter formerly known as Tonex), and celebrated a multimedia release of her debut single entitled That's OK (Self Talk)! There have been several features on popular blogs and the single is continually gaining notoriety.
Broadway in the H.O.O.D is a 2018 Tony Award Nominee and 2015 Emmy-nominated, national 501c3 nonprofit theatre and community-based organization located in Las Vegas, Nevada. B.I.T.H provides high-quality educational training in acting, singing, dancing, technical theatre as well as stage and production management. Our productions and events are built, cast and run by youth ranging from 7 to 20 years old, some of who faced homelessness and resided in shelters for battered women and youth. In addition to training and productions, we focus on continually developing arts in education programs. With an established partnership with the University of Nevada Las Vegas, we now in addition to our traditional summer camp offer offer a special Summer Arts & Education program, BITH University, which is geared toward helping those from the underserved communities to gain the resources needed to be able to move on to higher educations by receiving scholarships and support with admission.While continuously serving diverse populations across the United States and Canada, we have produced major original productions dealing with social issues as well as some of the biggest Tony Award-winning, Broadway blockbuster hits such as "The Wiz," "Once On This Island," Driving Miss Daisy," "Dreamgirls", "The Color Purple," and "A Raisin In The Sun." Our most recent original production "Bring In The Light! has received rave reviews and is being workshopped for school tours and many theatrical venues across the nation.
For more information about Broadway in the H.O.O.D, please visit www.broadwayinthehood.org/