MTH Theater at Crown Center Names Tim Scott Executive Artistic Director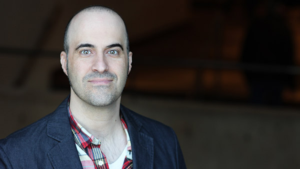 Musical Theater Heritage (MTH) and its Board of Directors announced today that they have appointed Tim Scott Executive Artistic Director, effective immediately. Mr. Scott becomes the fourth Artistic Director in MTH's seventeen-year history.
MTH Board President, Bob Loyd said "We are happy to declare Tim Scott Executive Artistic Director. We know his vision, collaborative spirit, and standard of excellence are the precise combination of abilities required to lead MTH into the future."
"Tim has been involved with MTH and it's success for nearly 15 years. From his artistic strengths to his administrative strengths, he is always the first person to roll up his sleeves and help wherever needed." says Chad Gerlt, President/CEO. "I'm thrilled our Board of Directors has made this decision."
Scott remarked "I'm humbled at this profound honor and great charge." He added, "I look forward to collaborating with the remarkable board of directors, MTH administrators, as well as the incredible Artists of Kansas City in leading this great organization on the next leg of its journey."
From performer to director to executive artistic director, Tim Scott is a highly respected visionary with a reputation for exceptional leadership, innovative collaborations and record-setting productions at MTH. He has produced and directed more than 75 original shows for MTH dating back to 2007, including MTH's critically-acclaimed original production SONGS OF THE GREAT WAR, sponsored by The National World War I Museum and Memorial; as well as producing and directing CATS, the highest-grossing production in MTH history.
In 2016, Mr. Scott initiated MTH's new musical lab with the presentation of HURRICANE, by New York composer Michael Finke. He has cultivated several other innovative and successful programs at MTH during his tenure, paramount among them, the Musical Monday & Tuesday series, now in its 11th season. Additionally, Mr. Scott has raised MTH's national profile over the last few years by enlisting Tony Award nominated, nationally-recognized Broadway performers to appear at MTH. Among his extensive Theater career, he has worked alongside Tony Award nominees Jeff Calhoun, Henry Krieger, Bill Russell, Sam Pinkleton, Kristin Hangii, Lorin Latarro, and Phillip McKinley.
As an administrator, Mr. Scott launched MTH's nationally recognized education initiative in 2016 and continues to play a role in its development and growth. Further, he has been responsible for developing and deploying MTH's marketing strategies the last three years, which has resulted in a more than 40% growth in Season ticket holders since 2017.
As Executive Artistic Director, Mr. Scott will be responsible for conceiving, developing, and implementing the artistic vision and focus of the organization, while also being responsible for developing budgets, financial goals, and raising the national awareness of MTH.
MUSICAL THEATER HERITAGE was founded by George Harter in 1998 as a vehicle to expand his syndicated radio show, "A Night On The Town." Over the last 20 years MTH has grown into a full production company producing over 20 unique productions annually as well as cultivating a nationally recognized education program. With annual attendance of nearly 50,000 people, MTH presents a mix of musicals, original revues, and cabarets on its two stages. Under the leadership of President/CEO Chad Gerlt, MTH continues to be one of the fastest-growing professional companies in the region. MTH houses two stages, production facilities, studio space, and a public lobby.