Everyman Launches Summer Programme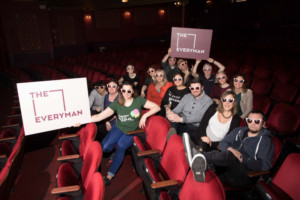 It looks like Spring has finally arrived just in time for Summer, and the Everyman has plenty summer treats in store as their 2018 programme unfurls like those long-awaited buds! The theatre's 2018 in-house programme got off to a tremendous start with the success of Gare St Lazare's HOW IT IS: PART ONE, by Samuel Beckett, and the national tour of Kevin Barry's critically acclaimed stage play Autumn Royal which is now underway.
The blockbuster Cork Midsummer Festival offering, which sees the Everyman partner with top Irish producers Landmark Productions, the Abbey Theatre and the Festival, is the world premiere stage adaptation of Louise O'Neill's award-winning novel Asking For It. This new version of Louise O'Neill's devastating story, directed by Annabelle Comyn, shines an unflinching light on the experience of a young woman whose life is changed forever by a horrific act of violence. This world premiere is a must-see event and tickets are already selling fast!
The Everyman's Artistic Director Julie Kelleher returns to the rehearsal room in July, working again with some of the brilliant creatives who have contributed to in-house productions in recent years, and a superb cast to bring you a brand new production of a Martin McDonagh's The Lonesome West. Martin's film and theatre work has won multiple accolades, from Oscars and Golden Globes, to Oliviers and Tonys and this play is undeniable evidence of his knack with one-liners, his comic timing, and his old school plotting skills. Dealing in the blackest comedy, this play is sibling rivalry pushed to a deadly edge.
Autumn highlights include the world premiere staging of John O'Brien's new opera The Nightingale and the Rose, a stunning new opera based on Oscar Wilde's timeless short story, and the fairytale of all fairytales: Cinderella returns for the annual Christmas panto.
And that's just the inhouse programme! Dotted throughout the season are a host of brilliant stand-up comics and live music shows: Deirdre O'Kane, Colin Murphy, A Spoonful of Sherman, Frankie's Guys, Camilla Griehsel's Mamasongue. As always, the theatre continues to support excellent locally made theatre with the likes of Erin Connolly and the Children of Lir, Killing Stella and SONIA; audiences can also expect thrilling performances from top notch Irish dance artists Junk Ensemble and Philip Connaughton; the best in touring theatre and opera with titles such as: Maeve Binchy's Minding Frankie, Shout! The Musical, The Good Father, Looking Deadly, The Tales of Hoffmann, The Mai, The Collector, Portrait of the Artist as a Young Man, and plenty more besides.
Speaking at the programme launch, Executive Director Seán Kelly said "We may well be about to enter the most exciting period in the Everyman's long history. The quality of work presented on our stage has never been better, our attendances have never been higher and we are producing and co-producing more shows than ever before. Summer 2018 is just the beginning. We are grateful to our audiences and partners who have helped get to this point and we look forward to their company on the next phase of our journey. Things are going to get even better from here!"
Visit www.everymancork.com for full programme details.
Learn more below: