Industry Pro Newsletter: Tony Awards Have a Date, New DEI Report from AEA
AEA President Shindle: "We are disappointed by the realities of the data…"
The announcement of the Tony Awards and the return of the BC/EFA Red Bucket campaign brought a huge sense of normalcy back to the theatre industry last week - unfortunately this week, we were also reminded how far the industry has to go in establishing the new normal with the release of Actors Equity Association's latest Diversity and Inclusion report.
As we look toward Tony Awards season, this is also your reminder that this newsletter would be great to include in your For Your Consideration campaigns. For more information on sponsorship opportunities, reach out to the BroadwayWorld Sales team.
SUBSCRIBE NOW - Want this newsletter delivered to your inbox every Monday? Make sure and subscribe using the form at the top or bottom of this page to join the Industry Pro mailing list.
Industry Trends
Lawsuits Help Some Rejected Business Claim SBA Relief Funds
After many arts organizations were rejected by the SBA relief funds program for arts venues (Shuttered Venue Operator Grants) without explanation, some have turned to taking the Small Business Administration to court to get their funds - and finding success. Read more...
Broadway Licensing Announces Co-Commissioning Program
Partnering with Playwrights Horizons, Seattle Repertory Theatre, and Artists Repertory Theatre, the company will support the development of three new shows. The plan is to continue this program with three new pieces commissioned each year. Read more...
Rising Leaders of Color Program Applications Now Open
The core professional development program from Theatre Communications Group has opened applications for the 2022 cohort. Activities of the program will run from approximately May 2022 through June 2023. Read more...
Broadway/New York
Tony Awards Are Set for June 12th from Radio City Musical Hall
The Tony Awards will be broadcast live on both coasts for the first time, and will be available on Paramount+ and CBS - with some coverage exclusive to Paramount+. The eligibility cut off is slated for April 28th, with nominations announced May 3. Read more...
As The Flea Returns to Producing, Challenges Remain
Writing for The New York Times, Julia Jacobs explores the new producing structure under which the Flea, in partnership with The Fled Collective, has returned to the stage. While the company has been able to get back to producing, there are still many challenges - primarily financial - that remain. Read more...
Theatre Producers of Color Announces 2022 Cohort
The cohort from across the globe will learn the fundamentals of commercial theatre production from experienced commercial producers. Read more...
Actors' Equity Association Releases Latest Diversity and Inclusion Hiring Bias Report
The report looked at hiring and pay information from 2020. AEA President Kate Shindle said, "We are disappointed by the realities of the data..." Read more...
The iconic red buckets and curtain call donation appeals will be back on Broadway, Off-Broadway, and National Tours starting on Friday, March 18th. This will be the first time in-person donation appeals will occur since Broadway re-opened. The Easter Bonnet performance, however, will not return until 2023. Read more...
Kaaren Briscoe Named Associate Artistic Director at LCT3
The New Orleans native will work with current LCT3 Artistic Director Evan Cabnet on programming the new work and development arm of Lincoln Center Theater. Read more...
Regional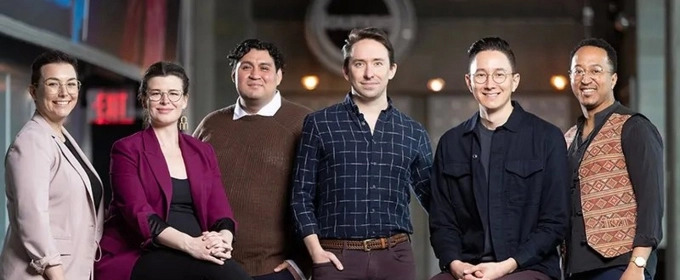 Ethan Heard and Anika Chapin Join Signature Theatre's Artistic Team
Heard will serve as the Associate Artistic Director and Chapin as the Director of Artistic Development. These two additions round out the hiring of the new artistic team under Artistic Director Matthew Gardiner, appointed to the position in July. Read more...
Baltimore Center Stage Announces Commissions
Continuing their long-standing tradition of supporting artists across all theatrical disciplines, Baltimore Center Stage announced their most recent slate of commissions - including work from a director, a dramaturg, musicians, and playwrights. Read more...
The Getty Sues Over Endowment Mismanagement
The lawsuit against Allianz Global Investors alleges that the fund took unnecessary risks resulting in the loss of nearly $71 million from the museum complex's endowment. This is part of a group of lawsuits that also involves New York's Metropolitan Transportation Authority and other large investment groups. Allianz is expected to settle the claims with a criminal probe ongoing. Read more...
The Humana Festival, as Previously Produced, is No More
Actors Theatre of Louisville Executive Artistic Director Robert Barry Fleming announced the change, describing the changing realities of the play development process as a primary reason for discontinuing the festival. Read more...
International
BroadwayWorld UK Awards Voting Underway
Check out the current standings in the BroadwayWorld UK Awards and make sure and cast your vote today! Read more...
Missed our last few newsletters?
March 7 - Kelvin Dinkins, Jr New Executive Director at ART, Barbara Gaines to Retire from CST
With many of the pandemic restrictions being lifted in New York City this week, that the Broadway COVID safety team will celebrate their 2,000th performance on Broadway Tuesday night highlights the new phase of normalcy that the industry has entered. While much of the wider culture reduces restrictions in an effort to attract more tourists and audiences back into the seats, that leaves theatres and cultural institutions faced with the difficult task of balancing audience needs and desires, while keeping potential risk as low as possible to prevent having to shut down operations for any amount of time moving forward. Read more...
February 28 - NLRB examines the Independent Contractor Question
The geopolitical landscape shifted in a major way over the weekend, with Russia invading Ukraine in an unprovoked attack on their sovereignty. The resulting conflict has caused many arts organizations, including New York's Metropolitan Opera, to cut ties with artists and organizations that are connected to Russian President Vladimir Putin, while also expressing unwavering support for the people of Ukraine. Moments like these not only put the work we are doing in the Cultural Industry in perspective, but shine a light on how important it is to speak truth to power in our art, as well as to bring beauty into a world that far too often has a lot of ugliness in it. Beyond the conflict in Eastern Europe, in the last few days, a lot of municipalities have announced major changes to their COVID policies, and we are also covering how the arts organizations in those areas are, or aren't, adjusting their own policies. Read more...
February 21 - Associates Get a Union, Gulfshore Playhouse Joins LORT
Congratulations to Gulfshore Playhouse on becoming the 77th member of the League of Resident Theatre's - a story we have under the regional section of this week's newsletter. We also have the story of Hollywood retaining their return to work protocols to keep their sets as safe as possible, even as several states and municipalities roll back their own mandates. And, with the SDC being recognized as the Union representing Associate Directors and Choreographers on Broadway, this all adds up to having been a great week for workers across the theatre industry. While we start to see operations returning to a broader sense of "normal" it is good to see that some of the work that was spoken about during the pandemic is coming true as that normalcy returns. Read more...
BroadwayWorld Resources
BroadwayWorld Stage Mag - A Fully Interactive Show Program
The digital solution to your show program needs - want to see what's possible? Check out the Stage Mag's for off-Broadway's Blindness and for Next on Stage Season 3! Then start building your own at stagemag.broadwayworld.com.
Add Your Show to our Regional Events Calendar
As audiences get set to return to in-person performances, and as your company works to market your own return to the stage, make sure you've got your upcoming shows in our regional events calendars. Listings are free of charge, with boosting options available. Get your show listed now!
Want this newsletter in your inbox every week? Subscribe here.
Want more information about marketing options with BroadwayWorld? Request a media kit here and a member of our sales and marketing team will reach out promptly.