BWW Review: LSPR Class 23-3SP's Original Play NYCTOPHOBIA's Darkly Intrigue
As part of London School of Public Relations' 24th Theatre Festival and 13th Performing Arts Communication Festival, class 23-3SP presented a play titled NYCTOPHOBIA on February 4th at the Amani Palladium Theater. NYCTOPHOBIA - the word meaning the irrational fear of darkness or the night - is an original work taking on the psychological thriller genre directed by Matthew Fernando Chandra.
The tale starts with Leon, a meek teenager living with the constant harassment and bullying from his own brother, Bima. One night, Bima's antics go too far and Leon, in a moment of panic, fatally stabs him. As their family life is thrown into disarray, Leon also starts seeing a hooded phantom following and taunting him everywhere.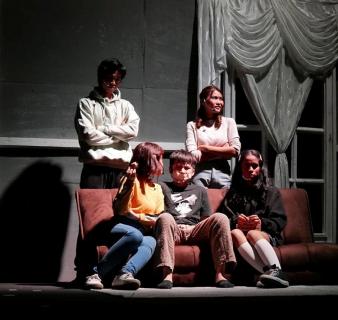 The phantom feeds on Leon's guilt and paranoia. His lone friend, Monita, tried to cheer him up, and a blossoming teenage romance love is seemingly inevitable. However, the continued bullying by other classmates, as well as the phantom's goading, led Leon onto a grim path.
From the start, it's obvious that the writers behind NYCTOPHOBIA intend to write a dark drama. And it is successful in delivering a bleak tale of the protagonist's life spiraling down further and further. However, it can be too on-the-nose at times, particularly with several side characters seemingly only existing to make Leon's life a living nightmare.'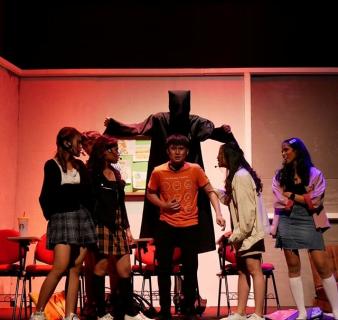 The script could definitely benefit from further editing, to highlight the nuances of the protagonist's evolving mental struggle. It would've been more satisfying to see Leon try to put up a fight against the creeping darkness, creating a back-and-forth dynamic that's propped by glimmers of hope bestowed by his interaction with his love interest, before building up to the ultimate tragic conclusion of the story.
As it currently stands, it is a one-sided tragedy with an inevitable ending. In itself, it is a legitimate approach, but one far more challenging to properly convey both in script and performance, not to mention quite hard to stomach for the average theatergoer. Still, credit is due for the team for their courage in exploring a genre rarely found in local original plays.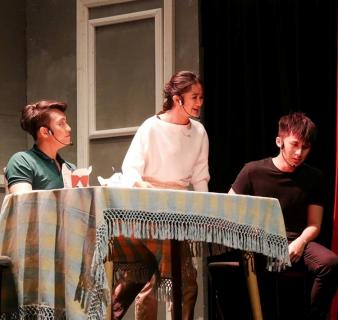 NYCTOPHOBIA is a character piece, focusing solely on Leon's plight. First-time actor Jonathan Ferdinand gave a much-needed solid performance as the lead role, baring the character's frustration and fear during the climactic moments of the play. His memorable performance lent the show a sense of credibility and verisimilitude.
The supporting cast varies in their acting acumen, creating a rather uneven performance. Some stand-outs include Venesia Chandra as Bima and Leon's mother, whose conflicted feelings and desperation were an event match to Leon's, while Angeline Charissa Nio's Monita was genuinely sweet, creating for some heartwarming moments with Leon. However, the cast as a whole gave their best shot and would benefit from more acting training and experience.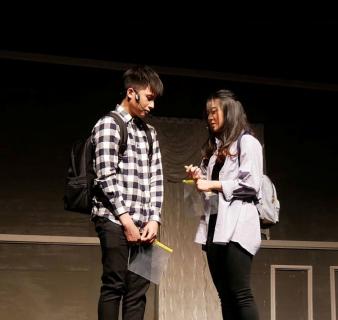 Though the production design is rather simple and functional, it was still interesting to see how the set design team and the director portrayed indoor and outdoor settings simultaneously. The lighting design (by Audrey Tabitha) deserved praise for pulling a lot of weight in setting the atmosphere for the play's darkest scenes.
Altogether, NYCTOPHOBIA is an interesting and brave undertaking for the class. Though there certainly is room for improvement, the show is already worth a watch for the intriguing script and a few powerful moments.
Photo credit: Nyctophobia production team.
| | | |
| --- | --- | --- |
| | Donations | Arts Orgs |
Related Articles View More Indonesia

Stories

Shows