BWW Review: A Trip to SEP THEATRE's Vibrant and Thought-Provoking PULAU ELEGI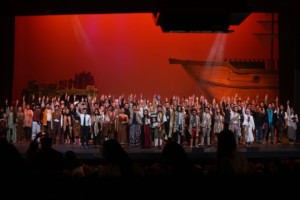 Only a few performance venues in Indonesia can match Ciputra Artpreneur's sophistry and prestige. The theatre has hosted international engagements throughout the years. And on Saturday, April 20th, 2019, its stage transformed into the colorful world of PULAU ELEGI ('Island of Elegy'), an ambitious musical production by SEP THEATRE (a subsidiary of THE SOMEDAY PROJECT) collaborating with more than a hundred Indonesian high school students. This is their seventh production, following last year's KISAH ALAM BARA.
The story begins at the idyllic island of Feitane. Orange and cocoa grow aplenty on its fertile lands - treasured commodity for the scurvy-ridden sailors and seafaring merchants. But its blossoming trade ports bring forth with them a new threat: a powerful trading company backed by the faraway Kingdom of Noira, seeking to monopolize the Feitane trade.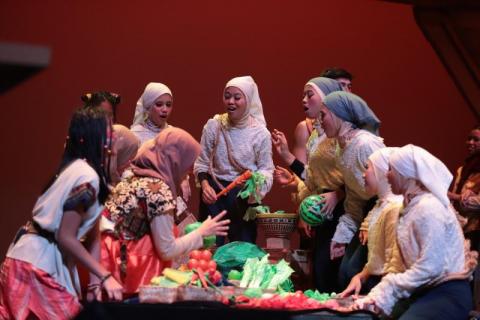 As the people of Feitane are torn apart between supporting a deeper partnership with Noira or keeping their pride and independence, we see the events unfold from three main perspectives; first is Lelei Maitapa's (Yusuf Rizqy), the son and heir to the island chieftess Roro Lilisha (guest star Dhea Seto). He is enticed by the Kingdom of Noira's sophistication, hoping to see its capital city for himself and study the newest sciences to help develop Feitane.
Lelei has also been corresponding with his sweetheart, Estamya Hrom (Gabriela Nadya), through letters. Estamya, the second main character and daughter to the trading company's governor, is a strong-willed young woman. She holds a fascination towards both the beautiful Feitane nature and the people's way of life. Eventually, she's betrothed to Lelei, in a move to bring the two nations closer.
The cocoa mixologist Nanai Perimola (Visky Sekar Floreta) completes the trio. Contrary to Lelei and Estamya, she sees Noira's aggressive intervention as a threat to Feitane independency. Furthermore, she's denied access to banking and business ventures as a part of Noira disciminatory policies against the Fietane natives. She prints out defiant pamphlets and seeks to gather like-minded individuals to protest against chieftess Roro's submission to Noira.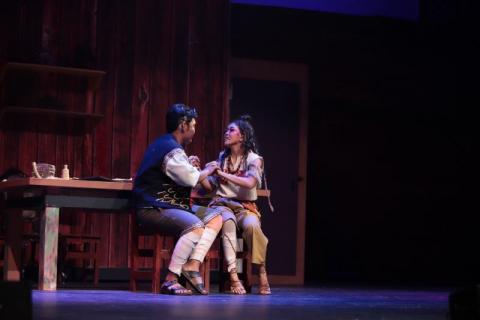 Unfortunately, her plan is found out by the trading company's guards. In the scuffle that followed, a bullet wounded Estamya; this incident opens the eyes of Governor Hrom, who agrees to send Nanai to have an audience with the queen of Noira. Shouldering the hope of her fellow Feitane islanders, she embarks towards the Noira's capital.
In the end, Noira is executed for insurgency. But her martyrdom lit a fire in the hearts of the people of Feitane. The populace raises their hands in a gesture of solidarity and prayer, declaring that freedom is a choice.
PULAU ELEGI is undoubtedly an ambitious production, in a multitude of ways. Its first social media teaser was published back in September of last year. In February, SEP THEATRE published a prequel web series introducing the island of Feitane and its denizens. Moreover, SEP THEATRE also released PULAU ELEGI singles on Spotify - one of the few Indonesian musicals to do so.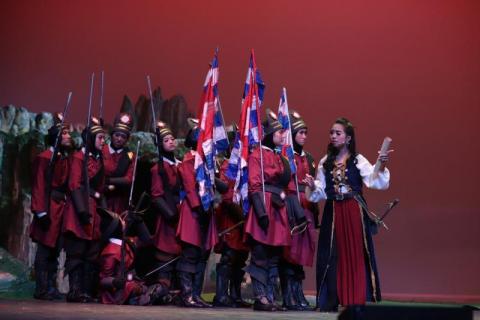 The story of PULAU ELEGI, written by Yara Sharazad, draws inspiration from both the Netherlands' occupation of Indonesia (then known as Dutch East Indies) and current day economic imperialism, as richer countries seek to expand their sphere of influence by strong-arming developing nations into political submission through lopsided economic deals. It also concerns itself with more personal drama, especially the love triangle between Lelei, Estamya, and Nanai.
PULAU ELEGI's main theme of national economic independence is definitely a much-needed discourse in the current global economy environment. SEP THEATRE's effort to bring up such a meaty topic to the public - and to the involved high school students - is worthy of applaud in itself.
The book itself, however, is still rough around the edges. The main premise of the conflict - that Noira's influence over Feitane is potentially harmful - is not as much shown as told (with great vigor by Naina). Keeping the potential threat as vague potentially makes it harder for the audience to sympathize with Naina's call for action. After all, the people of Feitane are thriving and not oppressed. This might be a case of the writer leaning on the Indonesian public conscience of the colonial era to automatically identify Noira as villainous.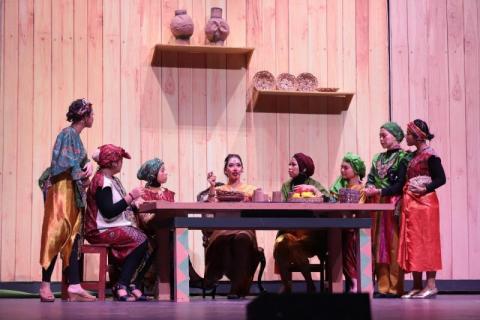 Some pieces of dialogue also came across as ham-fisted - particularly Governor Hrom's epiphany at the climax of the story. He spells out exactly what happened before he admits his wrongdoings. For such a mature story, this simplistic line felt out of place.
Humor is sprinkled liberally throughout the book, especially through personal quirks (Roro Lilisha has a tendency to laugh to herself at seemingly random intervals, while an enigmatically creepy side character has a short tune associated with her antics). Though this works to alleviate the often-heavy plot, other times the humor became too distracting or random.
Though as a whole PULAU ELEGI doesn't feel arduous in its pacing, still some scenes go on longer than needed for the characters to deliver their point; some other veer dangerously to extraneous territory. For a nearly 3-hour show, another round of editing to lean the script would be welcome.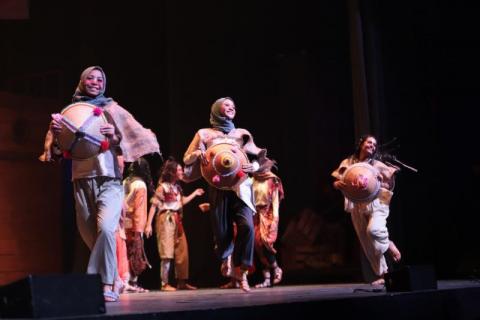 Where the script really shines is in establishing a rich, colorful, and exciting world (supported greatly by art directors Fitria Rahmadani, Endah Rosalina, Baltoro Airlangga, and Tantra Atmaja). Feitane and Noira feel unique and alive, with their respective culture, mannerism, and even religion. Here the costume design succeeds in supporting the world-building happening on stage. By drawing inspiration from Asia, Europe, and the Americas, PULAU ELEGI's characters look fresh and memorable (though the fake paper facial hair is a sore spot).
The set design brings to life the many locations on Feitane and beyond with only a few rough-hewn pieces. Most notably, a big ship rolls onto the stage at the beginning of the show and stood there as a constant reminder of the setting. While the lighting design is functional, it's still underutilized.
The ensemble - from fishmongers, bartenders, guards, and much more - adds another dimension to the world of PULAU ELEGI. They go on with their day-to-day life and exchange banters as the main story proceeds, nearly always present in the background and making the whole show more than the sum of its parts.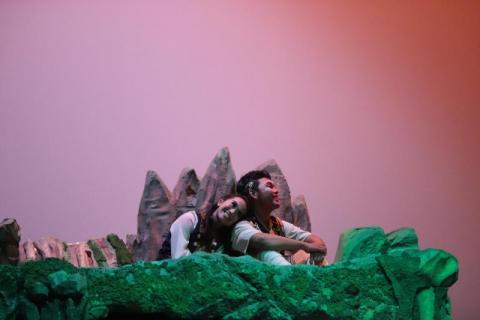 The main characters and most prominent supporting characters are also worthy of praise. They are layered and packed with both personality and motivation. Estamya in particular is delectably complex. As someone coming from a privileged upbringing who finds genuine admiration towards the people of Feitane, she faces contempt from both her countrymen and the Feitanes even as she tries to help improve the latter's reputation through depicting them in her paintings.
Of course credit has to be given to both the director (SEP THEATRE mainstay Rinaldy Zulakranin) and the cast for successfully bringing the colorful characters to life. The actors - all of them high school students except for the guest stars (actress/dancer Dhea Seto and actor Andri Mashadi) - are all-around competent and have natural chemistry. However, the blocking can get clumsy at times with characters facing away from the audience, obscuring their expression.
The standout of the night is Gabriela Nadya, playing Estamya with astounding confidence and consistency. It should be noted that her costars Visky and Yusuf also pull their weight; the scenes with any two of them are enjoyable due to the engaging dynamics. Unfortunately, many of the cast still occasionally botched their enunciation, leaving a couple lines unheard.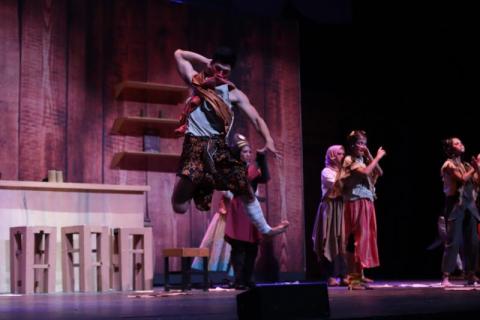 Both guest stars are welcome additions to the world of PULAU ELEGI. Dhea Seto carried Roro Lilisha with the appropriate grace of a chieftess and tenderness of a mother. It was impressive showing, considering she was but a few years older than the actor playing her son. Andri Mashadi played Jajang, a braggart rebel who serves as a foil to the wide-eyed and naïve Lelei, with great energy.
PULAU ELEGI's libretto is a perfectly serviceable modern pop outing, never inappropriate to the book. The song at the royal audience scene, sung by both Naina and her friends back at the Feitane, is enchantingly beautiful and the most memorable of the bunch.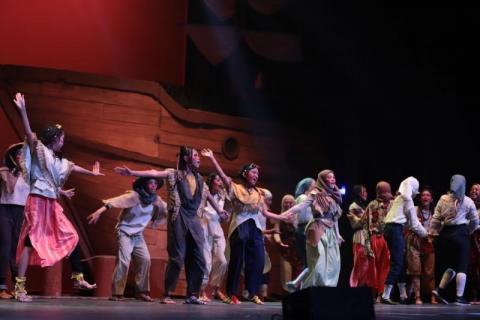 The songs and score are played by a live mini-orchestra (Idham Putra Prijanto assumes the role of music director), enriching the experience. The musicians are skillful; unfortunately, the sound mixing often makes them drown out the actors' sung lines. Furthermore, none of the cast impresses vocally, holding back the libretto from realizing its full potential.
There is also the logistical challenge inherent in having so many actors on stage (. Thankfully Rinaldy Zulkarnain's direction and Fadhila Ananda's choreography manage to make each scene look visually appealing by herding the different groupings of the characters.
Though the dance movements are uncomplicated (and the ensemble has understandably not quite reached Broadway-level synchronicity), they are adequate. Fadhila also incorporated some acrobatic moves that vitalize the numbers. There's a peculiar choice in one number: in it, the Noira forces and Feitane independence advocates dance as one, conveying a togetherness as opposed to the script.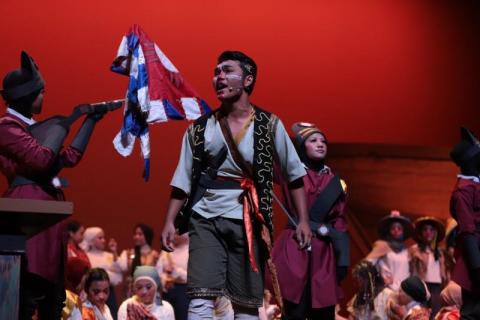 Despite its few shortcomings, PULAU ELEGI is a brave and much needed step for the next generation of Indonesian musical theatre actors and crews. Coordinating such an ambitious project is not only a momentous achievement, but also a display of exuberant yet mindful youthfulness that energize and inform the audience.
Now with the winds of experience behind them, SEP THEATRE is ready to set its sail towards their next adventure.
For information on their future productions, follow their Instagram on septheatre or check THE SOMEDAY PROJECT's website at www.sprojectph.com
Photos courtesy of THE SOMEDAY PROJECT.
Related Articles View More Indonesia

Stories

Shows