BWW Previews: TEATER KELILING to Perform the Legend of THE GREAT RAHWANA on September 21-22 at CIPUTRA ARTPRENEUR
TEATER KELILING, in association with event organizer KREASI IMAJI MAHESA, will present the stage musical THE GREAT RAHWANA. Based on the Indian legend of Ramayana (which has been ingrained into Javanese folklore for hundreds of years), this reexamination of the timeless narrative will take stage on September 21st and 22nd at the CIPUTRA ARTPRENEUR theater, Jakarta.
The titular Rahwana is the villain of Ramayana; as the king of the rakshasas (demons), he's opposed by the protagonist, Prince Rama. In the original story, Rahwana kidnaps Sita, Rama's wife, wanting to wed her for himself.
TEATER KELILING's take on the classic story (itself adapted from the novel RAHWANA PUTIH by Sri Teddy Rusdy) promises to unveil another side of the story: Rahwana's internal struggle and genuine love for Sita. They will also focus on Rahwana's family, brotherhood, and perseverance, aspects of the character seldom-depicted in other adaptations.
The script is written by Dolfry Inda Suri and Aldiansyah Azura, while Rudolf Puspa takes the director seat. THE GREAT RAHWANA will have two sets of cast: Candrasa and Pancasona.
Candrasa cast will perform in show 1 (Saturday, September 21, 14.00) and show 4 (Sunday, September 22, 19.30). Pancasona cast will perform in show 2 (Saturday, September 22, 19.30) and show 3 (Sunday, September 22, 14.00)
The cast for THE GREAT RAHWANA was selected through an open audition and consists of both experienced and new actors. Candrasa cast will also feature special performance by several celebrities, including FTV actor Cakrawala Airawan, politician Shalimar Anwar Sani, and fitness influencer Kenny Haryanto.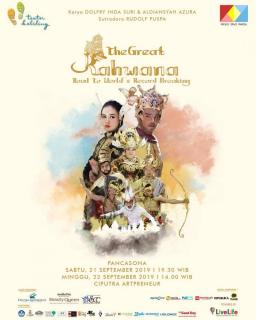 In addition to the show itself, TEATER KELILING and KREASI IMAJI MAHESA plan to break a world record: Guinness World's Record for Largest Ramayana Dance. The current title holder is Sendratari Ramayana Prambanan with 230 people dancing at October 15th, 2012.
For the record-breaking attempt, the committee has gathered 1000 dancers, performers, and crews. The attempt will be held on December 1st.
More information, including ticket purchase, can be accessed on their TEATER KELILING's Instagram, @teaterkelilingind.
Related Articles View More Indonesia

Stories

Shows