Rice University to Bring Shakespeare's First Folio for Opening Night of THE BOOK OF WILL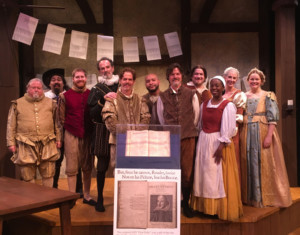 On Saturday night, September 22, Main Street Theater (MST) opened its 43rd Season with the Regional Premiere of Lauren Gunderson's The Book of Will. This compelling play tells the tale of how Shakespeare's First Folio came into existence thanks to the loyalty and love of his dear friends, particularly John Heminges and Henry Condell.
Rice University has, in its collection at the Woodson Research Center in Fondren Library, three plays from an original Folio: King Lear, Othello, and Antony and Cleopatra, all bound into one book. William B. Hunter, a Milton scholar who taught at the University of Houston, Vanderbilt and other universities, donated the First Folio to Rice in the summer of 1998. Thanks to the generosity of Rice and their staff, Main Street was able to surprise its audience with a private viewing of the Folio right there in the theater following the performance on opening night.
"It was such a thrill to be able to show our audiences the Folio," says Rebecca Greene Udden, Artistic Director of MST and director of The Book of Will. "To be able to come together around that piece of history which we had all just witnessed come into being in the play itself was a real gift."
Through its Part of the Art Series, now in its sixth season, Main Street seeks to bridge the divide between the audience and the plays. The Series offers free opportunities for the artists and the audience to connect around the plays themselves. "To see audiences and artists gathered together around the Folio on opening night, very aware that they were sharing sacred space, was truly wonderful," says Shannon Emerick, Director of Marketing and Communications at Main Street at creator of the Part of the Art Series. "To see and feel the sheer joy and excitement as people took pictures with the Foliop and just sort of basked in its presence was the perfect way to celebrate the opening of The Book of Will - and the opening of our 43rd Season. We are very grateful to Rice for this generosity and partnership."
About The Book of Will
After Shakespeare's death, his plays were pirated, performed and published in inaccurate and clumsy versions. Loyal friends and actors in Shakespeare's company embark on a labor of love to compile the First Folio and preserve the words that shaped their lives.
The Book of Will runs through October 21 at MST - Rice Village, 2540 Times Blvd. Performances are Thursdays - Saturdays at 7:30pm and Sundays at 3pm. Tickets are $36 - $48, depending on date, section, and availability. All tickets are on sale via phone at 713.524.6706 or online at MainStreetTheater.com.
Upcoming Part of the Art Series Events for The Book of Will
· Join us on Sept. 30 for a post-discussion with Dr. Elizabeth Klett, Shakespeare scholar, Associate Professor of Literature, University of Houston - Clear Lake. Dr. Klett will give a short talk about the creation of Shakespeare's First Folio and the many unanswered questions that remain today. Free.
· Join us Sunday, October 7 for a post-show discussion with Jon Evans, Chief of the Library & Archives at the Museum of Fine Arts, Houston. Mr. Evans will give a short talk about Shakespeare's Second Folio (1632), a ground-breaking anthology and an object that connects us directly to the Bard today. Free.
· Free Beer Friday: Following regular Friday performances sponsored by Buffalo Bayou Brewing Co. in The Liberty Group lobby (previews excluded).
· After-parties following all Saturday performances, including a special reception on Opening Night, in The Liberty Group lobby.
About Main Street Theater
Main Street Theater provides theater experiences for all ages. Founded in 1975, our MainStage produces professional, intimate, literary plays for adults and operates under an Actors' Equity Association union contract; our Theater for Youth produces professional, engaging productions based on children's literature for families and school groups, both in-house and on tour around Texas; and we offer Education and Outreach programs on-site and at satellite locations around the Greater Houston area for youth aged 4 - high school. We work out of 2 facilities: our Rice Village home on Times. Blvd., and as part of the MATCH (Midtown Arts & Theater Center Houston) on Main Street.
Main Street Theater is a member of Theatre Communications Group (TCG), the national service organization for not-for-profit theaters, of Theatre for Young Audiences/USA (formerly ASSITEJ), the world theatre network of theatre for children and young people, and a founding member of Houston Arts Partners. Main Street Theater is funded in part by grants from the City of Houston through the Houston Arts Alliance, and the Texas Commission on the Arts.