Mildred's Umbrella's MUSEUM OF DYSFUNCTION X Celebrates 10 Years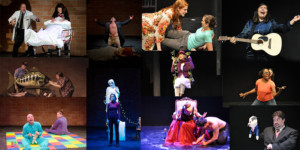 Since 2008, Mildred's Umbrella (MU) has celebrated the dark, quirky, and absurd with a collection of short pieces submitted by emerging and established playwrights. Now in its tenth year, MUSEUM OF DYSFUNCTION has become a fun collaboration of Houston theater artists, a venue for playwrights to test new work, and a highlight of the summer festival season.
The first MUSEUM featured a series of skits by Houston writers staged in a museum-like setting at Avant Garden. In the decade since, the format has shifted to more of a showcase feel and the number and reach of submissions has grown, with special attention paid to including student writers in the festival in recent years. "We wanted to provide emerging writers a platform to test their work and have an opportunity to work with experienced directors through the rehearsal process," said Managing Director Rebecca Ayres of the shift to include student writers. "This year we have a great group from Heights High School who will be working closely with our directors to produce their first work ever, that's pretty exciting."
The festival runs for two weekends with ten plays featured in each for a total of twenty. The plays were read blind (without author information) by the MU staff and chosen for their alignment with mission and guidelines, as well as their unique perspective. The picks surprisingly reflect MU's mission to promote the work of women in the performing arts, as 75% of the playwrights are female and 55% of the roles are for women.
The selected playwrights are: Claudia Barnett, Ryan Bultrowicz (Longwood University, Farmville VA), Nayely Castro (Heights High School, Houston, TX), Elizabeth Cruz (Heights High School, Houston, TX), Eric Eberwein, Susan Goodell, Randi Hall, Jordan Elizabeth Henry, Ricardo Ibarra (Heights High School, Houston, TX), Steven Korbar, Valerie Muensterman (Duke University, Durham, NC), Scott Mullen, Lia Romeo, Noelle Riall (Heights High School, Houston, TX), Jennifer Rumberger, Leighza Walker, Lolly Ward, Mary Ellen Whitworth, Lauren Wimmer (Carnegie Mellon, Pittsburgh, PA).
MUSEUM OF DYSFUNCTION X runs June 21-30, 2018 at Chelsea Market Theater, nestled between the Museum District and Montrose. Tickets are on sale now at www.mildredsumbrella.com. For more information, call 832-463-0409 or e-mail info@mildredsumbrella.com.
MUSEUM OF DYSFUNCTION X: A SHOWCASE OF SHORT PLAYS (JUNE 21-30, 2018)
Various Directors
Where: Chelsea Market Theater - 4617 Montrose Blvd. #100, Houston, TX 77006
When: Round One: June 21-23, 2018; Round Two: June 28-30
Cost: All Shows Pay-What-You-Can
More Hot Stories For You