Main Street Theater Presents Witty PRIDE AND PREJUDICE Sequel MISS BENNET: CHRISTMAS AT PEMBERLEY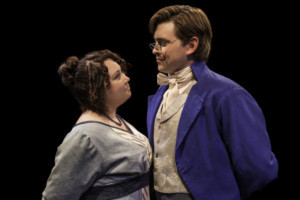 Main Street Theater continues its 42nd Season with Miss Bennet: Christmas at Pemberley by Lauren Gunderson and Margot Melcon. MST Founder and Artistic Director ReBecca Greene Udden has long been a champion of Jane Austen's work, even adapting Pride and Prejudice for the stage herself, which the company produced in 1988 and 1996. It seems only fitting, then, that MST would select Miss Bennet, the sequel to Pride and Prejudice, for its holiday offering. It's also fitting given MST's commitment to the works of female writers and in particular, Lauren Gunderson: in the last two seasons, MST produced Gunderson's Silent Sky and The Revolutionists.
Miss Bennet has 4 preview performances: Sunday, November 5 at 3pm, and Wednesday - Friday, November 8 - 10 at 7:30pm. The production opens Saturday night, November 11 at 7:30pm and runs through December 17 at MST - Rice Village, 2540 Times Blvd. Performances are Thursdays - Saturdays at 7:30pm and Sundays at 3pm. Tickets are $36 - $45, depending on date, section, and availability. All tickets are on sale via phone at 713.524.6706 or online at MainStreetTheater.com. (There is no performance December 2. There is an added Sunday evening performance at 7:30pm on December 3.)
About Miss Bennet: Christmas as Pemberley
A sequel to Jane Austen's Pride and Prejudice, Miss Bennet is set two years after the novel ends and continues the story, this time with nerdy middle-sister Mary as the unlikely heroine. Mary is growing tired of her role as the dutiful middle sister in the midst of everyone else's romantic escapades. When the family gathers for Christmas at Pemberley, an unexpected guest sparks Mary's hopes for independence, an intellectual match, and possibly even love.
Ms. Gunderson co-authored the play Miss Bennet: Christmas at Pemberley with Margot Melcon, which received a 3-way world premiere in 2016.
About Lauren Gunderson's Recent Success
Lauren Gunderson is the most produced playwright in America this season. American Theatre Magazine publishes a list of the Top 20 Most-Produced Playwrights each year. "In her third year on this list, playwright Lauren Gunderson has shot to the top spot." Last season was number 2, with only August Wilson ahead of her.
Ms. Gunderson was just featured in The New Yorker Magazine. "Her plays are staged almost twice as often as anyone else's on the [American Theatre Magazine] list, far ahead of venerated figures like Eugene O'Neill and August Wilson... Although men still write three-quarters of the plays that get produced, Gunderson has built a national reputation with works that center on women's stories. And, though most playwrights also teach or work in television, she has managed to make a living, in San Francisco, by writing for the stage."
Main Street Theater has previously produced Gunderson's Silent Sky and The Revolutionists along with staged readings of The Taming.
About the Production
Longtime MST artist Claire Hart-Palumbo directs the production. Ms. Hart-Palumbo most recently directed MST's hit production of Fallen Angels by Noël Coward and appeared on stage in Lauren Gunderson's Silent Sky at MST. Chaney Moore (Akeelah and the Bee, The Wizard of Oz) plays Mary Bennet. Brock Hatton (The Wizard of Oz) is Arthur de Bourgh. Real life husband and wife (and native Houstonians currently based in New York) Spencer Plachy (Li'l Abner) and Laura Kaldis (Anna in the Tropics) play Mr. Darcy and Elizabeth Bennet Darcy. The rest of the cast includes Skyler Sinclair (Peace in Our Time), Blake Weir (The Last Wife, Wolf Hall), Lindsay Ehrhardt (The Coast of Utopia), Heidi Hinkel, Adonis Banuelos, and Sara Brittain.
The production design team and crew includes Ryan McGettigan (Set Design), Carrie Cavins (Lighting Design), Deborah Anderson (Costume Design), Shawn W. St. John (Sound Design), and Rodney Walsworth (Properties Design). Lauren Evans is the production stage manager.
About Main Street Theater
Main Street Theater provides theater experiences for all ages. Founded in 1975, our MainStage produces professional, intimate, literary plays for adults and operates under an Actors' Equity Association union contract; our Theater for Youth produces professional, engaging productions based on children's literature for families and school groups, both in-house and on tour around Texas; and we offer Education and Outreach programs on-site and at satellite locations around the Greater Houston area for youth aged 4 - high school. We work out of 2 facilities: our Rice Village home on Times. Blvd., and as part of the MATCH (Midtown Arts & Theater Center Houston) on Main Street.
Main Street Theater is a member of Theatre Communications Group (TCG), the national service organization for not-for-profit theaters, of Theatre for Young Audiences/USA (formerly ASSITEJ), the world theatre network of theatre for children and young people, and a founding member of Houston Arts Partners. Main Street Theater is funded in part by grants from the City of Houston through the Houston Arts Alliance, and the Texas Commission on the Arts. United Airlines is the official airline of Main Street Theater.
Photo credit: Blueprint Film Co.
Related Articles View More Houston

Stories

Shows
More Hot Stories For You