CLICK, CLACK, MOO: COWS THAT TYPE Opens 9/24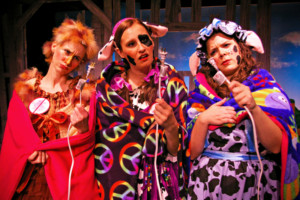 "At Main Street Theater, we know how important it is to begin to introduce some sort of normalcy to our children, to help them to grieve, to talk, to feel, to smile, to laugh," says Vivienne M. St. John, Theater for Youth Producing Director at Main Street. "Our upcoming production of CLICK, CLACK, MOO: COWS THAT TYPE is the perfect respite the children need from the Hurricane: a chance to engage with something familiar (the production is based on the beloved children's book), a chance to laugh and be silly, a chance to be with family and friends."
MST encourages everyone attending Click, Clack Moo to bring NEW blankets that we will donate to Star of Hope's women, men, and children in need. Star of Hope Mission has been in Houston for more than 110 years serving our city's homeless by providing help with both immediate crisis needs and long term, life-changing structured recovery programs.
With performances Sept. 24 - Oct. 14 for ages 3 and up, Click, Clack Moo tickets are $20 and $16 depending on seating section. All performances are held in Midtown at 3400 Main Street, 77002:
Click, Clack Moo: Cows That Type
Based on the Book by Doreen Cronin & Betsy Lewin
Adapted by James E. Grote and George Howe
Directed by Robin Robinson
Musical Direction by Debbie Wylie
http://www.mainstreettheater.com/youththeater/moo_2017.html
Recommended for Pre-Kindergarten & up.
Sundays, September 24 & October 1, at 12:30pm and 3:30pm
Saturdays, October 7 & 14, at 11am and 2pm
Accommodations Performances:
Sunday, October 1 at 3:30pm: Sensory-Friendly Performance
Saturday, October 14 at 11am: Audio Described Performance
Saturday, October 14 at 2pm: ASL Shadow-Interpreted Performance in collaboration with the University of Houston's American Sign Language Interpreting program.
Farmer Brown has a problem. His cows like to type! And when they start using the typewriter to make demands or go on strike, he has his hands full! From the incredible team who brought us last season's smash, Duck for President, enjoy more quirky antics on the farmyard.
Click Clack Moo photos by RicOrnelProductions:
Blanket, Click Clack Moo Archive (6), Click Clack Moo Archive (11): photos courtesy of Main Street Theater
More Hot Stories For You