Interview: It's Now or Never! Tim Rogan Gets ALL SHOOK UP with TUTS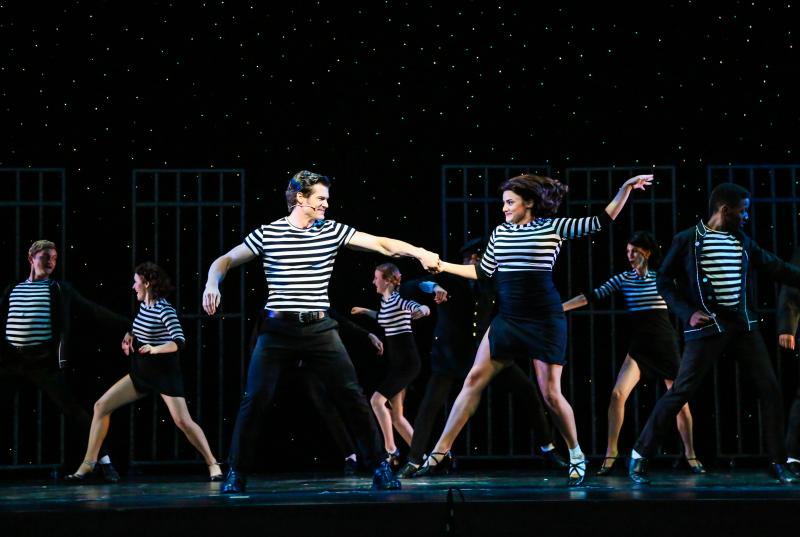 "C'mon Everybody," make your way to Miller Outdoor Theatre for "A Little Less Conversation" and plenty of "Jailhouse Rock." Yes, Theatre Under the Stars (TUTS) is bringing ALL SHOOK UP, Joe DiPietro's blending of Shakespeare's TWELFTH NIGHT with the King's musical catalog, to town for a blink-and-you'll-miss-it week-long run. (If you're not already sold, know that Houston Chronicle critic Wei-Huan Chen has already named it one of his summer stage picks.)
Today, ALL SHOOK UP star Tim Rogan joins us to talk about the show's popularity; his third time playing cool, sincere roustabout Chad; and the awesomeness that is Elvis Presley.
---
Let's get this out of the way at the top: Were you at all an Elvis fan before joining The Muny's production of ALL SHOOK UP last year?
Tim Rogan: I was a tremendous Elvis fan before last year! I actually really started exploring and learning about Elvis all the way back in the eighth grade when I did a production of BYE BYE BIRDIE. I was playing Conrad and started looking up all the Elvis elements the character was based off of, and then became infatuated by him. I was then lucky enough in college to play Chad in ALL SHOOK UP, so this is actually my third time performing the role, and I still love delving into the world of Elvis. There is always new information about him coming out. In just these past few months there have been two new major documentaries about him, THE SEARCHER on HBO and also a film called THE KING.
Now, not only were you just in ALL SHOOK UP last summer, you've played Chad twice. So, what's it like stepping back into Chad's blue suede shoes for TUTS?
Tim Rogan: I love this character. The thing that is so wonderful about him is that he makes people become the best versions of themselves. He goes around spiritually liberating people, and that is such a wonderful headspace to live in. He is also wonderfully transparent. Whatever he is feeling in the moment he says. He never has an ulterior motive. He has this sort of perpetual optimism about him, and he is so pure, that he is not intelligent enough to understand racism. He genuinely doesn't understand why two people who love each other can't be together. I think there is something beautiful in that.
Chad really embodies the daring, hip-swiveling spirit of Elvis, and I often see him described as a James Dean, or Arthur Fonzarelli, or even Kevin Bacon from Footloose type. It seems to me that, if not careful, he could slip into parody or caricature. How do you describe Chad and how do you keep him grounded?
Tim Rogan: The fun thing about Chad is that he does everything with 100 percent conviction. Whether he is happy or sad, you know exactly how he is feeling. What is so brilliant about this script (without giving away plot points) is that Chad has genuinely sincere moments where he speaks from the heart and explains his philosophies on life and love. Some of his ideas are actually quite admirable and idealistic. So knowing that you have these very grounded moments in the show, it allows you to go far out on the other end with some of his "silliness" because you know it will eventually swing back the other way.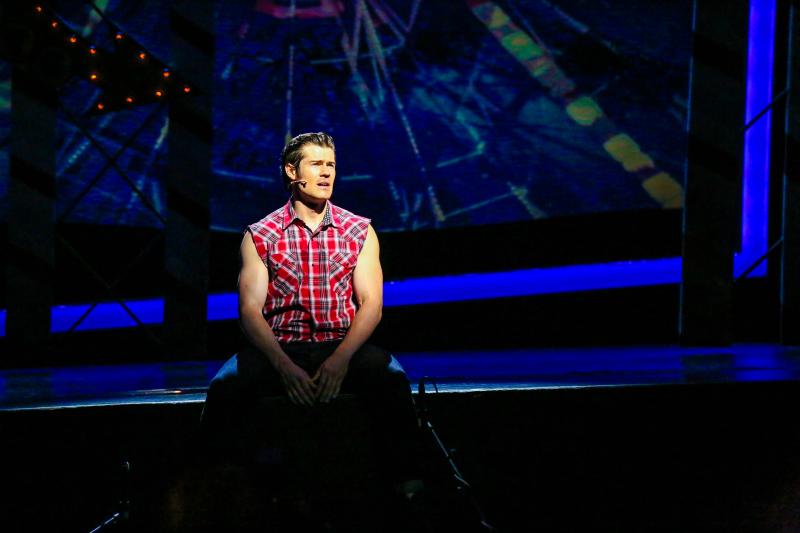 As much as Elvis is beloved, plenty of shows based around beloved musical catalogs fail. (Yes, I'm looking at The Beach Boys, Spice Girls, even John Lennon.) Ultimately, what do you think makes ALL SHOOK UP work so well?
Tim Rogan: I think the show works so well because of two keys elements: the re-orchestrated songs and the message of the show. The songs have been adapted so successfully into the medium and style of musical theatre that you forget that they were originally radios hits. Not only do they sound amazing but they move the plot along successfully without feeling forced. The other key element of the show's success is the message it spreads. The takeaway from this show is that true love is never impossible, but that you first must learn to love yourself. You get to watch all these characters go on these journeys of self-discovery, and I think that is something people enjoy to watch and something in which they can relate.
You're on stage for much of the show and many of the songs, including some of Elvis's most recognizable hits, like "Jailhouse Rock," "Don't Be Cruel" and "Can't Help Falling in Love." What do you think has most prepared you for such a demanding role?
Tim Rogan: It's hard to pinpoint one thing because it is the culmination of all of the prep work up until that point. I feel like any actor can attest to that. If you have done your homework, researched the source material, studied the script and score, physically prepped yourself, coachings, etc. then you will be fine. For shorter rehearsal processes like summer stock shows, the more prepared you are on day one, the smoother the process will be.
You've toured the country with CAMELOT and DISNEY'S BEAUTY AND THE BEAST, and starred in regional productions of some of theatre's most iconic shows - THE PAJAMA GAME, JOSEPH AND THE AMAZING TECHNICOLOR DREAMCOAT, ROCKY HORROR, GREASE, and plenty more. Can you share some of the major lessons you've learned from different productions?
Tim Rogan: Piggybacking off of my previous answer, when you do your homework beforehand, it allows you to play more in the room. Also, with preparation comes confidence. What we do is such an abstract concept. We are artists, and everything is ultimately subjective, so when you have done the prep work, you can have a more educated conversation about what is going on in the scene and figure out the best option on how to proceed.
Another important lesson is to take ownership and be a team player. Be a problem solver, not a problem starter. Find a way to elevate the performers and company members around you, and you will be amazed at how that will be reciprocated.
And finally, what is the best advice anyone has ever given you?
Tim Rogan: Be the hardest worker in the room, and be someone who people want to work with again. Also, that there will always be someone better than you, and someone worse than you. Learn from those who are better, and help those who are behind you.
ALL SHOOK UP is running now through July 15 at Miller Outdoor Theatre, 6000 Hermann Park. For more information, call 713-558-8887 or visit tuts.com. Free.