Paalanen, Walamies, and Vekki Bring Stand-Up to Tampere in September
The performance is on 2 September.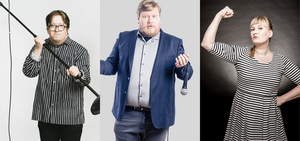 A stand-up performance comes to Tampere this September, featuring Paalanen, Walamies, and Vekki!
Witty and insightful Walamies examines the way the world is going with a funny and critical approach. This world-traveled comedian is also a familiar sight from Finnish television entertainment, e.g. As a panelist on the Mad Cook Show . Tom's ingenious stories stem from world news and phenomena. 
Comedian Eeva Vekki, known from television, is the regular laugher of the About week studio . Eeva is a successful career mother who, according to her own words, has enviably skillfully managed to combine children, career white wine, Burn out and diapams. On the stand-up stage, Eeva's strength is improvisation, through which each performance is also like its audience.
The performance is on 2 September. Show at 7 p.m., doors at 6 p.m.
Age recommendation 16 years