HAIR SALON is Now Playing at Tampere Työväen Teatteri
The production premiered at the Vallila National Theater on December 8, 2021.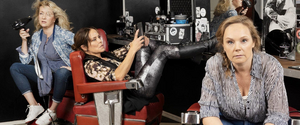 Ansku (Sari Puumalainen) and Raikku (Maria Kuusiluoma) are childhood friends who work as hairdressers in the suburbs. The old Retail space they rented out is falling apart; there is mold in the corners, and the pungent creosote floats in the air. When the toilet bowl stops working, a firm decision is made in the minds of women that this cannot continue. The dream of a decent business creates hope for better, but can they afford it?
The hairdresser is cleaned by Ansku and Raiku's friend Sisko ( Katariina Kaitue ). The trio of women are united by the constant struggle for existence as small entrepreneurs, life as mothers of teenage children, and husbands who have not had to take responsibility for the well-being of their families. Not even the store's maintenance man ( Petri Liski ) seems to be helping.
The Hair Salon, written by Mika Myllyaho for the actors of the National Theater, is a serious comedy about the importance of personal boundaries and maintaining self-respect - about people who fight for their happiness and the legitimacy of their existence. Combining Realism and Poetry, the Hair Salon is an independent sister work of the praised Korjaamo (2018) , a performance written and directed by Myllyaho for the National Theater .
Premiere at the Vallila National Theater on December 8, 2021.