CHAIRS is Now Playing in Tampere
Performances run through 25 March 2023.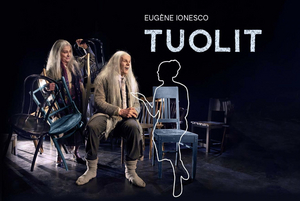 In the world-famous comedy by Eugéne Ionesco, an old couple is waiting for influential guests, because the man wants to leave a message for posterity. However, he does not know how to perform, so a professional speaker is ordered to help.
Otso Kauto's idea to direct the classic comedy for TTT came out of the desire to work with Teija Auvinen and Auvo Vihro. Linguistic fireworks, puns and poetry offer the actors unexpected opportunities for expression that has no conventional boundaries in the story.
Toolit is a fantasy that becomes reality, an unpleasant picture of the future, which is funny. 70 years ago, the Ionesco Chairs belonged to the gems of the theater of the absurd. The modern world is still made fun of by comedy about getting old and giving up, but is its absurd, wonderful madness really recognizable realism for us?