BroadwayWorld Fargo Newsroom
BWW Review: ROCK OF AGES at Stage West
by Brian Michaels on July 27, 2021
West Fargo Events and Stage West Presents Rock Of Ages!
BWW Review: RODGERS & HAMMERSTEIN'S CINDERELLA at Trollwood Performing Arts School
by Brian Michaels on July 27, 2021
Trollwood is back! The moment so many kids and their friends and families have been waiting for. After no show in 2020, everyone came together in 2021 to bring back an important part of summer for so many.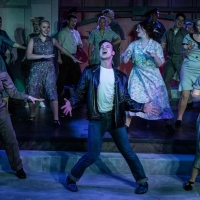 BWW Review: ALL SHOOK UP at FMCT
by Brian Michaels on July 25, 2021
For anyone looking for a purely fun show with great music this is it. This show will have you tapping your feet, clapping your hands and singing along. All Shook Up is a 2004 jukebox musical set to the music of Elvis Presley. The story in this production is similar to Footloose. We have a small town with rules against loud music, public 'neckin' etc.. We have an outsider who comes to town and try to change everything, and of course we have the hilarious multi-person love triangle, although it's definitely more than a triangle.