Documentary to Profile Detroit Symphony's SYMPHONY IN D Tonight on DPTV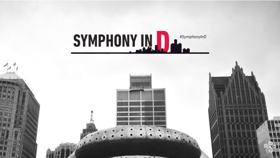 In 2015 Pulitzer Prize-nominated composer Tod Machover and the Detroit Symphony Orchestra embarked on a unique sonic collaboration with the citizens of Detroit to create a stirring musical masterpiece, "Symphony in D."
Tonight, October 13, DPTV will air a 60-minute, Emmy-award-winning documentary chronicling this audacious project. Machover issued a call to Detroiters for aural contributions of every kind and received more than 15,000 submissions - from senior citizens, children, hip-hop artists, poets, choirs and a host of others - which he blended with field recordings into a tapestry of sounds.
It received an awe-inspiring world premiere, led by DSO Music Director Leonard Slatkin, at Orchestra Hall, playing to an enthusiast crowd and rave reviews - including one critic who called it "an extremely powerful love letter to Detroit."
Among the poets who participated in the project is Tonya Matthews, President and CEO of the Michigan Science Center.
Describing her reaction to both the musical work and the film, Tonya said, "'Symphony in D,' the music, is powerful and weird, discordant and melodious, strident and rhythmic, and it will stick in your head. 'Symphony in D,' the documentary is as much about what and who Detroit is, as it is about how Detroit affects you when you step into her space - you'll see that in Todd's face and you'll hear it in my voice - and that will stick in your heart."
To read more about Tanya's experience working on this remarkable project and her feelings about her adopted hometown, click here.
And tune in tonight at 8 p.m. on DPTV, for the "Symphony in D" documentary, directed by Dennis Scholl and Marlon Johnson. An interview with Scholl follows the film.
Check out a preview below!