BWW Interview: Mystic Inscho of SCHOOL OF ROCK THE MUSICAL says 'The Kids Will Leave Your Jaw Dropped,' and Sends a Message to The Kids!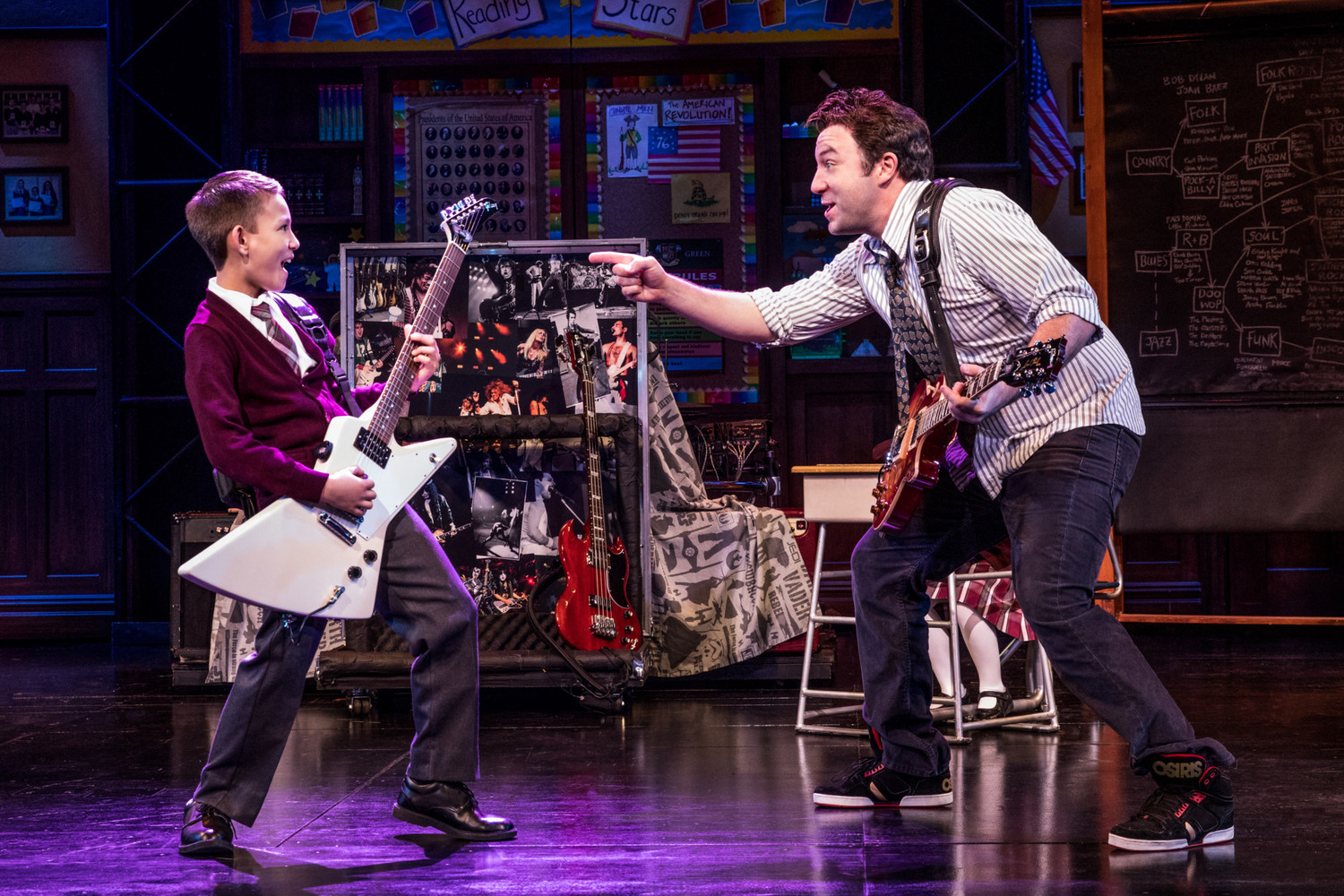 School of Rock will be arriving to DeVos Place on January 8th-13th in Grand Rapids to kick off the second half of the Broadway Grand Rapids season. Bringing along with it is a talented cast of kids, who all play all their instruments live on stage every single night! Broadway World Detroit had a chance to catch up with one of the young rock stars on the tour, guitarist Mystic Inscho, who plays Zack Mooneyham, to see what he had to say on tour life, what he enjoys doing in his down time, and even what he'd like to do in the future post School of Rock:
Broadway World Detroit- Can you describe School of Rock in your own words?
Mystic Inscho- It is an inspiring story about a wannabe Rockstar, who somehow gets a job as a substitute teacher in Horace Green Prep School. He comes in and notices these straight up proper kids actually hiding a lot inside, so then he works with them and turns them into these rock stars. It is really exciting to see the transition of kids throughout the show. I hope that it inspires the kids in the audience to dream big and work hard for their dreams.
Broadway World Detroit- How would you describe your character, Zack?
Mystic Inscho- Zack is a bit shy at the beginning of the story because his father is very strict. Throughout the show, you can see his transformation while Dewey works with the kids and encourages them. Also, Zack is a very creative and talented kid, and he writes his own songs.

Broadway World Detroit- Are there any similarities between Zack and yourself?
Mystic Inscho- Yes, Zack feels shut out by his father, and, sometimes, I feel my parents don't quite understand me either. I, also, started on classical music and then fell in love with rock and roll. The biggest similarity is perhaps that I like to write my own songs as well.

Broadway World Detroit- What is your favorite song to sing and/ or play in the show?
Mystic Inscho- "You're in the Band" because each kid has a little solo, where they can shine and enjoy themselves.

Broadway World Detroit- You are a multi-instrumentalist in addition to vocals. Which is your favorite instrument to play and why?
Mystic Inscho- I like all of them, but I think if I have to choose, I would go with the guitar. Guitar allows me to create songs and sing them out quickly. I feel comfortable with guitar and it makes me feel cool. I also like to dance, so that counts as an instrument. Dance uses your whole body so it is also sort of a sport. Combining dance and guitar is what I love to do.

Broadway World Detroit- What is your favorite song on each instrument, and then to sing?
Mystic Inscho- I like to play "Johnny B. Goode" by Chuck Berry on guitar, I also am just learning the guitar solo from "Bohemian Rhapsody" since I like that too. On piano, I like "Fur Elise" and "Into the Mystic." I like to play "Boulevard of Broken Dreams" on the drums, but most of the time I just like to drum along to whatever song that I listen to. I like to sing 'Centuries' by Fall Out Boy, and I also like to sing "Manual of Youth" in Chinese.

Broadway World Detroit- Do you have special pre-show rituals that you do before each show?
Mystic Inscho- Every day before a show I write a little bit on my journal, so I can have a memory of the tour.

Broadway World Detroit- What is your favorite part of being on a national tour?
Mystic Inscho- My favorite part about the tour is probably going to new cities and exploring them. I also like to hang out with my friends on the tour.

Broadway World Detroit- What is your favorite place you have been on tour?
Mystic Inscho- There are so many interesting places on tour. My favorite place so far would probably be Ottawa, Canada because it was really beautiful, and we visited the Supreme Court of Canada and had a mock trial. The food was also really good.
Broadway World Detroit- You were on tour to Lansing, Michigan and performed on the campus of Michigan State University just over a month ago. How did you enjoy your time in East Lansing? What was your favorite thing you did while on tour there?
Mystic Inscho- I enjoyed East Lansing a lot. My favorite thing was a school field trip to a science facility at Michigan State University and learning about rare isotope beams. I remember that the tour guide was very funny and made complicated things understandable.
Broadway World Detroit- Besides being in School of Rock, what is your dream?
Mystic Inscho- When I am older I want to become an astronaut, musician, movie star, and/or an animal rescuer. After the tour, I want to keep on doing auditions untill I get another thing really big.
Broadway Grand Rapids- Why do you think people should come to see School of Rock?
Mystic Inscho- People should come to see School of Rock because I feel like the kids will leave your jaw dropped, and it sends out a message to the kids saying that they shouldn't be afraid to show their real feelings and stand up to their parents.
Broadway World Detroit- Would you like to share any websites or social media links with the readers?
Mystic Inscho- Yes, I would love people to follow me on my Instagram, @mysticinscho. I post picture and videos every day about my tour life, my instruments playing and songs that I write. People can also find me on Facebook and Youtube. My website is www.mysticinscho.com.
Connect with The First National Tour for School of Rock at https://www.ustour.schoolofrockthemusical.com
Connect with Broadway Grand Rapids for complete info on School of Rock and the rest of the season at www.broadwaygrandrapids.com, on Twitter at @BroadwayGR, on Instagram at @broadwaygr, and on facebook.com/BroadwayGR
Related Articles