Brian Hilbrand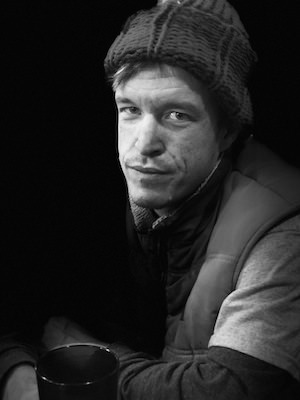 Brian Hilbrand's interest in musicals started when we watched Sound of Music, and his mom, and her parents were musical.  He started school musicals in lower elementary/ middle school, and then I saw my first community production in 7th grade when Lion Heart Productions did "The Sound Music".   He was cast into the community production of "Oliver!" in fall of 2001, and he did a run of show after including "The King and I", "Music Man", and "Guys and Doll's", well writing the theatre column "Arts at Heart" for his High School newsletter.  He took a small hiatus from theatre to attend collage for radio broadcasting/ telecommunications where he did allot of singing in public as well as hosting karaoke on campus to fill in that void.
After collage he returned to acting for Lion Heart theatre for "Wizard of Oz" in Fall of 2011,  "Annie", "Shrek the Musical", "Fiddler on The Roof" and  "Mary Poppins".   He has also assisted with many productions for Lion Heart off stage and back stage as a stage hand, rigging person (well being in the production), an animal handler, child wrangler, and stage manager for kids theatre, since he loves to stay buisy beween his times on stage. All of his past experiances around the stage, have lead him to stage manage for his other love out side the theatre, "Moose Fest" an all day country music concert for which he has done for 5 years so far (2015-2019) and will continue to do. 
Brian also LOVES to attend Broadway Grand Rapids tours, Grand Rapids Symphony events, special community "arts" events, in addition to community productions, and write on them.  By doing so he hopes to bring attention to the awesome shows we are blessed to have locally at the community level all the way to professionals.  If you would like to have your show considered for local coverage, please send me the info for the show and a way to get in contact with you.  To keep up on where I will be for BWW, and my other appearances in West Michigan, head on over and give my Media FB page a BIG "Like" and follow me there as well. 
MOST POPULAR ARTICLES
LAST 365 DAYS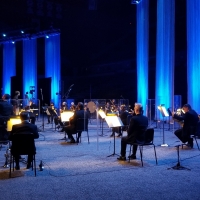 BWW Review: ROMEO AND JULIET Virtually With Grand Rapids Symphony and Grand Rapids Ballet.
Posted: Sep. 29, 2020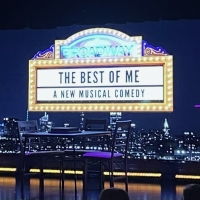 BWW Review: BEST OF ME- A NEW MUSICAL COMEDY at Blue Gate Theatre
Posted: Apr. 26, 2021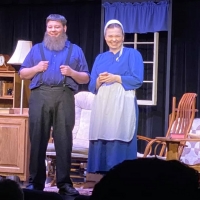 BWW Review: New Musical THE G?T LIFE! Promises A Simple But G?t Time at Blue Gate Theatre!
Posted: Aug. 6, 2020


BWW Review: BEST OF ME- A NEW MUSICAL COMEDY at Blue Gate Theatre

April 26, 2021

Blue Gate Theatre's The Best Of Me - A New Musical Comedy, is a show that is about a young Amish girl, who finds herself unable to do the traditional things Amish women are know for, and finds herself with her eyes set on Broadway!  The Best of Me is currently playing at the Blue Gate Music Hall in Shipshewana, Indiana Monday- Saturday (Various times) through July 29th.
---
BWW Review: ROMEO AND JULIET Virtually With Grand Rapids Symphony and Grand Rapids Ballet.

September 29, 2020

Grand Rapids Symphony presents Romeo and Juliet, the first of three new shows in the 2020 Season.  Pathwaves presented by SpartanNash, is the Symphonya??s reimagined 2020-2021 artistic seasons.  For the 2020 part of the season they are sharing the gift of music with the West Michigan community through a dynamic and innovative season of concerts, delivered via live stream. The new Pathwaves series includes varied styles of music and diverse composers, like waves of hope leading us down our communitya??s path of healing.
---
BWW Review: New Musical THE GÜT LIFE! Promises A Simple But Güt Time at Blue Gate Theatre!

August 6, 2020

Blue Gate Theatrea??s A Güt Life! is a show about life on an Amish farm, and how it is full of unique challenges and rich blessings.   Presented by Amish story tellers Eliza and Simon Yoder, who give you a glimpse into their life together.  Not only does this charming show not only have jokes that will make you laugh, but it also will leave you fascinated as you learn things you may not know about the Amish lifestyle.  A Güt Life! is currently playing at the Blue Gate Music Hall in Shipshewana, Indiana Monday- Saturday (Various times) through September 5th.
---
BWW Interview: Blue Gate Hospitality VP, Andrew Rohrer, Talks A Safe Return to The Theatre and THE GÜT LIFE

August 3, 2020

The Güt Life is currently playing until September 25th at the Blue Gate Music Hall, in Shipshewana, Indiana making its theatrical debut.  The Blue Gate Restaurant and Theatre is the first venue in Southern Michigan/ Northern Indiana  to open back up, and I couldna??t be more excited to have a show to see!  In the spirit of welcoming back live theatre safely, I thought it would be a great idea to share some of the things that they are doing making it possible to have a safe opening for musical theatre performances.  I interviewed Andrew Rohrer VP of Sales and Marketing, for Blue Gate Hospitality, on behalf of the Blue Gate Theatre and Restaurant.  He answered some questions for what can be expected for their shows this season, and what is being done to keep the audience cast and crew safe.
---
BWW Review: FIRST WEEKEND ROUNDUP at Gilda's Club LaughFest With Clean Comedy All-Star Showcase, and Miranda Sings.

March 9, 2020

Gilda's LaughFest 2020 kicked off Thursday, March 5th and goes through Sunday, March 15th. Thursday started with an opening proclamation featuring Grand Rapids Mayor Roslynn Bliss and others looking back on the last ten years and ahead to 2020. The first weekend full with events for everyone, ranging from family friendly to some adult only comedy, making it a great kick off to the event!
---
BWW Interview: Jeff Foxworthy at LaughFest. You Don't Need To Be A Red Neck To Enjoy This Comedic Show!

February 12, 2020

Jeff Foxworthy will headline the Gilda's LaughFest 10th Anniversary Signature Event. The 2020 Signature Event, A Night with Jeff Foxworthy, is a fundraiser for Gilda's Club Grand Rapids. Jeff Foxworthy is one of the most respected and successful comedians in the country. The Grammy Award nominee and best-selling author of more than 26 books is widely known for his Redneck jokes and his act goes well beyond that to explore the humor in everyday family interactions and human nature a?" a style that has been compared to Mark Twain's. The Signature Event is March, 14th, 2020 with a dinner that begins at 5:30 PM a show that follows at 8 PM.
---
BWW Previews: Comedy Filled JEFF DUNHAM: SERIOUSLY! TOUR Comes to Van Andel Arena in Grand Rapids

December 21, 2019

Comedian Jeff Dunham is currently making his way across North American and Canada on his Jeff Dunham: Seriously!? Tour.  The tour will be coming to Grand Rapids, Michigan on Monday, December 30th and bringing some friends along for the ride!  You can expect Peanut, Walter, José Jalapeño, Bubba J. and Achmed the Dead Terrorist coming along on this comedy-filled tour that promises to be full of many laughs.
---
BWW Review: DISNEY'S THE LION KING at Broadway Grand Rapids Will Have You Feeling The Love, On The Path Unwinding In The Circle of Life!

November 24, 2019

Disney's The Lion King, currently playing through Sunday, December 1st at DeVos Hall. Making its Grand Rapids debut, after playing Detroit, Kalamazoo, and East Lansing in the past, Disney's The Lion King finally comes to Grand Rapids! Taking 17 full semi trailers to travel into town, It's full of the Lion King classic musical numbers and characters you know and love from the movie, and some new Musical numbers as well. They include the opening musical number a?oeCircle of Life', a?oeJust Can't Wait to Be Kinga??, to the always funny and humorous 'Hakuna Matataa?? and the moving a?oeCan You Feel the Love Tonighta??. These songs will be sure to have you singing along, having some goosebumps, and possibly some tears.
---
BWW Review: BROADWAY SHOWSTOPPERS: WEST SIDE STORY TO WICKED and More at Grand Rapids Symphony With Sisters Liz Callaway and Ann Hampton Callaway!

November 11, 2019

Grand Rapids Symphony presents 'Broadway Showstoppers - WEST SIDE STORY to WICKED', the second of six shows in the 2020/2019 Pops Series presented by Fox Motors. The goal of the over all series is to 'Bring back memories and create new ones with a mix of popular entertainers and musical favorites.' What would a show called Broadway Showstoppers be with without a Broadway star? How could this be made even better then to have them be sisters! Liz Callaway, and Ann Hampton Callaway.  When  each a performer in their own right, came to Grand Rapids for three nights of show tunes and other special numbers!
---
BWW Review: MAMMA MIA! at Lion Heart Productions, Will Have You Saying Thank You For The Music!

November 7, 2019

Mamma Mia! is playing Friday, November 8th through Saturday, November 16th at the Grant Public Schools Fine Arts Center.  Making its Grant stage debut as Lion Heart Productions 2019-2020 season musical, it is filled with hit after musical hit from the popular Swedish pop group ABBA such as 'Dancing Queen,' 'Take a Chance on Me,' 'Lay All Your Love on Me,' and many more catchy songs.  It's a unique take on the hit songs, with great costumes, and scenery as well.
---
BWW Review: The Tradition of FIDDLER ON THE ROOF Is Brought To Life In An All New Production at Broadway Grand Rapids!

October 11, 2019

Fiddler on the Roof, currently playing through Sunday, October 13th at DeVos Hall. Making its way back to Grand Rapids, where it also began the second season back in October 1989, it is a musical with full of hits you know and love.  They include the opening musical number a?oeTraditiona?? sung by Tevye (Yehezkel Lazarov), the beautiful and moving a?oeSabbath Prayera??, a?oeSunrise, Sunset,a?? to the always funny and humorous a?oeIf I Were A Rich Mana??. These songs will be sure to have you singing along and popping into your head on the way out!
---
BWW Review: NASHVILLE: STARRING MUSIC CITY HIT-MAKERS Along With Grand Rapids Symphony, Present Song Writers Playing Some of Their Greatest Country Hits!

August 7, 2019

The Grand Rapids Symphony definitely was 'Blessed' last night to have 'Jesus Take The Wheel' as guest song writers from Nashville perform there chart topping hits and tell the stories along with them, turning the ski area into a larger Blue Bird Cafe for the special event. As 'Went Out Last Night', we were 'Living in Fast Forward', and 'Playing Cinderella' and there might have been 'Something In The Water' as sweet as 'American Honey', some may have been a 'Real Good Man' or had a 'Girl Crush' but we all knew we'd be leaving 'When The Sun Goes Down'. Although leaving some people might have been thinking 'When I Get Where I'm Going', and thinking of the other great songs we heard.
---
BWW Review: PICNIC POPS SALUTE TO AMERICA! at Grand Rapids Symphony

July 15, 2019

Twenty-five years ago in Grand Rapids, the Van Andel Arena still was on the drawing board. Meijer Gardens had opened just three months earlier, but it would be many years before an outdoor amphitheater would be built as a venue for summer concerts.   At Cannonsburg Ski Area, on a steamy evening in mid-July, the Grand Rapids Symphony launched a brand new, outdoor concert experience called the Picnic Pops.   This season The Grand Rapids Symphony celebrates its 25th Anniversary of its D&W Fresh Market Picnic Pops with a series of three shows that are all time favorites with Picnic Pops audiences plus a special event capping off four weeks of concerts at Cannonsburg.
---
BWW Review: ANASTASIA at Broadway Grand Rapids Is A Journey to The Past, With Theatre Drops of The Future!

June 28, 2019

Anastasia, currently playing through Sunday, June 30th at DeVos Hall, by the Tony Award-winning creators of the Broadway classic Ragtime and inspired by the beloved films, Anastasia is the new dazzling Broadway Musical that transports the audience from the twilight of the Russian Empire to the euphoria of Paris in the 1920s, as a brave young woman sets out to discover the mystery of her past. Pursued by a ruthless Soviet officer determined to silence her, Anya enlists the aid of a dashing conman and a lovable ex-aristocrat. Together, they embark on an epic adventure to help her find home, love, and family.
---
BWW Review: FREAKY FRIDAY at Circle Theatre Will Have You Convinced The Leads Swap Was Real!

May 8, 2019

Freaky Friday is a heartfelt, comedic, and unexpectedly emotional update on an American classic, based on the beloved 1972 novel by Mary Rodgers and the hit Disney films, that was developed by Disney Theatrical Productions expressly for licensing to theatres.   Freaky Friday is currently playing until May 18th at Circle Theatre in Grand Rapids. It features a book by Bridget Carpenter, the co-executive producer and writer of the beloved television hits, Friday Night Lights and Parenthood, and music and lyrics by Tom Kitt and Brian Yorkey, the Pulitzer Prize-winning composers of Next to Normal and If/Then.  Circle Theatre's cast of performers, combined with an awesome orchestra will have you humming the songs for days after, since they are that catchy.  You will also be laughing at the many comical moments in the show!
---
BWW Review: WAITRESS at Broadway Grand Rapids Promises To Serve Up A Good Time, and Will Make You Hungry!

May 1, 2019

Waitress, is in Grand Rapids playing at DeVos Hall through Sunday March, 5th.  It is brought to life by a groundbreaking, all female creative team, this Tony Award-nominated hit features original music and lyrics by 7-time Grammy nominee Sara Bareilles ("Love Song" and "Brave"), a book by acclaimed screenwriter Jessie Nelson (I Am Sam) and direction by Tony Award-winner Diane Paulus (Pippin, Finding Neverland_
---
BWW Interview: Christian Maloley Says Freaky Friday at Circle Theatre is Freaky, Flawless, Funny, and Heart Warming.

April 30, 2019

Circle Theatre presents Freaky Friday, a story of an overworked mother and her teenage daughter who magically swap bodies and have just one day to put things right again. By spending a day in each other's shoes, Katherine and Ellie come to appreciate one another's struggles, learn self-acceptance, and realize the immeasurable love and mutual respect that bond a mother and daughter. The first show kicks off on Thursday, May 2nd and last week, there was a preview event for the press to learn about the show. We were given a special performance of 'I Got This' by the show's own Phoebe Dawson, who plays Ellie, and Emily Diener, who plays her mother. It was a catchy and somewhat witty number that takes place right after they switch bodies. It was a great event to get people excited for a fun musical!
---
BWW Review: BOOK OF MORMON at Broadway Grand Rapids, Will Have You Laughing and Using Your Imagination Start To End!

March 22, 2019

The Book of Mormon, the nine-time Tony Award-winning Best Musical makes a special engagement run back for its second time to Grand Rapids playing a limited engagement until March 24that DeVos Performance Hall. With script, lyrics, and music by Trey Parker, Matt Stone and Robert Lopez, and Parker and Stone being known for creating the animated comedy South Park.
---
BWW Review: Join Lion Heart Productions at Deer Camp in the U.P. for Escanaba in da Moonlight!

March 16, 2019

Lion Heart Productions Escanaba in da Moonlight is a tale that director, Mike Gesler has been waiting a long time to present at Lion Heart as a director, and the timing just fell into place for this season. It is a show full of comedic moments that will have you laughing in your seats. Escanaba in da Moonlight is currently running until March 24 at the Dogwood Center for the Performing Arts in Fremont. Shows are March 23rd at 2pm, March 23rd at 7:30pm, and March 24th at 2PM.
---
BWW Review: MAMMA MIA! at Grand Rapids Civic Theatre, You Will Have The Time of Your Life!

March 3, 2019

Mamma Mia is a jukebox musical that is based on the songs of ABBA written by British playwright Catherine Johnson. It has a very familiar set list including "Dancing Queen," "Take a Chance on Me," "Lay All Your Love on Me," and many more catchy ABBA tunes scattered throughout the show. The musical takes on a new light at Grand Rapids Civic theatre in their current production that runs through March 17th in Grand Rapids. 
---