Old Globe and DCPA Announce Full Cast of AMERICAN MARIACHI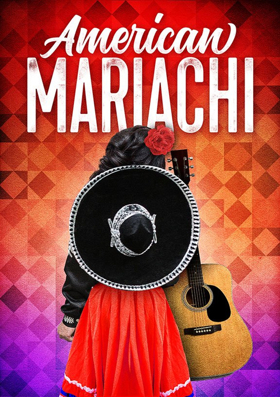 The Denver Center for the Performing Arts (DCPA) and The Old Globe are proud to announce full casting and creative team for the World Premiere production of American Mariachi, directed by James Vásquez.
The World Premiere production will open at the DCPA Theatre Company in Denver on February 2, 2018, and then transfer to San Diego where it will open at The Old Globe on March 29, 2018
Directed by Globe favorite and San Diego native James Vásquez (Rich Girl, Dr. Seuss's How the Grinch Stole Christmas!) and presented in association with Denver Center for the Performing Arts Theatre Company, American Mariachi will run March 23 to April 29, 2018 on the Donald and Darlene Shiley Stage in the Old Globe Theatre, part of the Globe's Conrad Prebys Theatre Center. Tickets start at $30.00 and go on sale to the general public on Friday, February 9 at 12:00 noon. Previews run March 23 to 28, 2018. Opening night is Thursday, March 29 at 8:00 p.m. (The production will play in Denver from January 26 to February 25, 2018.)
Spending her days caring for her ailing mother, Lucha yearns to break her monotonous routine. Here's a wild idea: an all-girl mariachi band! But it's the 1970s, and girls can't be mariachis...or can they? As Lucha and her spunky cousin hunt for bandmates, dodge disapproving relatives, and bring Mom along for the ride, they wonder: will the band come together? American Mariachi is a heartwarming world premiere comedy about family, progress, and the freedom to dream big that will send your heart soaring and put a bounce in your step with a wave of vibrant, infectious live music.
The cast features Jennifer Paredes as Lucha alongside Natalie Camunas (Gabby), Crissy Guerrero (Soyla, Sister Manuela), Rodney Lizcano (Mino, Padre Flores),Doreen Montalvo (Amalia, Doña Lola), Bobby Plasencia (Federico), Luis Quintero (Mateo, René, Rubin), Amanda Robles (Isabel, Tía Carmen), and Heather Velazquez(Hortensia aka "Boli").
The creative team includes Regina Garcia (Scenic Design), Meghan Anderson Doyle (Costume Design), Paul Miller (Lighting Design), Ken Travis (Sound Design),Cynthia Reifler Flores (Music Director), Shirley Fishman (Dramaturg), Joanne DeNaut, CSA (Casting), and Rachel Ducat (Production Stage Manager).
"José Cruz González makes his Globe debut with the world premiere of a delightful and sweetly moving play," said Erna Finci Viterbi Artistic Director Barry Edelstein. "He explores universal themes of family, memory, and the search for our truest selves, and he couches this exploration in the details of a specific culture: mariachi. He finds extraordinary and poignant nuances of beauty and meaning in mariachi music and what it means to the Mexican community on both sides of the border. It is a very particular pleasure to place this culture center-stage at the Globe. That San Diego's own James Vásquez is guiding this work is an additional delight. His humor and humanity infuse great joy and wit into an already highly theatrical and winning work. We are proud to join our friends at the Denver Center in shepherding this joyous new play into the American repertory."
American Mariachi at The Old Globe is supported in part through gifts from Production Sponsors Globe Guilders, Paula and Brian Powers, and Vicki and Carl Zeiger.Financial support is provided by The City of San Diego.
José Cruz González (Playwright) has written the plays American Mariachi and Sunsets & Margaritas (Denver Center for the Performing Arts Theatre Company), September Shoes (Geva Theatre Center), Curious (Teatro del Pueblo), The San Patricios (Pacific Conservatory Theatre), Among the Darkest Shadows (Wharton Center for Performing Arts), The Highest Heaven (Childsplay), The Long Road Today (South Coast Repertory), and The Astronaut Farmworker (La Jolla Playhouse). Mr. González has written for "Paz," the Emmy Award-nominated television series produced by Discovery Kids for The Learning Channel. The Astronaut Farmworker was a 2016 PEN Center USA Literary Award Finalist. He is a member of the College of Fellows of the American Theatre at The Kennedy Center. A collection of his plays, Nine Plays by José Cruz González: Magical Realism and Mature Themes in Theatre for Young Audiences was published by the University of Texas Press in 2009. He is a professor at California State University, Los Angeles and a member of the Dramatists Guild and TYA/USA. He is a Playwright-in-Residence at Childsplay in Tempe, Arizona.
James Vásquez (Director) previously directed The Old Globe's Rich Girl, Dr. Seuss' How the Grinch Stole Christmas!, and Richard O'Brien's The Rocky Horror Show and provided musical staging for the Globe's The Comedy of Errors directed by Scott Ellis, Boeing-Boeing, and A Midsummer Night's Dream. With The Old Globe and University of San Diego Shiley Graduate Theatre Program, he has directed Clybourne Park and last year's world premiere of Keith Reddin's Acquainted with the Night. He received Craig Noel Award nominations for Outstanding Direction of a Musical for the world premiere of Harmony, Kansas and the West Coast premiere of [title of show] (Diversionary Theatre) and won the award in 2010 for Sweeney Todd (Cygnet Theatre Company). His other recent directing/choreography credits include The Addams Family (Moonlight Stage Productions), West Side Story and Cats (San Diego Musical Theatre), Tell Me on a Sunday (Vista's Broadway Theater), Pippin, the West Coast premiere of Birds of a Feather, and Next Fall (Diversionary), and Hedwig and the Angry Inch and Pageant (Cygnet), as well as developmental workshops at La Jolla Playhouse and Goodspeed Musicals. In 2004, Mr. Vásquez founded Daisy 3 Pictures with Mark Holmes and Carrie Preston. Their first two feature films, 29th and Gay and Ready? OK!, played national and international film festivals, with Ready? OK! winning Best Feature Film awards in Seattle, North Carolina, and San Diego. Their latest feature film, That's What She Said, made its world premiere at the 2012 Sundance Film Festival. Mr. Vásquez is a graduate of The Juilliard School.
Denver Center for the Performing Arts (Co-Producer), the nation's largest not-for-profit theatre organization, is dedicated to creating unforgettable shared experiences through beloved Broadway musicals, world-class plays, educational programs, and inspired events. As one of the DCPA's six lines of programming, the Tony Award-winning DCPA Theatre Company has offered 420 productions in its 38 seasons, of which 140 were new works for the American theatre. American Mariachi was originally commissioned by and developed and produced at the Denver Center for the Performing Arts Theatre Company. It will play January 26 - February 25, 2018 at DCPA's Stage Theatre.
SINGLE TICKETS to American Mariachi start at $30.00 and go on sale to the general public on Friday, February 9 at 12:00 noon. Tickets can be purchased online at www.TheOldGlobe.org, by phone at (619) 23-GLOBE [234-5623], or by visiting the Box Office at 1363 Old Globe Way in Balboa Park. Discounts are available for full-time students, patrons 29 years of age and under, seniors, military members, and groups of 10 or more.
Performances begin on March 23, 2018, and continue through April 29, 2018. Performance times: Previews: Friday, March 23 at 8:00 p.m.; Saturday, March 24 at 8:00 p.m.;Sunday, March 25 at 7:00 p.m.; Tuesday, March 27 at 7:00 p.m.; and Wednesday, March 28 at 7:00 p.m. Opening night is Thursday, March 29 at 8:00 p.m. Regular performances (March 30 - April 29): Tuesday and Wednesday evenings at 7:00 p.m., Thursday and Friday evenings at 8:00 p.m., Saturdays at 2:00 p.m. and 8:00 p.m., and Sundays at 2:00 p.m. and 7:00 p.m. There will be an additional matinee performance on Wednesday, April 18 at 2:00 p.m. and no matinee performance on Sunday, April 22 at 2:00 p.m.
Related Articles View More Denver

Stories

Shows
More Hot Stories For You