Review: ELLA: FIRST LADY OF SONG at DE Theatre Company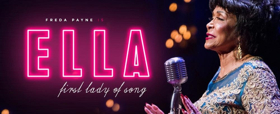 Tapper/Singer/Director Maurice Hines and brother Gregory first performed with Ella Fitzgerald at The Flamingo in Vegas. He knew he was in the presence of greatness. Maurice called her 'the greatest singer I have ever heard'.
Ella's story should be told. Abused as a child by a step-father, Ella's teenage years included being a lookout for a bordello and a numbers runner. When the authorities caught up with her she was sent to the Colored Orphans Asylum in New York state - from which she escaped. She was for a time homeless. At age 17 she won first prize in a singing contest at The Apollo Theatre in Harlem and.... yes, the rest is music history.
Providentially, for the patrons of Delaware Theatre Co., Hines and Freda Payne also worked together. Payne grew up a jazz/scat chanteuse disguised as r & b singer ('Band of Gold'). Hines heard so much of Ella in Payne's voice. The end result is perfect marriage of estimable talent and a passion to tell Ella's tale, ELLA: First Lady of Song.
Aided by a groovy and interactive 6 piece on stage band, Payne channels Ella in 25 her greatest hits; among them 'It Don't Mean A Thing, etc.', 'Oh Lady Be Good', 'Sweet Georgia Brown' and a show stopping "A-Tisket A-Tasket'.
While Ella did 'swing' and jazz, her later career included Great American Songbook tunes such as Gershwin's 'The Man I Love', Rodgers and Hart's 'The Lady Is A Tramp' and Porter's 'Too Darn Hot'. Payne is so very comfortable and such a consummate pro she interprets these songs as her own. Whether scat/jazz or soulful ballad, she embraces the audience and they hug right back.
This wonderful diversity of music is a strength of the show. Close your eyes. You will think Ella has been reincarnated. Payne's modulation, diction, phrasing was excellent.
We were very impressed with the scat. Here's some interesting history: Ella had been working with Dizzy Gillespie. Music was changing from swing to bebop. Ella adjusted with scat. Said Ella back then, "I just tried to do [with my voice] what I heard the horns in the band doing". In tribute, Payne does 'How High The Moon'.
The book show takes us chronologically and touches on some of her hardships. Young Ella (Wynonna Smith) has the most delightful and endearing of adolescent 'takes'. I am not sure what choreographer came up with her dance moves but they were hilarious. Smith also has a great voice. There were times when she would start a number and then Payne would take over. Frankly, this left me a bit unfulfilled. I would have liked to see her finish one of two. Smith later appears as Frances, Ella's sister.
Ella's personal life, like Judy Garland's, was lonely and calamitous, continually hooking up with the wrong man. There is irony in both their worlds. Love and tears of joy would cascade on stage from the audience, their shows a musical equivalent to a Billy Graham revival. Yet most nights both icons went to bed alone.
Ella's niece, Georgiana (Harriet D. Foy) was her long-time assistant, a stable force in Ella's tumultuous world. Foy knows when to sympathize and when to criticize and acquits herself well.
At times the dialogue seemed stilted and contrived. To wit: the women are discussing Ella's wealth. Ella mentions her home in LA and gives the address. The women most assuredly would have visited the home prior. That particular scene was not fluid and could be reworked.
Through May 13 Delaware Theatre Co 302.594.1100