Photo Flash: First Look at Casa Manana's BIG RIVER: THE ADVENTURES OF HUCKLEBERRY FINN
Big River: The Adventures of Huckleberry Finn, the Tony Award-winning Best Musical from Fort Worth native Roger Miller kicks off our 55th season "under the dome," September 21-19, 2013. BroadwayWorld has a first look at the cast in action below!
This seven-time Tony Award-winning musical based on Mark Twain's classic 1884 novel The Adventures of Huckleberry Finn follows rebellious teen Huckleberry Finn, as he sets off on an adventure with his sidekick and friend, Jim down the mighty Mississippi River in search of a better life. For Worth's own Roger Miller wrote this Tony Award-winning score that includes Broadway classics like "Waitin' for the Light to Shine," "Muddy Water" and "River in the Rain."
Casa Mañana's production of Big River stars several local stage favorites. Jaston Williams, creator and original star of the Tuna series (Greater Tuna; Red, White and Tuna; A Tuna Christmas) will star as the Duke while Casa Mañana legend, David Coffee, in his 83rd at Casa, will be the King. Julie Johnson, fresh off the national tour of Memphis, will play Widow Douglas and Sally Phelps.
Other leading cast members include Mack Shirilla, in his Casa Mañana debut, as Huckleberry Finn; Alvin Crawford as Jim; Jeremy Dumont as Tom; Maurice Johnson as Bill; Cheryl Allison as Miss Watson/Susan; Alison Hodgson as Mary Jane; Sheran Keyton as Alice and Alyssa Robbins as JoAnna Wilkes.
The Big River ensemble includes Curt Denham, Clayton Slee, Bob Hess, Greg Dulcie, Ashton Miramontes, Charlie Ray and in-coming Casa Mañana Board of Directors' president, Rob Hood.
Casa Mañana's production of Big River is directed by Eric Woodall, in his Casa Mañana directorial debut. Mr. Woodall is a casting agent for Tara Rubin Casting, one of the largest casting agencies in New York City. In addition to playing Tom, Jeremy Dumont will serve as Choreographer. Tammy Spencer is the Costume Designer; Samuel Rushen is the Lighting Designer; Colt Frank is the Scenic Designer and Jonathan Parke is the Sound Designer and Production Supervisor.
Casa Mañana's production of Big River is presented in a limited engagement at Casa Mañana Theatre in Fort Worth. Performance dates are Saturday, September 21 at 2:00 p.m. and 8:00 p.m.; Sunday, September 22 at 2:00 p.m. and 7:00 p.m.; Tuesday, September 24 at 7:30 p.m.; Wednesday, September 25 at 7:30 p.m.; Thursday, September 26 at 7:30 p.m.; Friday, September 27 at 8:00 p.m.; Saturday, September 28 at 2:00 p.m. and 8:00 p.m.; and Sunday, September 29 at 2:00 p.m.
Friday, August 9 at 7:00 p.m. is a student preview night with cast talkback following the show. This is open to students, faculty and staff with valid school ID. Student tickets are $10 and can be purchased in advance at the Casa Mañana Box Office or over the phone at (817) 332-2272, ext. 3. One ticket per valid ID.
Tickets for Big River: The Adventures of Huckleberry Finn are on sale now and can be purchased by calling the Casa Mañana Theatre box office at (817) 332-2272 or Ticketmaster at (800) 745-3000. You can also visit the box office at 3101 West Lancaster Ave., Fort Worth. Ticket prices range from $41 to $76, depending upon seating location. For more information, visit www.casamanana.org.
Photo Credit: Samuel Rushen

Alvin Crawford as Jim and Mack Shirilla as Huck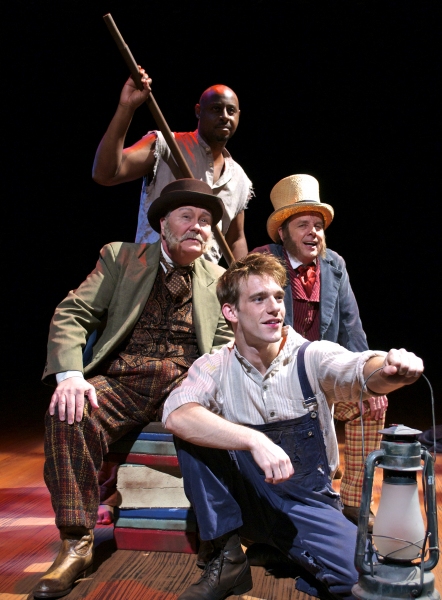 Mack Shirilla as Huck, David Coffee as the King, Jaston Williams as the Duke and Alvin Crawford as Jim

David Coffee as the King and Jaston Williams as Duke