L.I.P. Service To Present Stephen Sondheim's SWEENEY TODD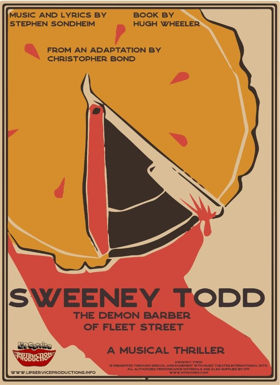 For the first time, L.I.P. Service is diving, headfirst, into the world of musical theatre. In our continuing efforts to grow and bring challenging theatre to audiences, we present to you the Penny Dreadful fantasia of Stephen Sondheim's SWEENEY TODD: THE DEMON BARBER OF FLEET STREET (A MUSICAL THRILLER; directed by Shawn Gann).
The show is dark and compelling, the music is fantastic and gets into your psyche, and we feel that this particular musical best represents the type of aesthetic our company strives to bring to audiences. The production will premiere at The Firehouse Theatre on Thursday, November 15th, at 8:00PM; and, will run through Sunday, November 18th (matinees at 2PM on Saturday and Sunday).
With music and lyrics by Stephen Sondheim and book by Hugh Wheeler, the show has become a musical theatre staple since its Broadway premiere at the Uris Theatre in 1979, directed by Harold Prince. The original Broadway production of Sweeney Todd starred Len Cariou as Sweeney Todd and Angela Lansbury as Mrs. Lovett and won eight Tony Awards, including Best Musical. The show has been remounted multiple times, including a Tony Award-winning Broadway production in 2005 starring Michael Cerveris and Patti LuPone.
Stephen Sondheim's name is synonymous with musical theatre, as he has written the music and lyrics for a number of quintessential, award-winning works, including COMPANY and INTO THE WOODS. Hugh Wheeler was an American playwright and librettist who is noted for both his work with Sondheim and a series of mystery novels and short stories. The duo also collaborated on 1973's A LITTLE NIGHT MUSIC.
The musical is directed by Shawn Gann, who also helmed L.I.P. Service's critically acclaimed productions of Edward Albee's THE GOAT; OR, WHO IS SYLVIA? and Bernard Pomerance's THE ELEPHANT MAN. This year he also directed Resolute Theatre Project's raucous production of Steve Martin's PICASSO AT THE LAPIN AGILE. He is a well-known performer throughout D/FW who was recently seen in Hip Pocket's THE WIND IN THE WILLOWS as Mr. Toad, Hollywood Shakespeare's LILIES at the Bath House Cultural Center, and multiple productions with Dallas's crowd-pleasing Shakespeare in the Bar. You can catch him this winter in Shakespeare Dallas's production of Hamlet, as well. www.the-gann.com.
The cast features owner and Artistic Director Jason Leyva in the titular role. Mr. Leyva is a multiple award-winning performer that has worked and toured across the nation. In recent years, he received raves and accolades for his leading performances as John Merrick in THE ELEPHANT MAN by Bernard Pomerance, Charlie in THE WHALE by Samuel Hunter, and "Killer" Joe Cooper in KILLER JOE by Tracy Letts. www.jasonleyva.com
Also featured are Actor's Equity Association members and D/FW favorites Jenny Tucker as London's worst pie maker Mrs. Lovett and Greg Dulcie as the malevolent Judge Turpin. Ms. Tucker has been singing and acting in the DFW area for the past 23 years and has had the pleasure of performing numerous roles at Lyric Stage, Casa Manana, and Uptown Players; and, recently directed her first show with Runway Theatre. She's represented by Core Talent Agency for film and commercial work. Mr. Dulcie has appeared in shows all over the US, Canada, and Japan. Some of his favorite roles include Sweeney in SWEENEY TODD, Booth in ASSASINS, Cinderella's Prince & The Wolf in INTO THE WOODS, Rochester in JANE EYRE, and Peron in EVITA (Casa Manana)
Rounding out the cast and stellar ensemble are talents from across D/FW ranging from Opera Soloists (Corrie Donovan & Rachel Starkey), Funimation VO Stars (Jad Saxton & Kristin Sutton), Firehouse Theatre standouts (Ethan Mullins & Kevin Solis), and many more! And finally, a live orchestra will be present; and, will be headed by Music Director Bryce Biffle and Trekordia pianist/conductor Jesse Fry.
Jason Leyva heads L.I.P. Service with support from company and producing members Shawn Gann and Danny Macchietto. The production has also partnered with The Proper Baking Company and The Astute Gentlemen Cigar & Barber Lounge to create an immersive experience providing genuine British baked goods (including meat/veggie pies) and opportunities to enjoy a hot lather shave from a world-renowned barber (and, perhaps, a nice cigar). Their services, along with ticket deals, are available via our IndieGoGo campaign at: https://igg.me/at/sweeneylip/.
The play will be performed at The Firehouse Theatre, 2535 Valley View Ln, Farmers Branch, TX 75234. Tickets are $20 ($30 with pie and beverage) and are available at: www.lipserviceproductions.info or call 817-689-6461.