DEAD MAN'S CELL PHONE Comes to Theatre Arlington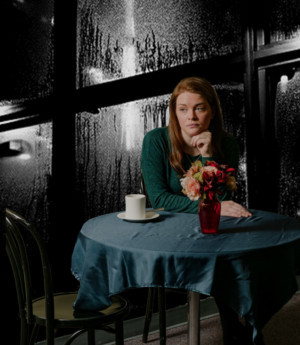 Theatre Arlington kicks off 2019 with Sarah Ruhle's quirky and imaginative comedy, Dead Man's Cell Phone. Ruhle, known for her award-winning plays, Eurydice and The Clean House, takes the audience on a comical, albeit peculiar, adventure as the protagonist, Jean, frustratingly answers an incessantly ringing cell phone one night in a diner. She soon realizes the owner of the phone has died and she immediately becomes entangled with the complexities of this dead man's life, loves and business. The decision to answer his phone leads her on a comical journey with important people in the dead man's life; a journey that ultimately leads her to learning a little something about her own life. Ruhle's unique and funny world explores the power of a technically obsessed world in which a commonplace device can both unite and isolate people. "I never had a cellphone," Jean reflects. "I didn't want to be there, you know. Like if your phone is on, you're supposed to be there. Sometimes I like to disappear. But it's like - when everyone has their cellphones on, no one is there. It's like we're all disappearing the more we're there."
Sarah Ruhle's Dead Man's Cell Phone was awarded a Helen Hayes Award for Outstanding New Play in 2008.
Theatre Arlington's production of Dead Man's Cell Phone is directed by Sharon Kaye Miller, who last directed the romantic comedy, Sylvia, for the Theatre in 2018. Miller is joined by stage manager, Imani McCants. Jenna Anderson stars as the woman, Jean, with Brendan McMahon as both Gordon and Dwight, Lindsay Hayward as Mrs. Gottlieb, Whitney Blake Dean as Hermia and Taylor Staniforth as The Stranger.
Production team members also include Bryan Stevenson (Set and Lighting Designer), Bill Eickenloff (Sound Designer), Angie Glover (Scenic Artist), Cathy Pritchett (Properties Designer) and Sharon Kay Miller will also be designing the costumes.
Dead Man's Cell Phone will open on Friday, January 18th. A post-show reception with the cast and crew will immediately follow the show. The reception is being sponsored by Theatre Arlington's Guild and will include dessert provided by Cooper Street Bakery, the official bakery of Theatre Arlington.
Performances will continue through February 3rd with our traditional show schedule:
Thursdays at 7:30pm Fridays & Saturdays at 8:00pm Sundays at 2:00pm
*Appropriate for ages 16 and up* Mild Adult Themes Strong Adult Language
See website for more information and to purchase tickets: www.TheatreArlington.org Box Office: 817.275.7661