Photo Flash: Pantochino Productions' THE BROTHERS GRIMM AND A SHOWGIRL Opens This Week
Pantochino Productions Inc. opens its new musical, "The Brothers Grimm and a Showgirl" on Friday, March 16th at The Off-Broadway Theatre at Yale in New Haven for a limited engagement of five performances.

"The Brothers Grimm and a Showgirl" features book and lyrics by Bert Bernardi and music by Justin Rugg. The team recently enjoyed sold out performances of their "Teen Santa" musical during the holidays. The new show is described as a super fun, wildly imaginative family musical featuring spoofs and goofs of favorite fairy tales such as Snow White, Little Red Riding Hood, Rapunzel, Sleeping Beauty and much, much more. In the play, The Brothers Grimm themselves arrive to perform their best-loved stories and are joined by a sequined and feathered Showgirl who helps tell the tales in her own special way. "It's a great musical for all ages," said Bernardi. "Young audiences are going to love this one, and I think the grown-ups will enjoy it just as much," he added.

Pantochino's Jimmy Johansmeyer will appear in the show along with Bernardi and Rugg. They will be joined by Shelley Marsh Poggio as the showgirl. Johansmeyer has also created costumes for the show which features sets by Von Del Mar, lighting by Shawn Boyle and sound by Jef Wilson. Bernardi has staged and directed the show, will musical direction by Rugg.

Performances of "The Brothers Grimm and a Showgirl" are Friday March 16th at 7:30pm, Saturday March 17th at 2pm and 5:30pm and Sunday March 18th at Noon and 2:30pm.
Tickets and more information about the show and the company are available at www.pantochino.com


Jimmy Johansmeyer, Bert Bernardi and Justin Rugg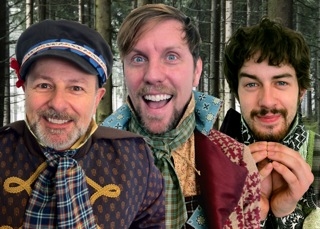 Bert Bernardi, Jimmy Johansmeyer and Justin Rugg

More Hot Stories For You