10th Annual Noche Latina Features Mariachi Mexico Antiguo Comes to West Hartford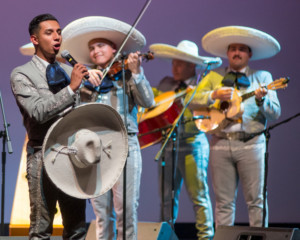 The 10th Annual Noche Latina event will feature the music of Connecticut's own Mariachi México Antiguo on Friday, October 5, 2018 at 7:00 pm beginning with a pre-show reception at 6pm, in the Hoffman Auditorium at the Autorino Center for the Arts and Humanities, University of Saint Joseph.
With the expression of Mexico's authentic musical heritage Mariachi México Antiguo will play music from the countries of Latin America. As ambassadors to the mariachi genre, Mariachi México Antiguo has been called "a group that captivates audiences with its distinct interpretation of mariachi music."
Originally founded in Las Vegas in 2010, Mariachi México Antiguo relocated to Connecticut in 2016. Since then, the group has been bringing traditional mariachi music to arts and culture events throughout New England. The group was awarded by the Mexican Music Awards as the "Best Mariachi in the Tri-State Area" in 2017 and by Premios Latinos Fama in 2018 as the "Best Mariachi of the Year". Creatively blending brass instruments, guitars, and passionate vocals, Mariachi México Antiguo's music transports audiences to Mexico, bringing the long and cherished history of the mariachi genre into the present.
Noche Latina was formed in 2010 and has become a popular celebration of Latino culture where the Greater Hartford community comes together to enjoy the music, dance, food, and art of Latin America's many cultures. Noche Latina is a co-production of the Autorino Center, the School of Interdisciplinary Health and Science, and the department of Social Work and Equitable Community Practice.
Tickets are $10 for adults and free for children and students with valid ID. Tickets can be purchased at the Frances Driscoll Box Office: 860.231.5555 or online at tickets.usj.edu.
The University of Saint Joseph (USJ) offers a wide range of coeducational undergraduate, graduate, and certificate programs that combine a professional and liberal arts education with opportunities for mentored research, community service, clinical field work, and internships. Programs are taught on the University's two campuses in West Hartford and Hartford, Connecticut; at off-campus locations throughout the state; and online. Founded in 1932 by the Sisters of Mercy, the University of Saint Joseph offers degrees with value and values. To learn more, view our website at www.usj.edu.
More Hot Stories For You