Photo Flash: First Look at MadLab's 'WALL'
Wall: A Product of Resourcefulness and Efficiency in America's Never-Ending Battle for Absolute Supremacy and General All-Around Kick-Assedness will play MadLab Theatre, 227 N. 3rd St. beginning at 8 p.m., tomorrow, Thursday, December 5 and continuing: Friday December 6, and Saturday December 7, Friday December 13 and Saturday December 14, Friday December 20 and Saturday December 21. BroadwayWorld has a first look at the cast in action below!
WALL is the world premiere of J.R. Spaulding Jr.'s absurdist satire about a man in middle management trying to build a wall to separate "us" from "them."
All Mr. Rondo and his assistant Ms. Ricki want is to build a wall of "grandiloquent scale and epic importance" in hopes of creating a symbol for Americans that will provide them purpose in what seems to be an otherwise meaningless and mundane life. But what initially seems to be a noble and most elementary task becomes increasingly more difficult to achieve as they face a lack of manpower, limited supplies, and a time crunch that will put them in an epic showdown against the oppression of America's one-percent, also known as The Man.
CAST: Rondo - Stephen Woosley; Ricki - Colleen Dunne; Foreman - John Kuhn; Albert - Casey May; Agent Stern - Erik Sternberger; The Man - Shana Kramer; and Emissary - Amanda Loch. Directed by Andy Batt.
About the Playwright: J.R. Spaulding Jr. grew up in Michigan's Upper Peninsula where he currently lives with one dazzling wife, two loveable stepchildren, a rat, two cats, and his anxiety-ridden pitbull, Medea. As a teacher he uses his super powers to un-socialize and de-roboticize the youth of America in hopes to create a new world order of literati elitists. He received a B.A. in English Education and an M.A. in theatre history from Michigan State University where he learned, above all, that wolverines are barely more than oversized, dumpster-diving rodents, and he loathes the filthy vermin as much as any Buckeye ever could.
Andy Batt, Director: Not many things get my juices flowing like good absurdist satire. This play is basically the comedic side of the MadLab coin to counter the mysterious Air Loom (produced in October at MadLab). "Wall" is pretty much a non-stop rollicking ride through the red-tape and ridiculousness of the political and corporate system of America. Let's be honest, this isn't the first play to do this. But I think it's the first play to do it with ninja clowns. Go ahead. Try and convince me that you don't want to see that?
Tickets: $12, $10 for students and senior citizens, $8 for MadLab members. Visit http://www.madlab.net/MadLab/Buy_Tickets.html to book.
Photo Credit: Michelle Batt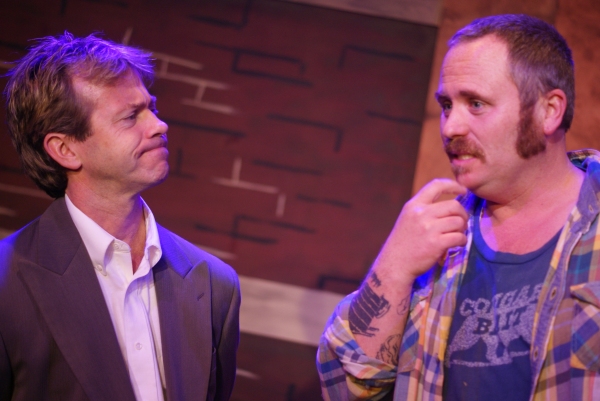 Stephen Woosley as Mr. Rondo, left to right, John Kuhn as Foreman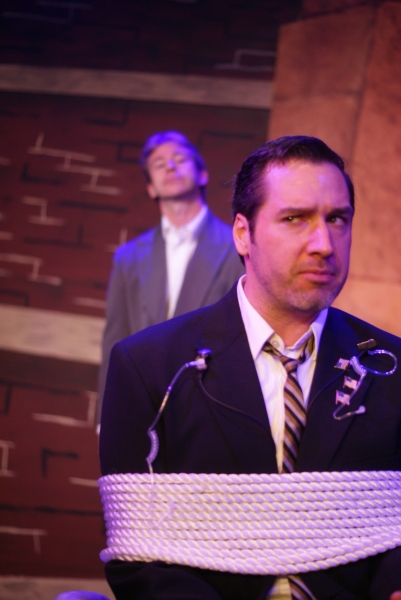 Stephen Woosley as Mr. Rondo (background), Erik Sternberger as Agent Stern (foreground)

Stephen Woosley as Mr. Rondo, left to right, Colleen Dunne as Ms. Ricki, Casey May as Mr. Albert

Related Articles View More Columbus

Stories

Shows
More Hot Stories For You